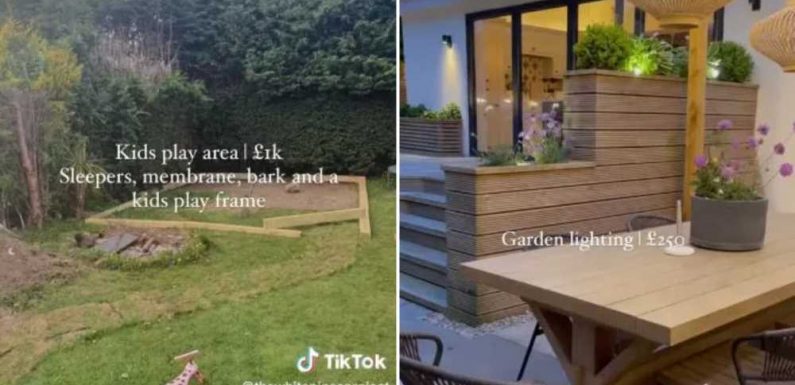 A COUPLE who were quoted £50,000 to landscape their entire garden have shared how they did it themselves for less than a third of the price.
Chloe took to her TikTok page to post a video which broke down the costs involved in the garden transformation.
"Want to know how much we spent landscaping our entire garden?" she began.
"We were quoted £30 to £50k by garden companies but here's how much we spent doing it ourselves."
She kicked off with the bespoke raised decking area, which was a big chunk of the cost, at £4,000.
They also enlisted the help of a professional to lay the patio and finish the sides of the house, at a cost of £6,000.
Read more Garden transformations
I'm a gardening pro and most people are watering their plants all wrong
I gave my garden a glow up – but trolls slam me for having 'zero taste'
A play area for their kids – using sleepers, membrane, bark and featuring a play frame – set them back £1,000, while a border fence using recycled fencing panels and battens was another £80.
A wooden border using roof battens and membrane was £130, while they splashed out £250 on gorgeous lighting in their garden.
The pair installed a modern fence which was made cost effective by using roofing battens, and that along with the side gate cost £2,000.
A pergola (£500) and outdoor kitchen (£280) proved attractive features in the garden, while the £800 they spent on plants added some colour.
Most read in Fabulous
People are only just realising why postal workers write 'P' on letters
My holiday ended with my man being confronted by his PREGNANT girlfriend
Inside the Radfords' Disney holiday after daughter Millie's money accusations
I haven't shaved my body in 4 years – trolls say it's gross but I don't care
In total, the makeover cost them £15,040.
"Loads of people asking for garden costs on my last garden reel so heres a breakdown of what we spent," Chloe captioned her video.
"I worked it out yesterday. Hope it helps. Super proud of our DIY garden."
People were quick to comment on the video, with many praising them for a job well done.
"What an amazing use of space. Beautiful work," one wrote.
"Oh this is an absolute dream come true," another added.
As a third commented: "Thanks for sharing costs. Nice job."
"Did you get planning permission for the decking?" someone else asked.
With Chloe responding: "Yes, if it's over 30cm you need planning. We had a big extension so did everything with that."
As someone else warned: "Decking will rot in a few years and gets really slippery."
Read More on The Sun
Amy Childs gives birth to twins after 'long and exhausting' labour
People are only just realising why postal workers write 'P' on letters
But Chloe hit back, writing: "We've had it many years now. It's perfectly fine, no rotting.
"Well looked after and not slippery at all actually unless there's ice on it."
Source: Read Full Article