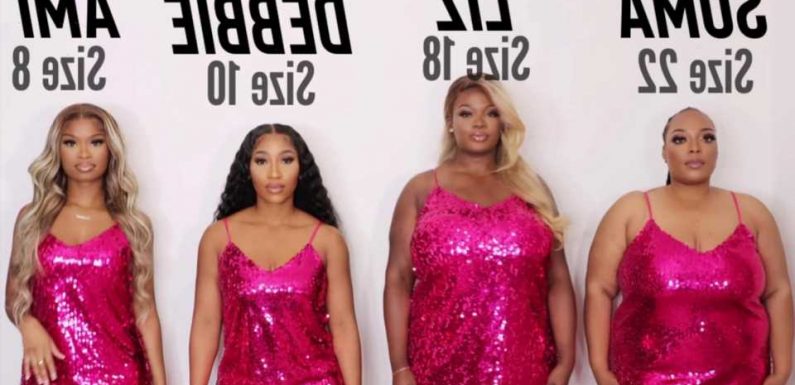 A GROUP of friends has shown how amazing their different body shapes look in matching outfits.
YouTuber Debbie Crown, who wears a US size 8, tried on the same Fashion Nova looks as her three friends.
Debbie was joined by Ami, who wears a size 6, Liz, a size 18, and Soma, a size 20.
For their first look, the four friends modeled a brown ruched maxi skirt and matching cropped hoodie.
The $60 stylish set also featured ruching detail on the long sleeves.
Debbie shared: "It's just a quick thing you can throw on. It makes the bum look nice."
"Denim on denim, nude on nude kind of vibe," Soma added as Debbie showed viewers potential matching heels.
Liz concluded: "I think I love it on Debbie and Soma the most."
Next, the group tried on a glittery teal sleeveless jumpsuit with a feather neckline, $18.
"I feel like a baddie in this," Debbie told her followers.
Most read in Lifestyle
ITV star admits drink driving but says she only got in car to escape threesome
Alan Carr to replace David Walliams on Britain's Got Talent judges panel
Come Dine With Me contestant found dead in bedroom by brother
Sacked B&Q worker gets revenge on bosses with crude final act
Ami compared the glamorous look to the outfits from Dream Girls.
However, Liz was not a fan of the sizing for her look.
While she usually wears a 1XL for Fashion Nova, the curvy creator had to order the look a size down.
"I'm trying not to breathe. The zipper is about to pop open. It does fit the breast part well though," she joked.
Soma agreed: "The good thing about this is you can wear it without a bra. It's very stretchy."
The YouTubers also shared their thoughts on a $10 pink knit dress with bell sleeves.
"The color is gorgeous," Liz shared.
Soma added: "You can dress it up and you can dress it down."
Next, the friends modeled a sequin mini dress with spaghetti straps, available for $50.
"It's very short. Like very very short. Extremely short," Debbie explained.
This look also didn't fit size 18 Liz, who struggled to zip it up completely.
She revealed that she wouldn't wear the look in the correct size as it would be too short for her tall physique.
Debbie told viewers: "I love that it's got this bra strap thing because it helps lift your boobs up."
"For me though, maybe because my boobs are quite big, I need to keep adjusting it," Soma pointed out.
Finally, the influencers modeled a $17 mocha brown sweater with a belt buckle detail on the chest.
The group paired the fashionable top with a pair of brown faux leather pants, $30.
While three of the women agreed that the sweater was not their favorite, Liz revealed that she loved the entire outfit.
Debbie added: "The trousers for me, the win. High-waisted, good quality, amazing. And the length is great."
Soma agreed: "They're flexible and have you noticed? For leather pants, they're not noisy."
"The material is so comfortable as well. It's so warm. It's flattering on everyone," concluded Liz.
Viewers took to the comments section to share their thoughts on the haul.
"Definitely the green jumpsuit, gorgeous on all of you," wrote one user.
Read More on The Sun
I'm obsessed with perfume, have 400 bottles & wear it to bed…here's my top five
ITV star admits drink driving but says she only got in car to escape threesome
Another subscriber said: "Love love loved the green jumpsuit you all looked amazing and the pink dress was a dream."
"Wear the jumper front to back it will look better," suggested a third person.
Source: Read Full Article