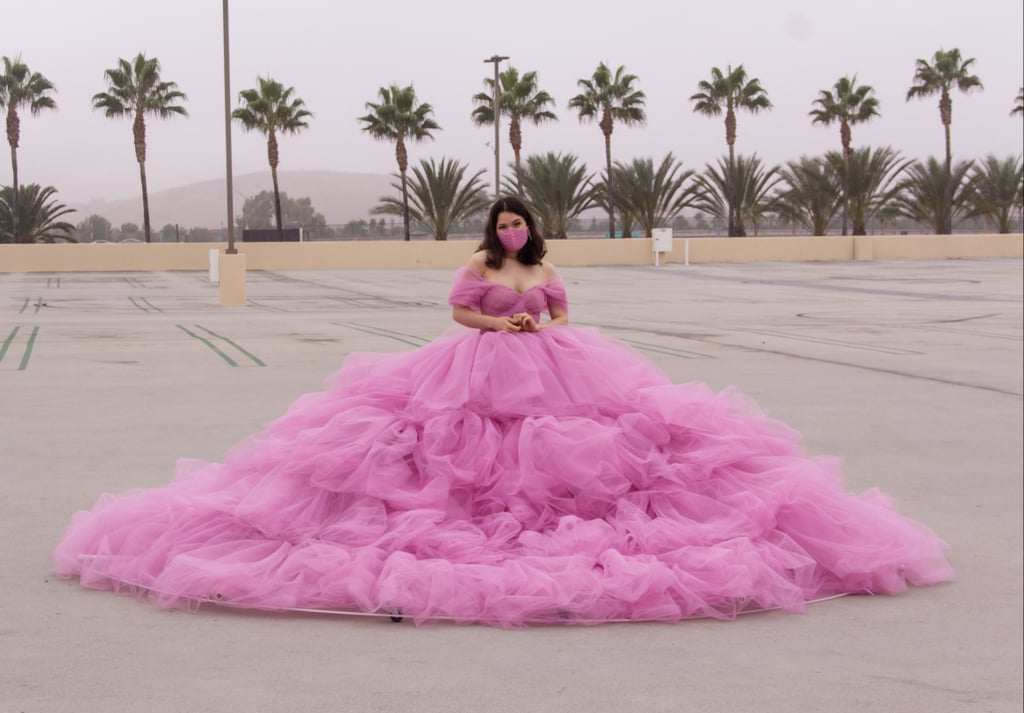 You Want Fashion During the Pandemic? This TikTok User's 12-Foot Social-Distancing Dress Is the Answer

TikTok user and UCLA student Shay Rose created a pink social-distancing dress made of tulle that is, in fact, six-feet wide on each side. The 12-foot project took two months, and was done from home while quarantining in Southern California. Even though Shay has many design creations to be proud of, all of which you can see via video on her account, this gown makes a statement about our society and forces us to consider how far six-feet apart actually is. At the same time, it also speaks to our desire for fantasy and whimsical dresses during this time of unrest — perhaps even to the future of fashion. Shay spoke to POPSUGAR about her project, explaining that she had the idea for a social-distancing dress in the back of her mind since the summer. "What if there was a dress that made a social-distancing bubble all around you?" she wondered.
Shay went with pink tulle simply because the color is princess-like. She bought six bolts of pink tulle from a wholesale supply store (costing $6 per bolt of 40 yards), commonly visited for wedding decorations. The skirt is made from hooping wire sourced from a corset supply store, and Shay confirmed this was the most expensive part of the dress, although it can be reused. "It actually took me three different attempts to figure out how to make the dress 12 feet across without it collapsing on itself. In the end, I built a PVC base with little wheels on it that rolls around under the dress and supports the structure," she explained of the bottom portion of the dress, which she completed before moving on to the simpler bodice and completing the look with a matching face mask.
Source: Read Full Article