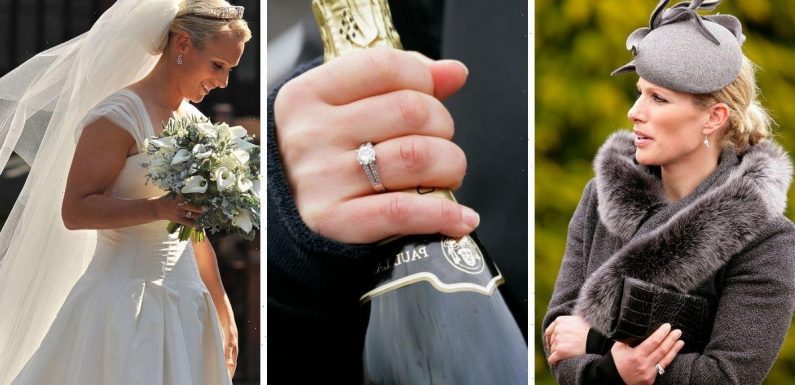 Zara Tindall arrives at her wedding in 2011
We use your sign-up to provide content in ways you've consented to and to improve our understanding of you. This may include adverts from us and 3rd parties based on our understanding. You can unsubscribe at any time. More info
Zara and Mike Tindall tied the knot on July 30, 2011, and are as in love now as they were more than a decade ago. Mike got down on one knee with a beautiful yet simple diamond ring.
The Royal Family is no stranger to an exquisite – and expensive – engagement ring.
According to experts at Steven Stone jewellers, Meghan Markle's diamond trilogy ring is worth a huge £120,000.
Kate Middleton's Ceylon sapphire ring – previously the late Princess Diana's – has an estimated worth of £400,000 according to Angelic Diamonds.
Princess Beatrice's 3ct diamond engagement ring is worth £130,000, according to Steven Stone experts, and Princess Eugenie's has been valued as the same as Meghan's.
However, while Zara Tindall's engagement ring is far from cheap, it is reportedly no where near as pricey as some other royal rings.
Maxwell Stone, leading diamond expert at Steven Stone, told Express.co.uk: "Mike Tindall proposed to Zara with a four-claw split shoulder design with several pavé set diamonds, complete with a single solitaire diamond."
He estimated its worth to be a relatively modest – by royal standards – £15,000.
He described the sparkler as a very "modern" piece.
While the piece itself is totally different to her mother Princess Anne's engagement ring, they both have one key thing in common.
The mother and daughter duo both wear pieces that are "notably understated in comparison to other royal engagement rings".
This "sets them apart from many other royal rings", including duchesses Meghan and Kate, and princesses Beatrice and Eugenie.
But despite deviating from the royal norm in this way, the stone itself is very typical of engagement rings.
Why did Mike Tindall opt for a diamond over other stones?
Jon White, Director of leading precious metals buyer, exclusively told Express.co.uk: "The diamond is a classic gemstone, and the most popular choice when it comes to engagement rings.
"It symbolises a strong bond between two people, as well as symbolising health and a long life.
"Diamonds have featured on royal engagement rings since as early as Queen Victoria's reign."
Zara joins Sophie, Countess of Wessex, Camilla, Duchess of Cornwall, Meghan Markle and Princess Beatrice – not to mention the Queen herself, who all wear diamond engagement rings.
As for why the rugby player turned royal husband didn't opt for an ostentatious ring, he had a very sweet reason.
Zara is an Olympic equestrian, and extremely passionate about her sport.
It is thought that Mike went for a more practical choice to accommodate his soon-to-be wife's lifestyle.
Source: Read Full Article