Crushing on celebs? We've been doing it for years. We love their movies. We love their music. Checking celeb Instagram accounts can be the first thing a fan does when they wake up. Or the last thing they do before they turn the lights out. Whoever we're obsessively loving, chances are we want to meet them one day. Staying up until 3 a.m. to grab Taylor Swift tickets the minute they go on sale? No-one should be judging us. Traveling across the country for Coachella? It might be the only chance we have.
For those of us who have met out favorite celebrity and they've been amazingly nice, we'll know there's no better feeling than knowing that they're a decent person on the inside. We're not just talking about the ones who paint on a smile and wave. We're talking the celebs who go above and beyond for their fans – the ones who 100% appreciate their fans and show it. From the music stars throwing $1000 pizza parties to the celebs who just invite fans back to their place to "hang," we're going to get the feel-good factor, here. Diva attitudes are so 2017. Treating fans with respect are the new goals, and some celebs are already outdoing the concept. Here are 25 celebs who are simply amazing with their fans.
25

SELENA GOMEZ FLIES ACROSS THE WORLD TO SURPRISE FANS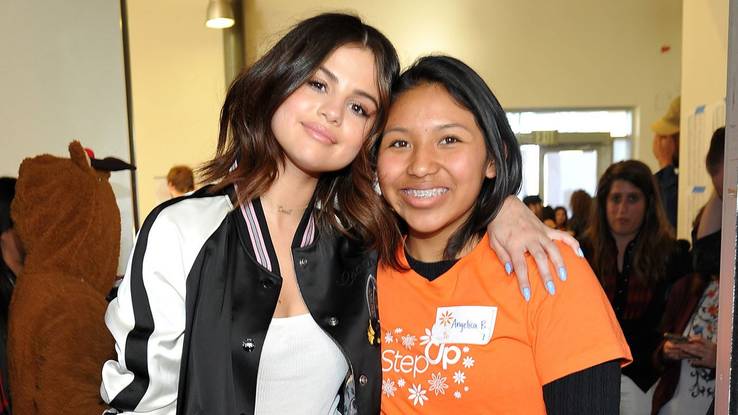 In 2018, Selena Gomez posted a stage pic of herself reaching down towards a little girl. She captioned it: "My heart." Loyalty is something Selena appreciates on a whole other level. When Selena's best friend donated a kidney to save the singer's life, Selena shared the love online. From tagging fans on Instagram to abandoning her own dinners to be with them, Selena is 100% about the fans. Selena even flew all the way to Australia to surprise a fan in her bedroom. Call Selena on her cell? She'll call you back. Send her a letter? Selena will post the letter online and reply – even it's to apologize: "Sorry I missed you Madeleine! Love you baby girl."
24

DRAKE RANDOMLY PAYS FOR EVERYONE'S GROCERIES
In February 2018, Drake started an Instagram trend encouraging people "to be nice to each other." Why? Because he actually understands kindness. We're not talking about the $1 million that The Telegraph reported Drake giving away after "God's Plan" dropped. This is a rapper who walks into Miami grocery stores and decides to pay for everyone's purchases. In 2018, NME covered the story.
That same month, Drake surprised fans by shooting his music video at their high school. This guy rules.
23

TAYLOR SWIFT IS LITERAL FAN GOALS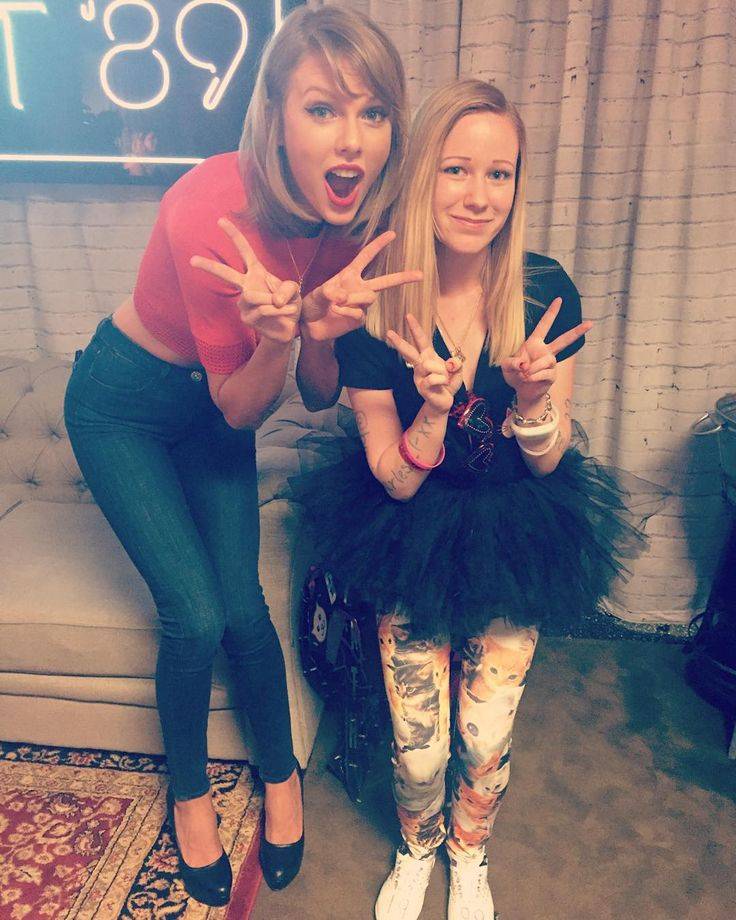 When it comes to fans, Taylor Swift goes above and beyond. Like the time E! News reported that Taylor had surprised a 96-year-old veteran with a home performance. Cyrus Porter, who served his country in World War II might be one of Taylor's oldest fans, but he's a fan for a reason. Tay-Tay home-delivered a "Shake It Off" performance for the veteran at his Missouri home.
Sometimes, the smallest gestures are the kindest. Taylor individually wraps gifts for fans with hand-written notes. Getting married? Taylor will also drop in on your wedding. When 1989 dropped, Taylor took fans back to her apartment for the 1989 "Secret Sessions."
22

KYLIE JENNER TOOK A FAN TO PROM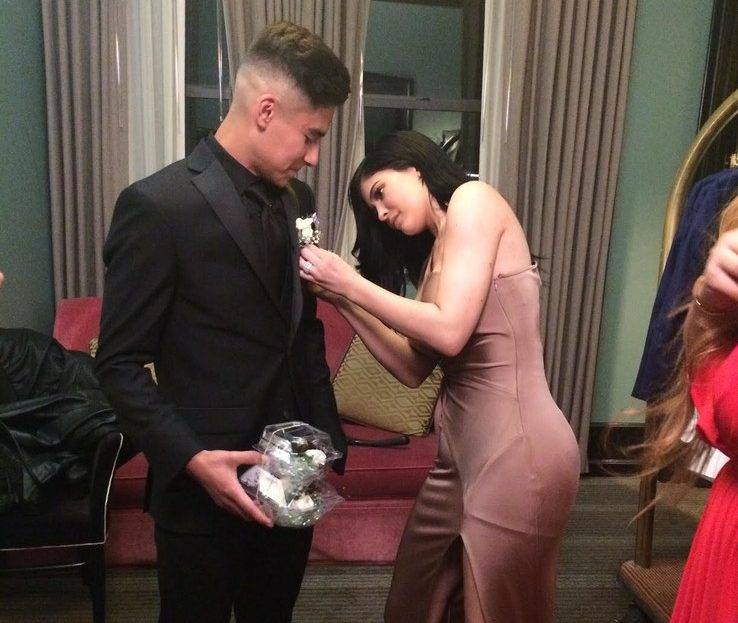 Think twice before you criticize Kylie Jenner. In 2017, Kylie herself rocked up to the Rio Americano prom in Sacramento. Why? Her fan, Albert Ochoa had been rejected by multiple girls, according to The Metro. Kylie arrived by surprise and agreed to be his date. Those "rejection" girls must've felt pretty silly. Albert got a whole evening with the Keeping Up With The Kardashians star, plus a slow dance. "Kylie Jenner really just came to Rio prom," one student tweeted. The video footage of them is just too cute.
21

ELLEN HAS GIVEN AWAY $50 MILLION WORTH OF GIFTS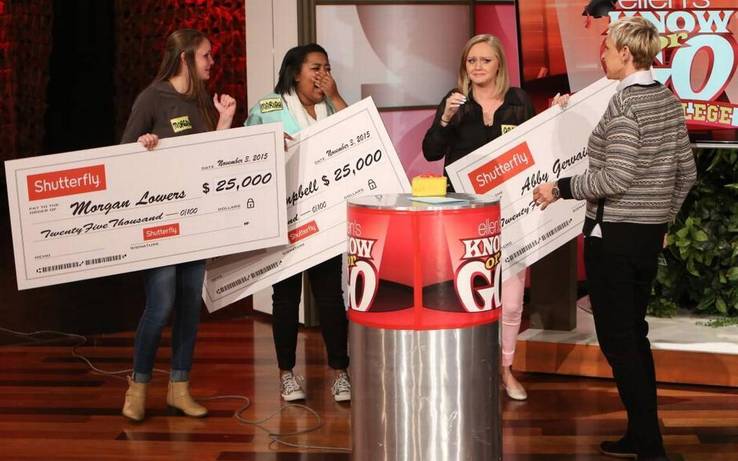 Ellen DeGeneres may as well be called Ellen "DeGenerous." The talk show host is literally the gift that keeps on giving. $50 million worth of gifts is what The List estimates Ellen has donated to date, and we're just getting started. Ellen has rebuilt broken families, reunited United States Navy officers with their girlfriends by surprise, and payed for college tuition.
Ellen DeGeneres is so amazing with fans, she may as well be called "Ellen De Generous."
With just one tweet, Ellen raised $3.3 million for the Humane Society and St. Jude's Children's Hospital by making Samsung agree to pay a dollar for every retweet of her Oscar selfie. Ellen might have a $50 million salary according to Variety, but this woman knows how to give back.
20

DEMI LOVATO INVITES FANS TO BE IN HER VIDEOS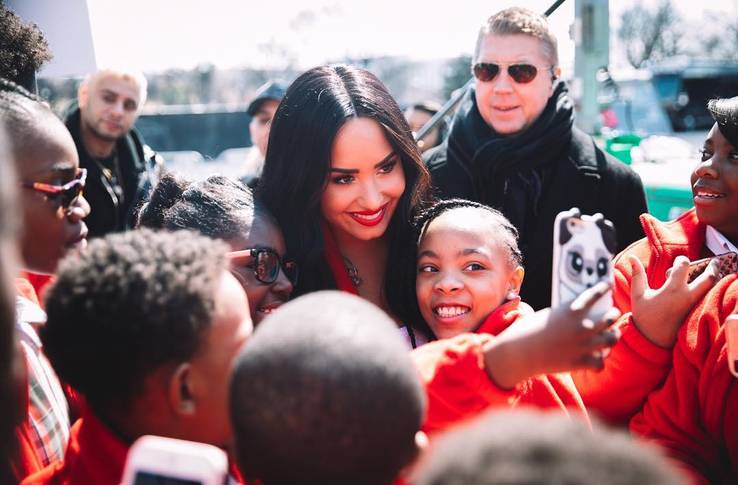 If you love Demi Lovato, you'll be pleased to hear that there are literally thousands of Google results for how nice Demi is to her fans. Probably why BBC reported that Demi's own fans just organized a "get well soon" singalong after she had to cancel her London show.
There was the time Demi gave a surprise performance to kids in a Los Angeles hospital. Then there was the time Demi let her fans be in her music video. When a five-year-old proposed to Demi mid-show, the singer said "yes." Aww.
19

DWAYNE JOHNSON IS SUCH A GOOD GUY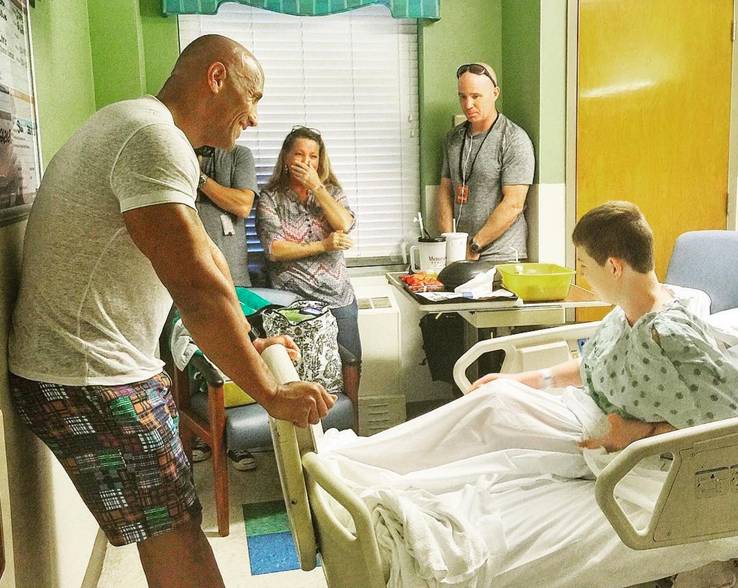 The internet is literally exploding with stories of how amazing Dwayne Johnson is with fans. The Rock has traveled to surprise sick kids in the hospital (and actually stayed for more than just the photos). In 2017, Dwayne recorded special YouTube messages for his Indian fans.
Dwayne got himself ordained to marry a couple – by surprise. When Dwayne can't make a fan's prom, he'll send private movie invites. Popcorn and candy is "on him."
Star Tribune reported that when The Rock couldn't make it to Stillwater Area High School's prom to meet a fan, he booked out 233 private seats in a movie theater. The girl and her friends got to see Rampage. Dwayne footed the bill and picked up the tab for "all the popcorn, soda, and candy they can stomach."
Featured Today
30 Celeb Kids Who Were Named After Places And Things (And Why)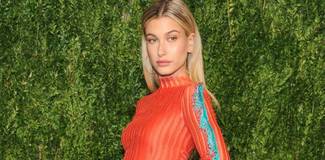 20 Things Fans Should Know About Hailey Baldwin Before She Marries Justin Bieber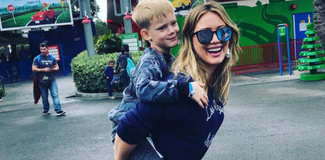 20 Reasons Why Hilary Duff Is SO Ready To Be A Mom Again

18

ARIANA GRANDE BUYS FANS COOKIES AND HOT CHOCOLATE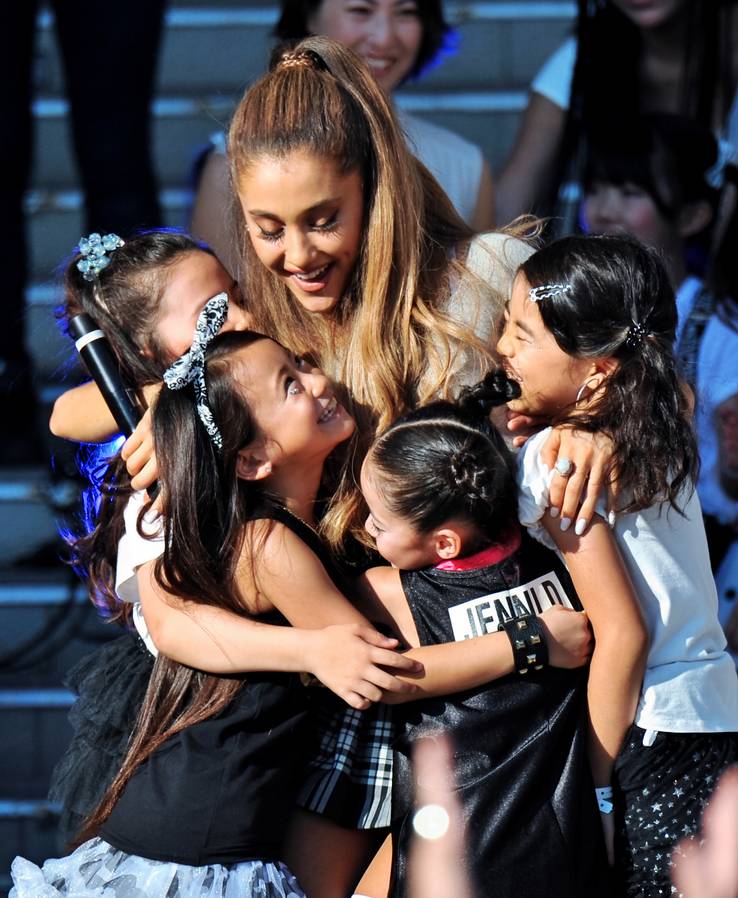 Ariana Grande has literally been all about the fans ever since the event that occurred at her 2017 concert in Manchester. The incident just didn't sit right with Ariana – precisely why she returned to the Manchester venue two weeks later to hold the benefit concert. Proceeds from all 55,000 tickets of One Love Manchester went to the local relief fund.
Ariana is just as awesome when it comes to individuals. In 2014, Ariana bought hot chocolate and cookies for all of the fans waiting to see her perform at the 2014 Victoria's Secret show. She also signed all of the cups individually.
17

CHRIS HEMSWORTH REWARDS YOU FOR FINDING HIS WALLET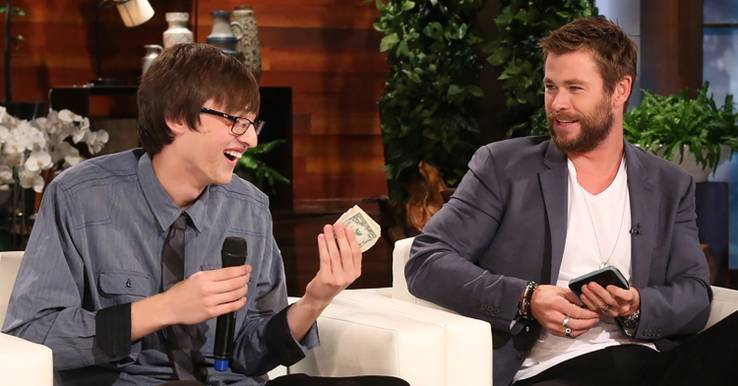 Knowing that Thor is just as good in real life is the best feeling ever. When Chris Hemsworth lost his wallet in 2016 and a fan returned it to him, Chris said "thank you" – big time. 17-year-old Tristan Budzyn-Baker ended up on The Ellen Show with a $10,000 reward. "I left my wallet on the table and thought: I'm never gonna get it back," Chris told Ellen. Chris expected the wallet to be missing the cash when Tristan returned it, but the Avengers actor had lucked out. Chris rewarded the fan with $10,000 to help towards college tuition, plus personally penning a letter of recommendation for the Eagle Scouts.
16

LADY GAGA THROWS $1000 PIZZA PARTIES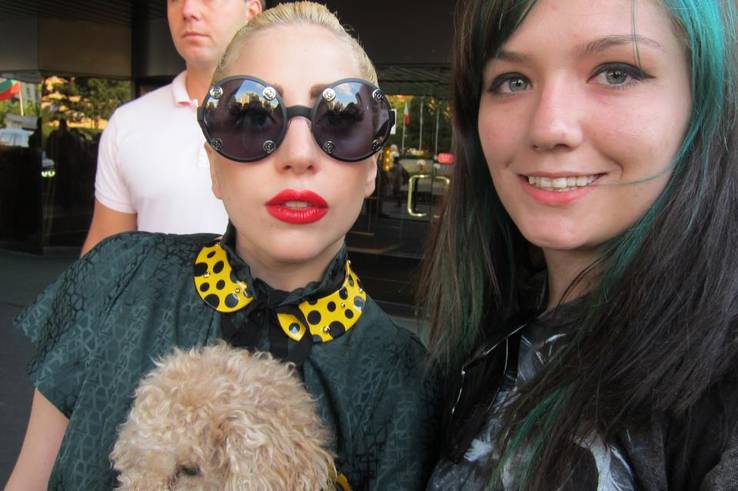 She might come with a fancy stage name, but Lady Gaga is awesome with fans. In 2009, Gaga threw a $1000 impromptu pizza party for fans. No reason – just to be nice. She called up Papa John's so her "little monsters" wouldn't get too hungry standing in line, before accompanying it with a tweet. Just last year, Gaga did the exact same thing to disappointed fans after her concert had to be postponed.
$1000 pizza parties are just the half of it. Lady Gaga stopped her show to attend to an injured fan. In 2017, Lady Gaga stopped her show to tend to a hurt fan in Connecticut. Now there's something you don't see every day.
15

MILA KUNIS ACCEPTED A MARINE CORPS BALL INVITE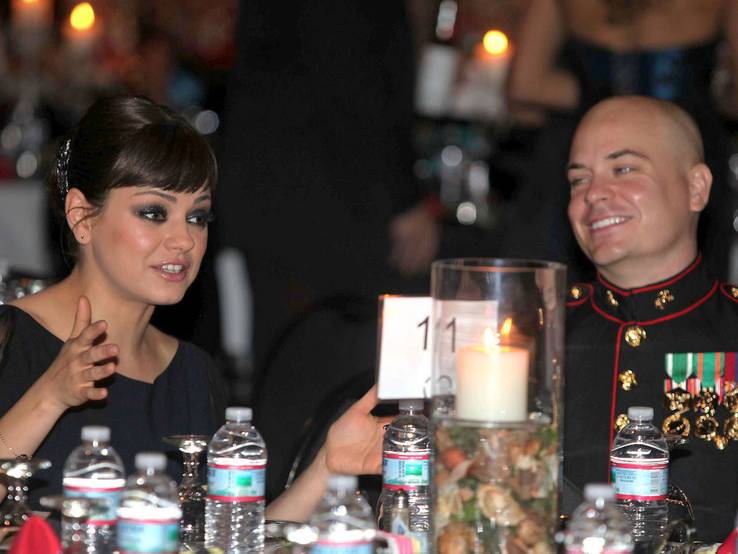 Thank goodness for Mila Kunis – a girl-next-door celebrity whose ego hasn't sent her into outer space. In 2011, Mila surprised everyone. When the Afghanistan veteran, Sergeant Scott Moore wished for Mila as his Marine Corps Ball date, the actress delivered.
Speaking to Good Morning America, Sergeant Scott said that Mila was "just a normal girl who is very interested to learn about our history and our traditions." Scott added that he'd "had a blast." Mila even danced with her date.
14

BEYONCE SPENT TWO YEARS TRACKING DOWN HER FANS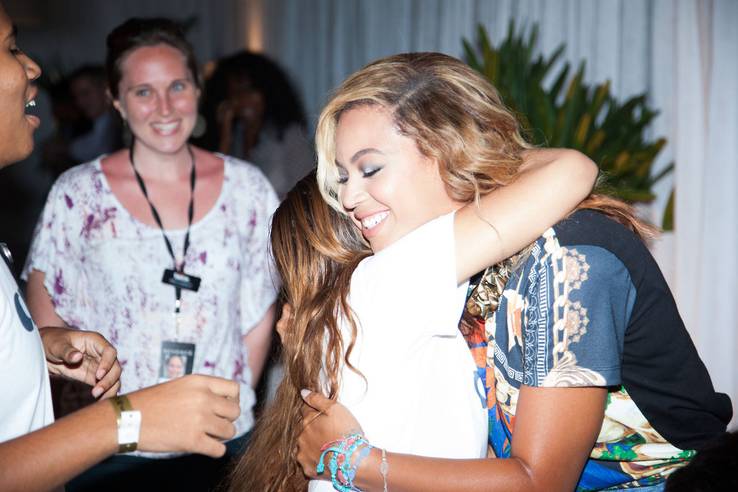 Despite being one of the busiest women in the industry, Beyonce makes time for her fans. When Laurent and Larry Bourgeois, a.k.a. Les Twins, filmed themselves dancing along to Beyonce on YouTube, Bey was so impressed, she just had to track them down. The twins told i-D Magazine that Beyonce wanted to work with them so badly, she spent two years tracking them down.
Over in Miami, when fans were singing along to "Party" and Bey was actually partying in the next door room, the Lemonade singer popped over to join her fans. Beyonce FaceTimed with Ebony, her fan who was sick, after hearing her wish on social media.
13

MILEY CYRUS INVITES PROM FANS TO HANG WITH HER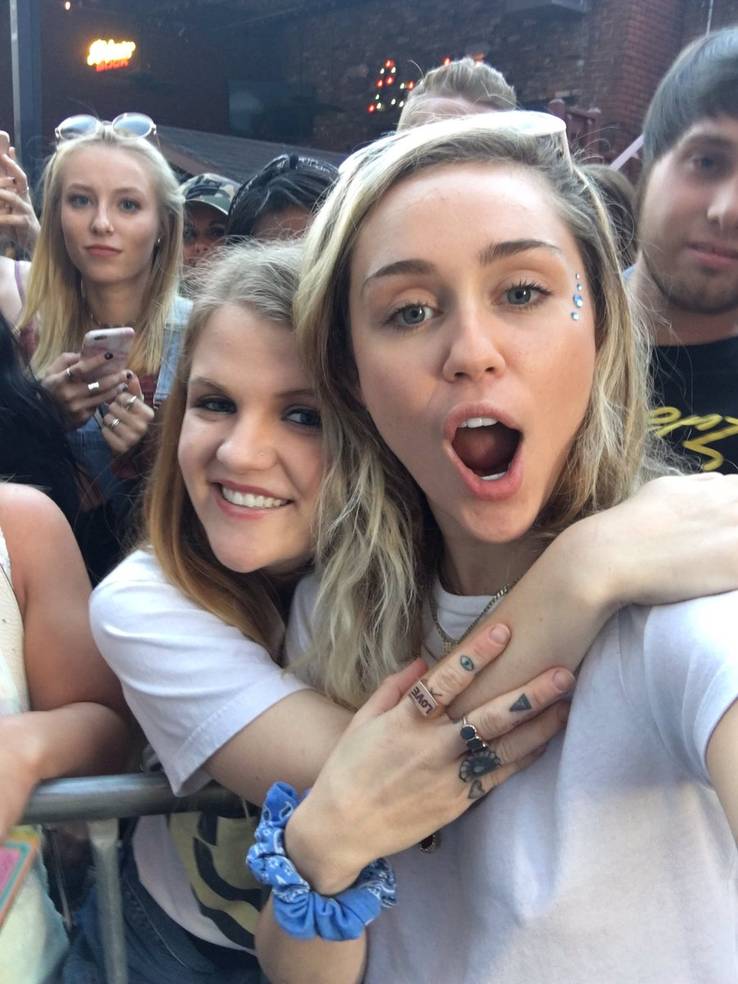 Miley Cyrus keeps finding herself on "amazing with fans" lists – just like this one. In 2013, Miley was so impressed with a fan's social media skills, she flew the fan out to work with her. Then there was Matt Peterson, a fan who wanted to Miley to be his prom date.
"Dear Matt Peterson, I don't think I'll be able to make it to prom BUT why don't you come to my AZ show and hang with me?"
Yup. Miley invites fans to chill, although she'll equally march with them for worthy causes. Miley also founded the Happy Hippie Foundation, which supports the homeless and vulnerable youth.
12

JUSTIN BIEBER BOUGHT HIS FANS IPHONES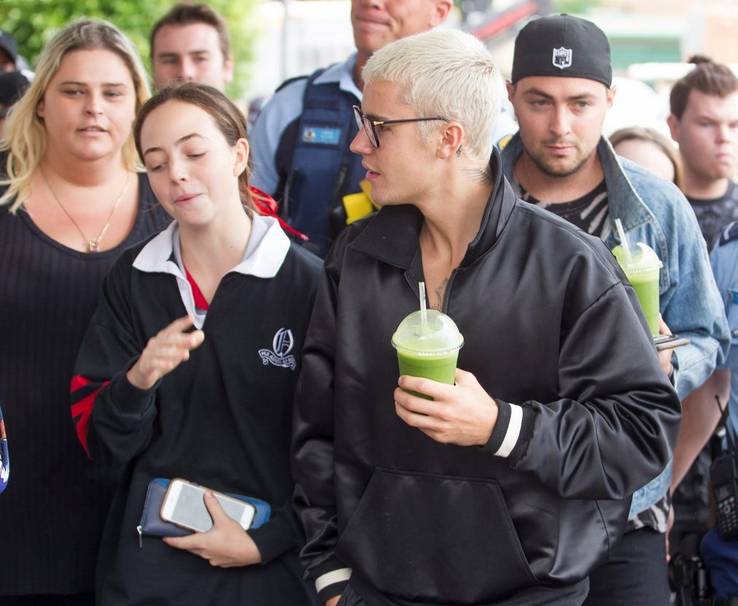 Forget filming Justin Bieber on your iPhone. This is a star who will buy his fans brand new ones. In 2014, Justin was spotted skateboarding in New York City. The next day, The Daily Mail reported that Justin had shelled out for two fans' new iPhones at the NYC Apple store.
Two years later, Justin met a Make A Wish fan backstage in Pittsburgh. He posed for photos with her and posted them to Instagram. M Magazine reported that, unlike other celebs, Justin doesn't charge for meet and greets.
11

NIALL HORAN TRAIPSED THROUGH NYC TO FIND FANS A 24-HOUR STARBUCKS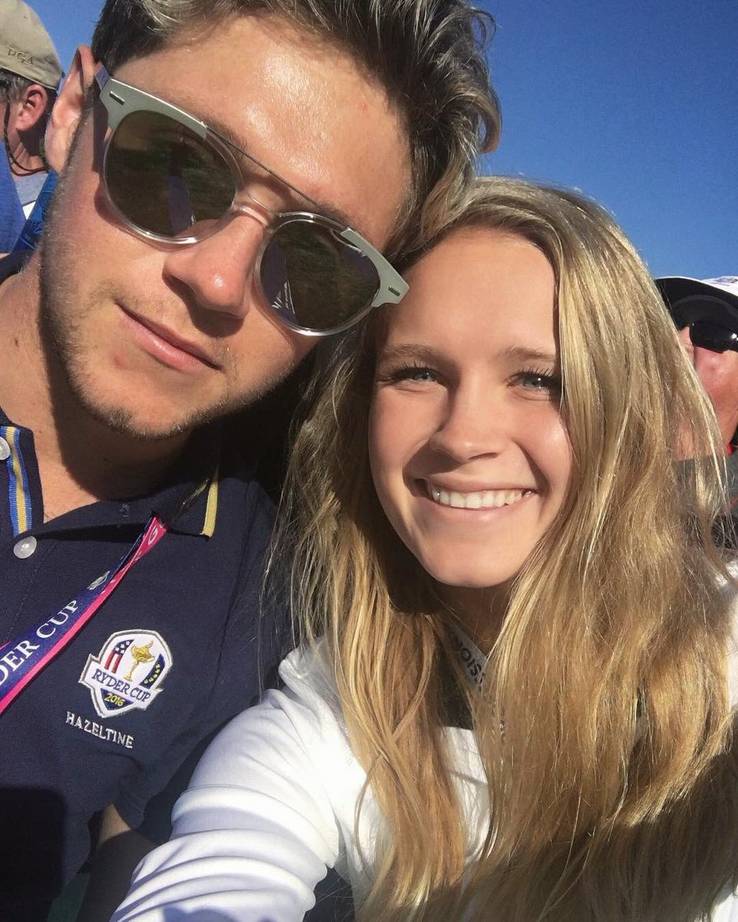 In 2016, Niall Horan was visiting NYC to appear on the Tonight Show With Jimmy Fallon. Of course, fans were waiting. When Niall noticed that they were cold, he traipsed around Manhattan to over four different Starbucks outlets to find one that was open 24 hours. Twitter reports said that Niall abandoned his car before hitting up five Starbucks coffee houses. Coffees were on him. "Niall also said that if he knew they were there, he would have brought them something," was the tweet from @NJHNEWS. Pics, hugs, free coffee, and a real effort. No more "Lonely Starbucks lovers."
10

JENNIFER LAWRENCE HELPED A COLLAPSED FAN ON THE LAWN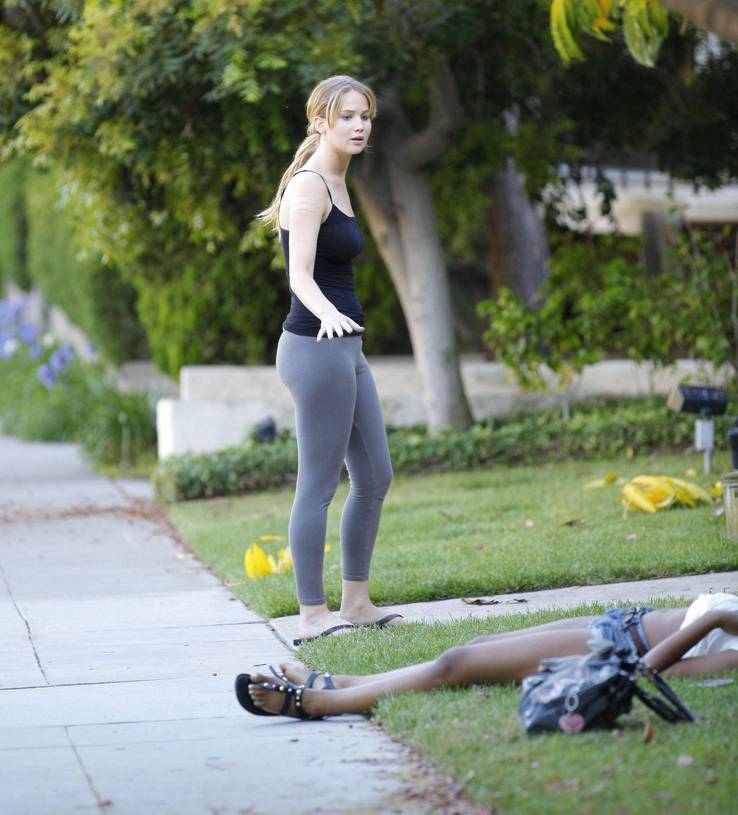 Jennifer Lawrence is a face you'll see on the glittering red carpet. Just remember, though, this girl is used to getting her hands dirty. For The Hunger Games, Jen pulled most of her own stunts. When one of J-Law's fans had collapsed on a lawn, Jen swiftly called 911 before rushing over to reassure the girl. Jen stayed by her side the entire time, including once the paramedics had arrived. Santa Monica may be a fancy place, but even an A-lister like Jennifer Lawrence can be down-to-earth in an exclusive zip code.
9

RIHANNA HELPS FANS THROUGH HEARTBREAK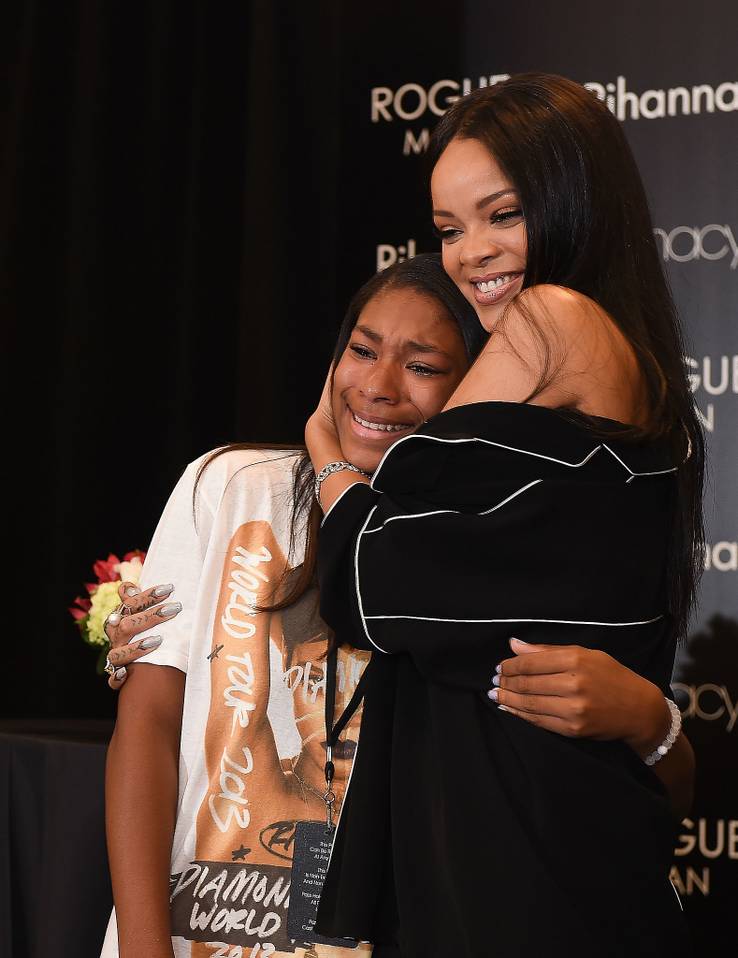 Rihanna might have her own relationships to handle, but this singer always has time for her fans. In 2017, Teen Vogue reported that Rihanna had been direct messaging a fan on Twitter – not to quickly say "thanks," but to really help them. @WaladShami had gone through a rough breakup. "It was my first relationship ever and they ended it with me in January," he told BuzzFeed. Rihanna told him that he wasn't the only one to "cry if you have to." Rihanna personally replied and helped this fan through a hard time.
8

EMILIA CLARKE INVITES FANS ON SET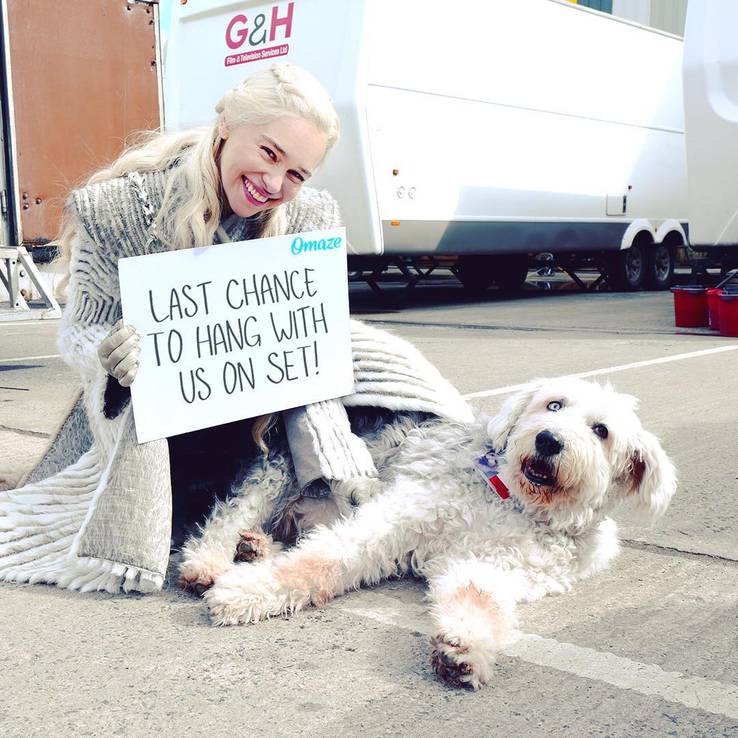 Emilia Clarke is currently thanking all of her fans for supporting her through Game of Thrones. Back when the show was still airing though, Emilia was already thanking the fans. In April 2018, Emilia invited one fan and a friend to "bend the knee in Belfast" during a visit to the top-secret set. Not only were the fans treated to all the back-stage bonuses, Emilia had teamed up with The Royal College of Nursing Foundation to donate cash. Here she is, looking totally chilled while showing fans all that love.
7

CHRIS PRATT TEACHES KIDS TO TRAIN RAPTORS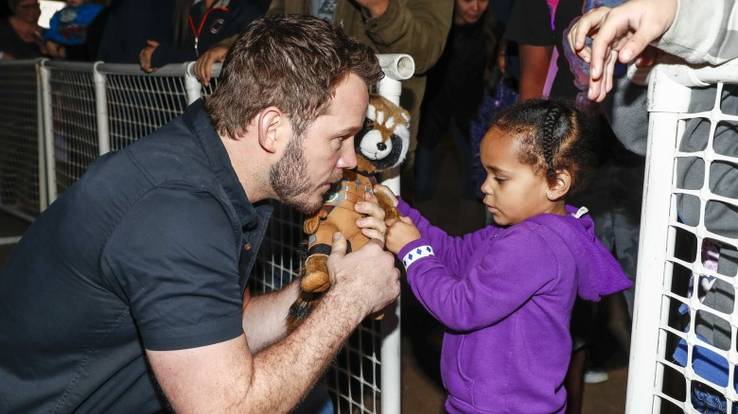 Chris Pratt is the ultimate Good Guy Greg. His visits to Seattle Children's Hospital aren't just a one-off – Chris has visited young fans, plus stopped to spread the love in the neo-natal unit. Chris also stuck to his Super Bowl bet with Chris Evans when they visited Christopher Haven's Children Hospital in Boston. During Jurassic World filming, Chris even spent time teaching kids how to train raptors in a kids' hospital in Baton Rouge, FL. If he isn't out spreading the love, Chris is encouraging fans to do well in their exams online. This pic of Chris is just awesome.
6

NICKI MINAJ PAYS FOR HER FANS' TUITION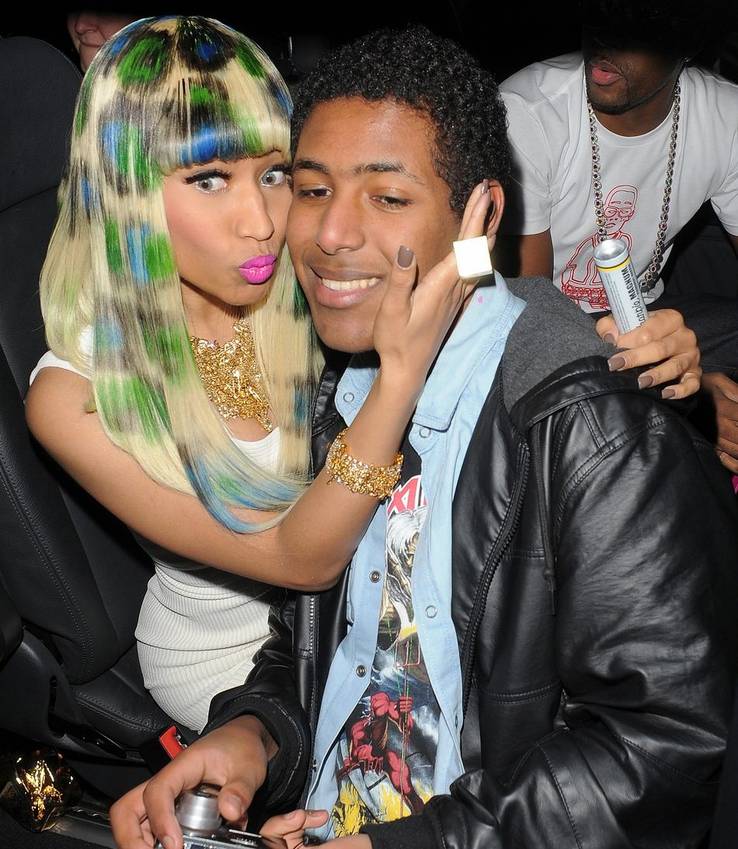 Nicki Minaj knows what it's like to grow up on hard times. According to People, Nicki was fired from her job at Red Lobster after a couple who had reportedly stolen her pen ran away into the parking lot. When a fan asked Nicki to help out with college tuition fees, Nicki stepped up to the plate.
Nicki payed for books, computers, and accommodation for around 30 followers. They sent their bills – between $1000 and $6000 and Nicki covered it.
"How much [you] need? Would this be [your] tuition?" Nicki tweeted to a fan. "Show me straight As." Can't blame her for encouraging the students to do well.
5

EMINEM DROPS WHAT HE'S DOING FOR SICK FANS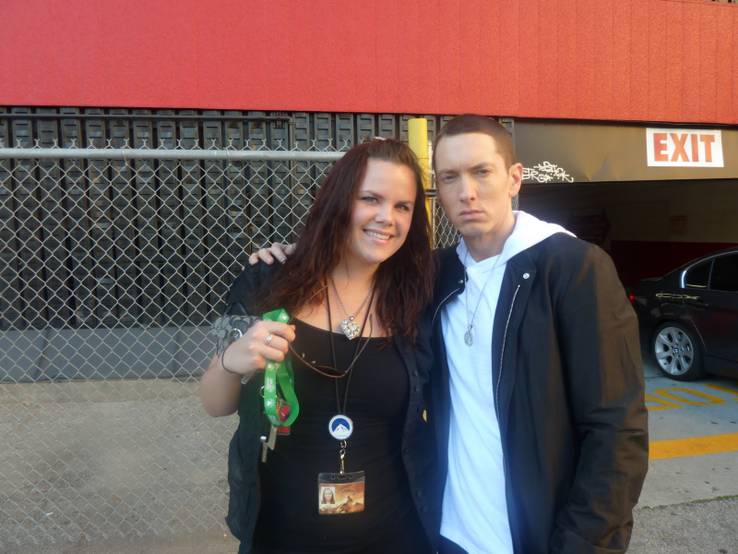 Eminem isn't just funding The Marshall Mathers Foundation that you never knew existed. In 2015, Em learned that a sick teenager wanted, more than anything, to meet the rapper. Eminem dropped what he was doing, jumped on a plane from Atlanta to Detroit, and insisted that no cameras be present. He didn't want the publicity. Gage Garmo was in his final hours with cancer. Eminem didn't send gifts or signed merchandise. He went himself, according to The Daily Mail.
4

KATY PERRY GOES UNDERCOVER TO SURPRISE FANS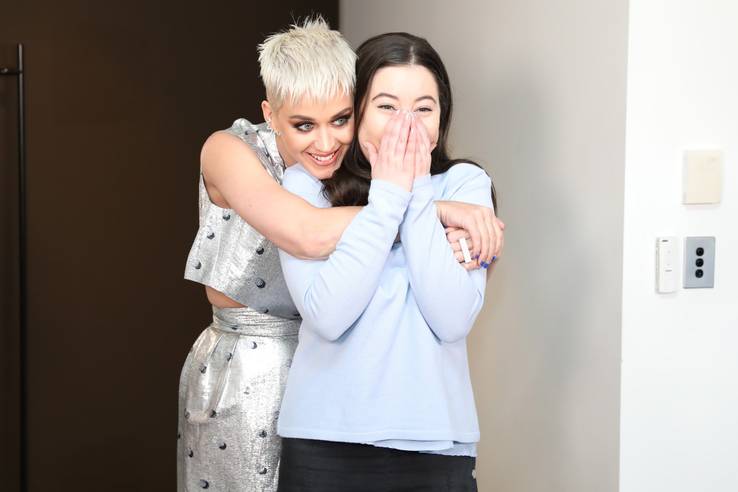 It's pretty hard not to recognize Katy Perry. When the singer is going undercover to meet fans though, it's out with the neon wigs and polka dot dresses. In 2014, Katy crashed five separate birthday parties (in complete disguise). According to E!, it's a bit of a pattern with Katy. She also traveled to London to surprise fans at a secret screening of her Part of Me documentary. Katy dressed up as a concessions counter worker before revealing her identity. Now there's a "Dark Horse."
3

ZAC EFRON REPLACED A FAN'S BROKEN PHONE FOR $949.99
Fans can go pretty nuts trying to capture their favorite celebrity on film. In 2016, a Zac Efron fan dropped and shattered his phone near the set of Baywatch. According to Today, Zac was quick to reply: "Dude, did [your] phone just break?"
"[Zac] allowed me to come on set to meet him properly. Also, he bought me a brand new phone. Which was $949.99 retail."
Zac didn't just buy some cheap replacement for Ahmed. Zac later posted about it on Instagram to say: "[Smashing] his phone while chasing me for a Snapchat – that's dedication so [I will] hook you up with a new phone."
2

HARRY STYLES PAUSED HIS GIG FOR A FAN HAVING A HARD TIME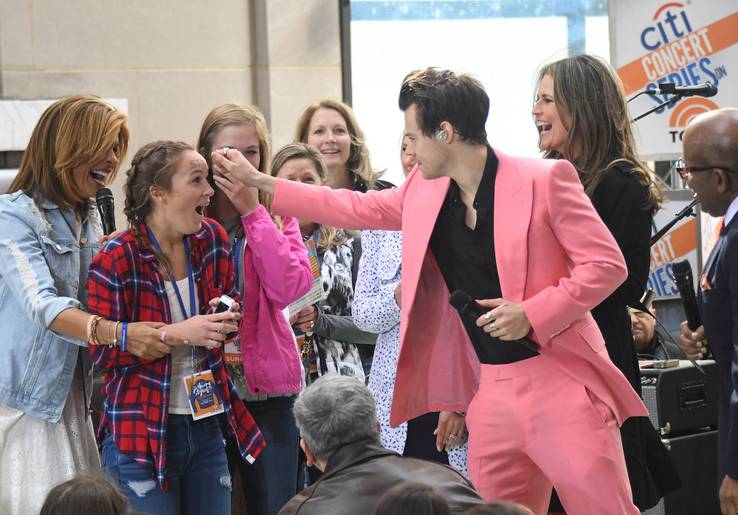 Harry Styles is an amazing person. In 2017, Harry was performing as part of his solo world tour when a fan in the crowd experienced a full-blown panic attack. Harry was singing "Just A Little Bit of Your Heart" when he noticed someone was in trouble. "Is everyone okay?" he asked, pausing the concert. "Do you want me to help her get up? If everyone could give her some space." Harry made sure that the fan was pulled aside and treated by medics. @alienwhiteside tweeted: "I feel so grateful to Harry for having such a pure heart and stopping the show to get security to help me."
1

KIM K FLIES FANS ACROSS THE WORLD FOR BRUNCH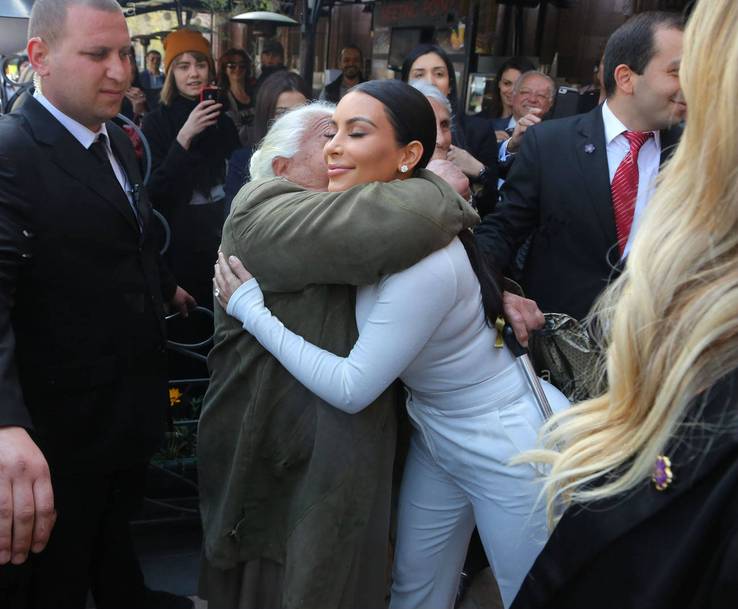 Kim Kardashian gets a lot of flack for seeming self-absorbed, but this reality star knows love. Maik Leenards is a Dutch fan who got to experience first-hand just how generous Kim is. Kim flew Maik out to LA, picked him up from the airport, and had a welcome gift waiting for him in his hotel room. Then he was treated to brunch with the star. "She's really sweet," Maik told Noisey. "You could ask her anything. She took her time to answer all our questions."
You've got 25 of the most kind-hearted celebs (and probably way more than 25 Facebook friends who love at least one person on this list). Hit share for that friend who adores Selena, Ariana, Chris Pratt, or any of the other 22 celebs on this list. Time to spread the love (or get a seriously famous prom date).
Source: Read Full Article