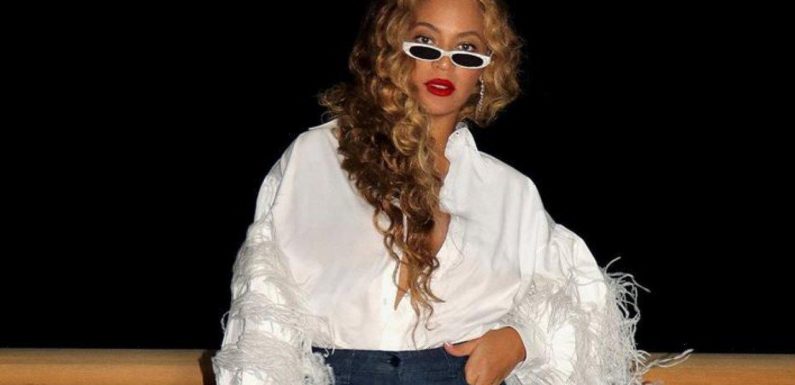 The powerful song, which serves as the soundtrack of Will Smith-starring movie, marks the 28-time Grammy winner's first release as a lead artist since 2020's 'Black Parade'.
AceShowbiz -The wait is finally over! A few weeks after Beyonce Knowles teased fans of her new single "Be Alive" in the "King Richard" trailer, the 28-time Grammy winner finally released the song on Friday, November 11.
On the percussive piano ballad, the 40-year-old R&B superstar belts out powerful lyrics about taking pride in the hard-won battles. "It feels so good to be alive/ Got all my sisters by my side/ Couldn't wipe this black off if I tried/ That's why I lift my hеad with pride/ Now we're sitting on top of thе world again," the wife of Jay-Z sings.
Beyonce first previewed "Be Alive" at the biographical drama film's first public screening at the 2021 Telluride Film Festival. Fans later got to hear the song after the trailer of the movie arrived in October. With the song, it's believed that she will land her first Oscar nomination.
"King Richard" narrates the life of Richard Williams, "an undeterred father instrumental in raising two of the most extraordinarily gifted athletes of all time," Serena Williams and Venus Williams. The official description further detailed, "Two-time Oscar nominee Will Smith ('Ali', 'The Pursuit of Happyness', 'Bad Boys for Life') stars as Richard, under the direction of Reinaldo Marcus Green ('Monsters and Men')."
"Driven by a clear vision of their future and using unconventional methods, Richard has a plan that will take Venus and Serena Williams from the streets of Compton, California to the global stage as legendary icons," it continued. "The profoundly moving film shows the power of family, perseverance and unwavering belief as a means to achieve the impossible and impact the world."
"Be Alive" marks Beyonce's first release as a lead artist since "Black Parade", which was released back in June 2020. The latter was included in the accompanying deluxe edition of "The Lion King: The Gift" and used in the end credits of her movie "Black Is King".
Source: Read Full Article