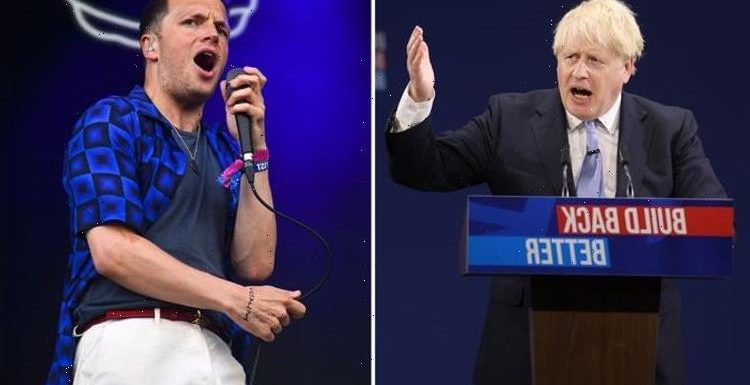 Boris Johnson sets out levelling up agenda in speech
We use your sign-up to provide content in ways you've consented to and to improve our understanding of you. This may include adverts from us and 3rd parties based on our understanding. You can unsubscribe at any time. More info
Yesterday, Boris Johnson gave his speech at the Conservative party conference with a bit of music beforehand. The Prime Minister walked out to the song Blue Cassette by Indie band Friendly Fires, who have since criticised the use of their track by the Tories. The band, which formed in 2006, took to social media to say their permission was not given.
In a statement on Friendly Fires' Twitter account, the band shared their disapproval.
They wrote: "We do not endorse the Conservative party's use of our track Blue Cassette.
"Our permission was not sought, and we have asked our management to make sure it isn't used again.
"If we'd have intended them to use it, we'd have named the track Blue Bunch Of Corrupt W****rs."
Friendly Fires added: "If Boris Johnson needed something uplifting to walk on to, perhaps he should have used the sound of a busy food bank."
The post included a picture of the Leader of the House of Commons' from a story titled: "Jacob Rees-Mogg: Food banks 'rather uplifting'".
Of course, Friendly Fires aren't the only band to have complained about politicians using their music around speeches.
During Former President Donald Trump's 2020 re-election campaign a number of artists protested the use of their music.
The bands and artists included The Rolling Stones, Neil Young, Phil Collins and the estates of Prince and Tom Petty.
According to the BBC, in the US, politicians don't need direct permission from artists to use their music.
Campaigns can buy licensing packages from music rights organisations, granting them legal access to millions of songs.
However, some musicians like The Rolling Stones have opted out of such deals.
DON'T MISS
Michael Jackson wanted to helm Harry Potter musical admits JK Rowling [MICHAEL JACKSON]
Andrea Bocelli gives goosebump-inducing rendition of The Prayer WATCH [ANDREA BOCELLI]
Joan Collins' Frank Sinatra rant 'Savage beast acted like 5-year-old' [FRANK SINATRA]
While in the UK, PPL, the body that licenses the use of recorded music, requires that political events like party conferences obtain permission from rights holders before using their songs.
Aside from Friendly Fires' Blue Cassette, Electric Light Orchestra's Mr Blue Sky was also played prior to Boris Johnson's speech.
As for music used at last week's Labour Party Conference, Sir Kier Starmer walked on to Right Here, Right Now by Fatboy Slim.
The DJ is a childhood friend of the Labour Party Leader, having shared violin lessons with him.
Having met at St Albans School, Friendly Fires started out covering bands like Green Day.
Their biggest influences include the likes of Kompakt, Carl Craig and Prince.
In 2009 the band was shortlisted for the 2009 Mercury Prize.
While Friendly Fires' latest album Inflorescent was released in 2019.
Source: Read Full Article