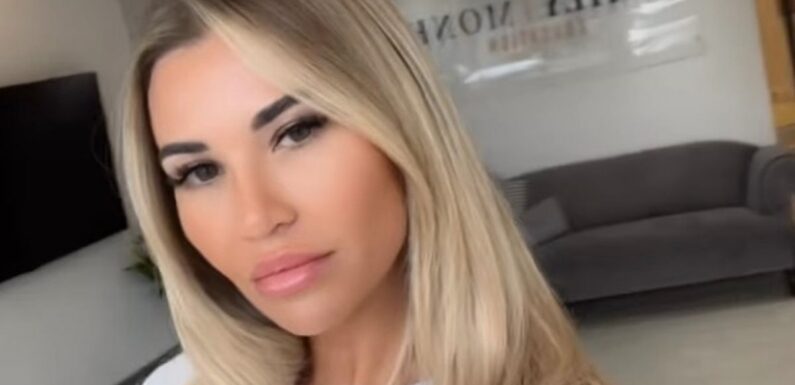 TV personality Christine McGuinness left fans confused after she debuted an "extreme" new makeover look on Instagram.
The 35-year-old shared the image with her 711,000 followers on after undergoing some "modification" work.
In the snap, Christine's gorgeous features appeared to be exaggerated while her face and lips were fuller.
READ MORE: Christine McGuinness speaks out on Duncan James dating rumours after 'naked' confession
However, despite leaving fans stunned, the snap was actually an AI-generated image of Christine as an attempt to create a disguise after she signed up to take part in Celebrity Hunted.
The mother-of-three is currently on the run with Blue's Duncan James, as she takes part in the hit Channel 4 programme.
Captioning the snap, she wrote: '"Just been to Golden Modification Aesthetics thanks for the great work! @hunted_hq."
But despite her evident prank, some of her followers still thought the photo was real.
Heading to the comment section, fans shared their concerns.
One social media user wrote: "Looked better before she was such a pretty girl. Lips are wonky."
Another added: "Can you get your money back? Not a good look!"
A third exclaimed: "Wtf have you done."
While a fourth asked: "Omg what has she done to herself she was beautiful before. Is this a joke????"
But some followers understood Christine's assignment straight away, with one fan writing: "Love that your doing this, love the show, don't get caught."
Christine was previously forced to shut down rumours that she was dating singer Duncan after they were snapped enjoying a night out together.
Taking to Instagram, Christine, who shares three children with comedian Paddy McGuinness, explained that they are just friends.
She said: "You know it's a good night when you don't take any photos. Loads of you are saying "Oh we're so happy for you" that I was on a date.
"It was my mate, Duncan's my friend. Duncan's got a gorgeous partner and I love them both. But yeah, I was only taking the p**s when I said I was on a date.
"I don't like dates, I don't do dates absolutely not. My voice keeps going I was talking all night. I laughed so much it was a really good night."
Source: Read Full Article