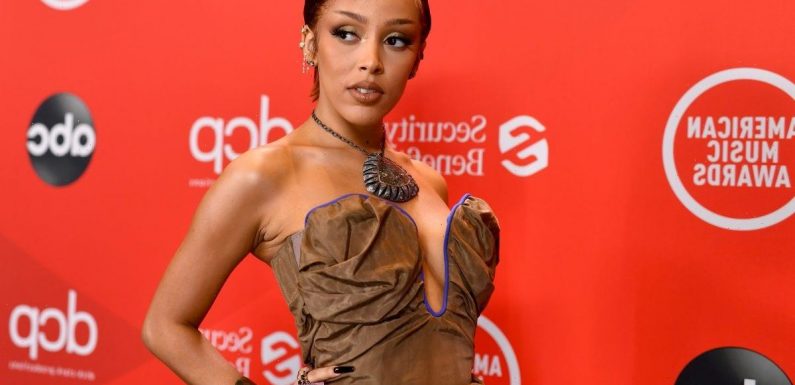 Doja Cat and SZA's "Kiss Me More" was a major hit. Interestingly, it samples the same song that Miley Cyrus and Dua Lipa sampled in "Prisoner." During an interview, the singer behind the original song said she thought she may have "gone too far" with the classic 1980s hit.
Doja Cat and SZA's 'Kiss Me More' and Miley Cyrus and Dua Lipa's 'Prisoner' sample a song that was meant for Rod Stewart
Olivia Newton-John told Entertainment Weekly about the origin of one of her most famous songs. "Roger Davies was my manager at the time; he played it for me and I knew it was a very catchy song!" she said. "Jon Farrar, my producer, and I stuck pretty close to the demo, although he added his amazing guitars.
"I wasn't actually aware at the time that it was written for [Rod Stewart]," she added. "I must talk with him about it one day. Like, did he ever hear it?" The song in question was "Physical." Four pop stars of the 2010s and 2020s sampled it: Doja Cat, SZA, Cyrus, and Lipa.
Why Olivia Newton-John didn't want to release 'Physical'
Newton-John was not a fan of "Physical" at first. "I recorded it and then suddenly thought, 'Goodness, maybe I've gone too far!'" she recalled. "It was a bit raunchier than I realized.
"I called Roger and said, 'We've got to pull this song!'" she remembered. "He said, 'It's too late. It's already gone to radio and it's running up the charts.' I was horrified! [Laughs] I said, "Oh, wow … um … yeah … OK … well, maybe we should do a video and it should be about exercise — yeah! That's it! Let's make it about working out!'"
The way the world reacted to Doja Cat, SZA, Miley Cyrus, and Dua Lipa sampling 'Physical'
"Physical" had a major impact beyond its time on the chart. Cyrus and Lipa sampled it for their song "Prisoner" while Doja Cat and SZA sampled it for their song "Kiss Me More." Both songs became hits, although one was much more popular than the other.
"Prisoner" peaked at No. 54 on the Billboard Hot 100, staying on the chart for 12 weeks. Its parent album, Plastic Hearts, became a hit as well. It peaked at No. 2 on the Billboard 200, staying on the chart for 32 weeks.
"Kiss Me More" was a much bigger hit. The song hit No. 3 on the Billboard Hot 100, remaining on the chart for 31 weeks. Its parent album, Planet Her, was successful too. Planet Her peaked at No. 2 on the Billboard 200 and lasted on the chart for 20 weeks. "Physical" was huge in the 1980s — and it has a legacy that lives on through "Prisoner" and "Kiss Me More."
Source: Read Full Article