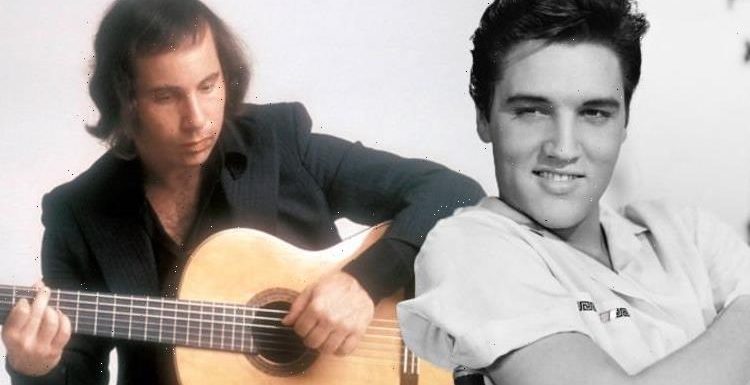 Legend Paul Simon performs at Hyde Park in 2012
We use your sign-up to provide content in ways you've consented to and to improve our understanding of you. This may include adverts from us and 3rd parties based on our understanding. You can unsubscribe at any time. More info
Today, Wednesday October 13, 2021, marks Paul Simon's 80th birthday. The singer, who is best known for being one half of the musical duo Simon & Garfunkel, hit a rough patch in 1984 when he was left with no band, and a recent divorce from his wife Carrie Fisher. The star then went on a pilgrimage to Elvis Presley's home, Graceland.
The song evokes the thoughts and feelings Simon was experiencing during his trip to the legendary location.
Speaking about his trip to Graceland in 1984, he said: "I went to Graceland and I didn't tell anyone I was coming, I didn't get any special treatment.
"I went there walked around and… I was unimpressed. Until you finish the tour and come outside. And then there's his grave." (Via Rock & Roll Hall of Fame)
Simon read Elvis' grave, which reads: "He had a God-given talent that he shared with the world. And without a doubt, he became most widely acclaimed; capturing the hearts of young and old alike."
This was enough to send Simon spiralling into his emotions.
https://www.youtube.com/embed/UGnCn_EH-Ek
Simon continued: "And I just started to cry, and I thought it's really true. This guy was loved by everybody."
He went on to add: "Being in the crowds at Graceland… it's almost like a religious thing."
Simon went on to write the song, Graceland, as well as ten other songs, all of which ultimately made his 1986 album of the same name.
During the song – and the album – Simon recalled his journey to the King's resting place.
https://www.youtube.com/embed/0VTcBO4q5kY
One batch of lyrics croons: "I'm going to Graceland, Graceland / Memphis, Tennessee / I'm going to Graceland / Poor boys and pilgrims with families / And we are going to Graceland / My travelling companion is nine years old / He is the child of my first marriage / But I've reason to believe / We both will be received in Graceland."
The song itself also delves into how Simon struggled with his split with Fisher.
The pair were originally married in 1983, shortly after the star had finished filming her third Star Wars movie, The Return of the Jedi.
A year later, in 1984, Fisher and Simon divorced.
Fisher later spoke about the song Graceland with Rolling Stone magazine.
She said: "I do like the songs he wrote about our relationship. Even when he's insulting me, I like it very much."
She added: "If you're gonna be insulted, that's the way to go. Graceland has part of us in it."
The Graceland album reached number one in the UK, Canada, New Zealand and Australia.
It sold more than 14 million copies worldwide.
The record was later accused of plagiarism from the band the Good Rockin' Dopsie and the Twisters, as well as Mexican-American group Los Lobos.
SOURCE / SOURCE
Source: Read Full Article