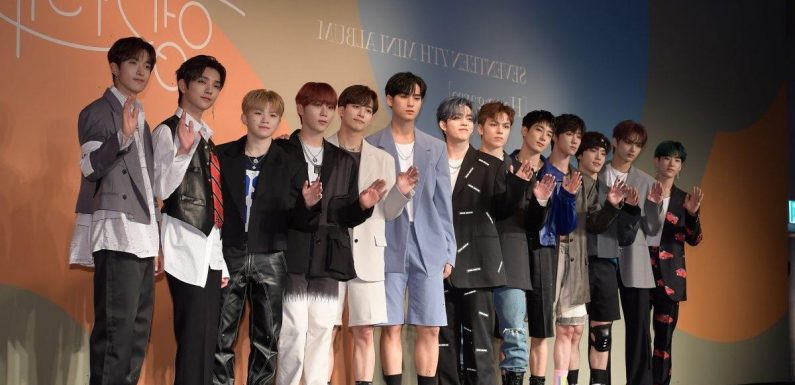 In the month of November, the K-pop group Seventeen will put on an online concert called "Power of Love." The concert is split into two parts, "Power" and "Love." The members of Seventeen put on the "Power" concert on Nov. 14, and the "Love" concert will take place on Nov. 21. Here is how fans of Seventeen can watch the band's "Love" online concert.
Seventeen are putting on two online concerts
Seventeen debuted with Pledis Entertainment in 2015. The K-pop group has 13 members: S.Coups, Jeonghan, Joshua, Jun, Hoshi, Wonwoo, Woozi, DK, Mingyu, The8, Seungkwan, Vernon, and Dino.
On Oct. 22, the band released an EP called Attacca. A few days after the EP's release, it was announced that Seventeen will put on two virtual concerts for their fans, Carat.
A press release shared more details about the concerts, writing:
"SEVENTEEN's first concert in approximately 10 months, SEVENTEEN CONCERT <POWER OF LOVE> is expected to showcase tracks and performances from their 2021 'Power of 'Love' project, including tracks from their Billboard chart-topping EP Your Choice as well as their latest EP Attacca, which sold more than 1.1M copies just five days after release—giving the K-pop movers and shakers its fifth million seller, firmly establishing the act as 'quintuple million sellers.'
SEVENTEEN CONCERT <POWER OF LOVE> will be broadcast live for both shows on November 14 and 21, and will be set to the themes of 'POWER' and 'LOVE,' respectively. The shows will feature a diverse setlist and the act's electrifying powerhouse performances which will be captured from three 'concept screens' in addition to the main camera angle, providing the viewer with a total of four multi-view screens for the whole immersive online concert experience."
Jun and The8 will not participate in "Power of Love" as they are focusing on promotions in China.
Fans must purchase tickets to watch Seventeen's online concert
Tickets for Seventeen's "Power of Love" concerts are available on Weverse Shop. While tickets for the Nov. 14 show and two-day passes are no longer being sold, there are multiple ticketing options still available for fans to purchase.
An HD Multi-view ticket for the Nov. 21 show costs $46.10 on Weverse Shop. The ticket is only available for fans who belong to the Seventeen Global Official Fanclub Carat Membership. With the ticket, fans will have an HD view of the concert's main screen plus three additional angles.
For fans who do not have a fanclub membership, an HD Single-view ticket is available to purchase for $46.10. The ticket gives fans an HD view of the concert's main screen.
Fans can buy tickets for the "Love" concert from Oct. 29 until 3:59 a.m. EST and 5:59 p.m. KST on Nov. 21.
How to watch Seventeen's 'Love' virtual concert
Seventeen's "Power of Love" concerts are held on the platform VenewLive. After buying tickets, fans will be provided with a link to the concert's page. Once there, fans must log in with their Weverse Shop account and validate their ticket.
The "Love" concert will begin at 3 a.m. EST and 5 p.m. KST on Nov. 21. There will be a delayed stream of the concert at 9 p.m. EST on Nov. 26 and 11 a.m. KST on Nov. 27.
Source: Read Full Article