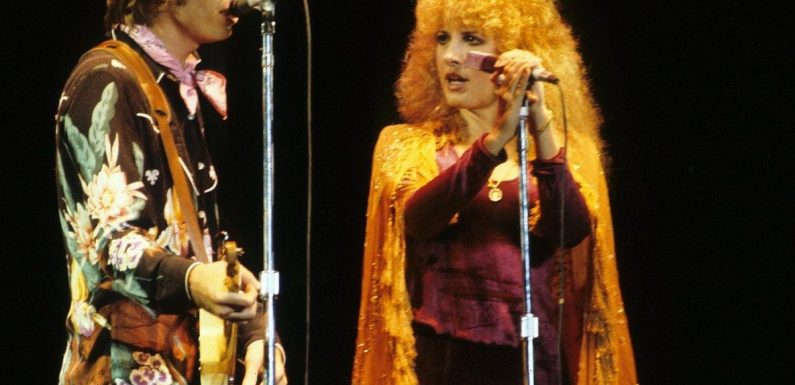 If some random person on the street gave Stevie Nicks one of the most beautiful smiles, she'd find a way to turn it into a song. That's the genius in Nicks. Many things inspire Nicks, even a simple phrase spoken by a dear friend's wife.
Stevie Nicks came into Tom Petty's life 'like a rocket'
Nicks fell in love with Petty the first time she heard him on the radio. In Warren Zanes' Petty: The Biography, Nicks said, "I would laughingly say to anyone that if I ever got to know Tom Petty and could worm my way into his good graces." She also said that if Petty asked her to join his band, the Heartbreakers, she would instantly leave Fleetwood Mac.
After trying really hard to meet him, even trying to get in with his inner circle, Nicks finally met Petty in 1978, and then Petty was stuck with Nicks. According to Biography, Petty said Nicks "came into my life like a rocket, just refusing to go away."
However, Petty told Paul Zollo in Conversations With Tom Petty that he was unsure of Nicks initially. "We were a little wary of Stevie," he said. "We didn't quite know whether to like Stevie or not, because we kind of saw this big corporate rock band, Fleetwood Mac, which was wrong, they were actually artistic people. But in those days, nobody trusted that sort of thing and we just kept thinking, 'What does she want from us?'"
"We weren't really welcoming to her," Petty admitted in Petty: The Biography. "It wasn't like she received a lot of warmth. We weren't impressed by superstars — it just wasn't our nature."
Eventually, Petty worked with Nicks on "Stop Draggin' My Heart Around," which appeared on Nicks' debut solo album, Bella Donna. But Petty also helped with another song on the album.
Petty and his wife inspired Nicks' 'Edge of Seventeen'
One day, during the recording of Bella Donna, Nicks was hanging out with Petty and his first wife, Jane Benyo. Nicks asked Jane when she met Petty. Jane's response unexpectedly triggered some inside Nicks. The result was one of her biggest hits.
"I asked Tom's wife, Jane, when she met him," Nicks told Billboard. "She said, 'I met him at some point during the age of 17.' But I thought she said, 'The edge of 17.' I said, 'Jane, can I use that? Can I write a song called 'Edge of Seventeen'?"
Then, Nicks went home and wrote "Edge of Seventeen," which she based on John Lennon's murder. She later told Entertainment Weekly that the white dove represented John and peace. Nicks now thinks of soldiers in the desert when she performs "Edge of Seventeen" because she's sung it so many times to the soldiers she visited at Bethesda and Walter Reed.
However, most people don't know that Petty inspired the song too. "'Edge of Seventeen' is also a little bit about Tom," Nicks continued to Billboard. "'He seemed broken hearted/Somethin' within him,' that was Jane talking about Tom. I bet a lot of people thought I was talking about me, but I was chronicling their relationship as she told it to me."
It was actually Nicks' friendship with Benyo that made Petty realize that Nicks was "genuine and good."
There was a bit of song trading between Nicks and Petty
There was a lot of song-swapping between Nicks and Petty back then. When he realized Nicks needed another song on Bella Donna, Petty decided to write her a song. He wrote "Insider," but he was so proud of it he had a hard time giving it over to Nicks. So, Petty took it back and kept her vocals. However, Biography points out that Rolling Stone says that Nicks actually gave it back to Petty.
Whatever happened with the song, people noticed that the duo worked well together. "There was a chemistry between Tom Petty and Stevie Nicks that made people wonder," Zanes wrote Petty's biography. "There was something, in phrasing and tone, about the way the voices lay against each other."
Petty and Nicks also ended up swapping another song. The way the Eurythmics' Dave Stewart tells the story, he came to the studio to see Nicks after their one-night stand and told Jimmy Iovine, Nicks' most recent ex and her producer, about his new song, "Don't Come Around Here No More."
Iovine suggested Nicks record it, but she was "acting weird" that day, fought with Iovine, and stormed out. So, the producer suggested that Stewart give it to Petty. Petty and Stewart later finished the song, and it became one of Petty's biggest hits.
Any of the songs that either Nicks or Petty touched ended up turning to gold. No wonder Nicks still talks about Petty as if he's not dead. It's hard for her to come to terms with the fact that her best friend and collaborator is gone.
Source: Read Full Article