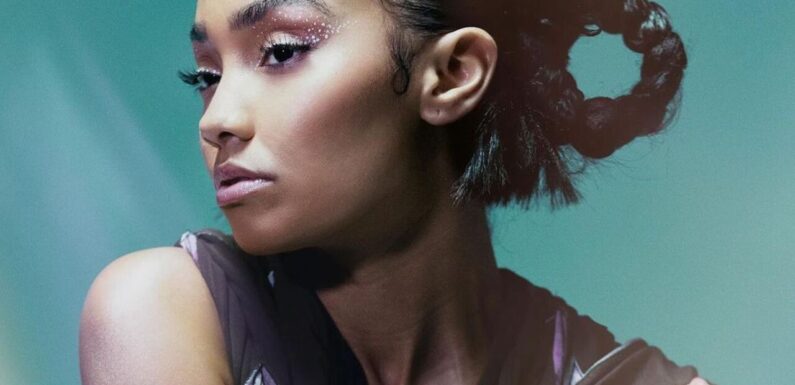 The 'Don't Say Love' singer needed a long time to understand why she felt underappreciated during her time with bandmates Perrie Edwards, Jade Thirlwall, and Jesy Nelson.
AceShowbiz –Leigh-Anne Pinnock was left "undervalued" in Little Mix. The 31-year-old pop star found fame in the girl group formed on "The X Factor" in 2011 and, on her debut solo single "Don't Say Love", she channeled the "frustration, sadness and anger" she felt about being "overlooked and undervalued" with a "predominately white" fanbase and pop world.
"The pop industry is very white, we did have a predominately white fan base. It took me so long to understand why I was feeling so undervalued. I just blamed myself. My family would be like, 'Oh, Leigh, you're getting the same money. It's fine.' I just couldn't accept that," she told Vogue.co.uk.
One place Leigh-Anne – who was joined by Perrie Edwards, Jade Thirlwall, and formerly Jesy Nelson in the band that disbanded in 2022 – did feel appreciated was Brazil. She recalled, "Fans were chanting my name – I've never had a response like that and we'd been in the group for nine years."
Her deeply honest upcoming debut studio album is all about the highs and lows in the "Shout Out to My Ex" group, her relationship with footballer husband Andre Gray – with whom she has young twins born in August 2021 – and motherhood.
And Leigh-Anne – who has dropped her surname for her solo releases – admits she's feeling confident as she embarks on a new chapter as a solo artist. She said, "The first single, 'Don't Say Love' is about wanting to be loved wholeheartedly, [like] the love that I have for myself. If it's not that, then I don't want it."
"That's a journey, getting there. Within the group and in my career, I really felt like a lot of the time I was overlooked and undervalued. I really wanted to get that emotion across in the video, frustration, sadness, anger."
"I wanted to get that across in my first single, so I could just leave that girl and that feeling in the past. 'My Love' is a celebration of every type of love, owning who I am and stepping into my solo career and this new being, who gained all of her confidence back and knows who the f*** she is."
Leigh-Anne says making her fans feel "inspired and empowered" is her ultimate goal while she is looking forward to doing her own tour in the future and sharing the experience with her children.
She added, "I just want to make music that people are inspired by and people are empowered by and to continue to use my voice and platform. Because I just think, why am I here otherwise? I would love to have my own tour."
"I don't care if it's two people in the audience – knowing that they are there because they love and value me and love what I do, I will be happy with that. I'm excited to have my babies there as well to witness it. They'll be at an age where they understand it. That'll set me right off." "Don't Say Love" is out on Friday, June 16.
You can share this post!
Source: Read Full Article