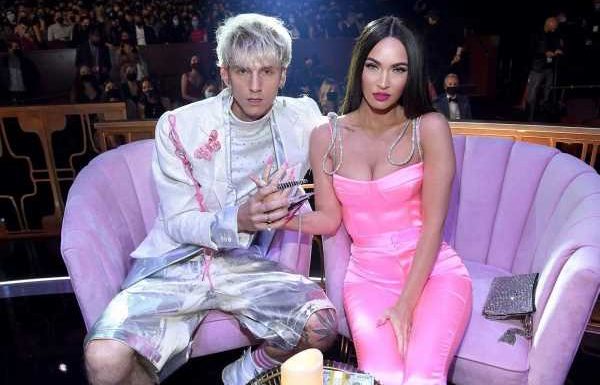 Ever since they went public with their relationship, Machine Gun Kelly and Megan Fox have taken the world by storm. Machine Gun Kelly, whose real name is Colson Baker, is known for his music and recent album Tickets to My Downfall. Fox rose to fame due to her roles in popular films like Transformers and Jennifer's Body.
The two celebrities began dating in 2020. In a recent interview published by British GQ, MGK revealed details about the first kiss he shared with Fox.
How Machine Gun Kelly and Megan Fox started dating
In the lengthy profile with British GQ, MGK and Fox discussed how they met and what their relationship is actually like. After meeting briefly at an industry event years prior, the two met for real while on the set of a film called Midnight In The Switchgrass.
"It was obvious from second one what it was going to be, but we didn't hook up right away," Fox told British GQ.
MGK remembered their first conversation, telling British GQ, "She was just like, 'How are you feeling?' And I said, 'I'm lost.' She said, 'Well, let's find you.' That was the first real conversation we had."
What Machine Gun Kelly's first kiss with Megan Fox was like
After meeting, MGK and Fox began texting one another and talking on the phone. While discussing the beginning of their relationship, MGK revealed what it was like the first time he kissed Fox.
"Even our first kiss, she wouldn't kiss me. We just put our lips right in front of each other and breathed each other's breath and then she just left," he told British GQ.
Fox went on to explain that she was protective of her feelings at the beginning of her relationship with MGK.
"[I was] definitely open [to] love, but I did not anticipate walking right into my soulmate like that," she said. "I was obviously over the way I had been living, and those paths lined up, those doors opened. It was [as if] all the obstacles that had kept us apart all those years [had been removed] and we were able to finally intersect."
The two celebrities are in love
Speaking with British GQ, MGK shared that being with Fox has made him realize that this is his first time actually falling in love with someone.
"No, no, no. It's, like, because you've been around the world and experienced so much s**t, you think you know everything," MGK said. "And then you are in the arms of your destiny and realise 'I don't know s**t yet'. That's when the adventure starts, right?"
Fox also told British GQ that MGK is the person who understands her the best.
"I think I had either put myself in, or allowed other people to put me in, this weird box that didn't quite fit me, where I hadn't lived my own life as myself for a really long time – the parts of me that were always eccentric or strange and didn't belong within my own family unit or within Hollywood," she said.
Source: Read Full Article