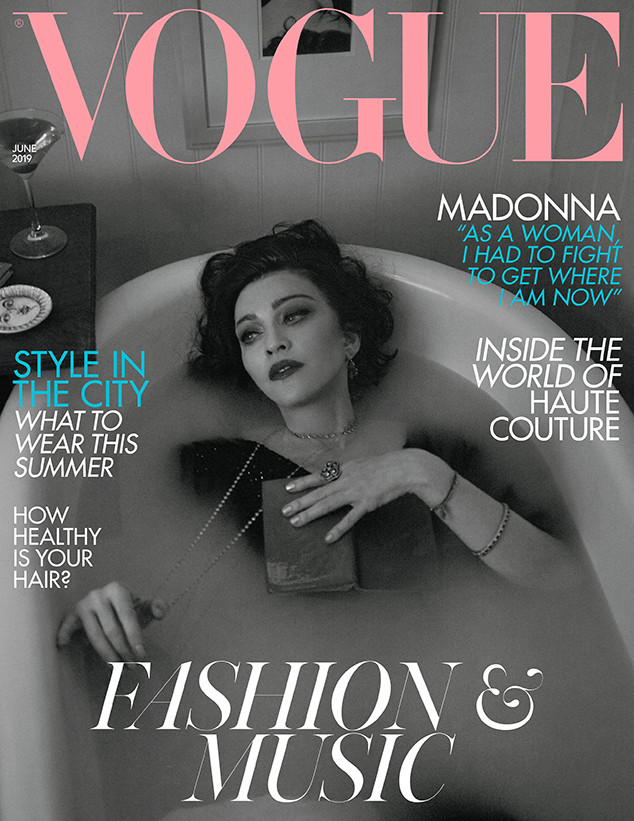 Mert Alas & Marcus Piggott / British Vogue
Madonna says she and Lady Gaga "were never enemies," following years of a reported feud between them.
The 60-year-old OG Queen of Pop made her comments in a cover interview for British Vogue's June 2019 issue, posted online on Friday and set to hit newsstands and be made available for digital download on May 10.
The two singers' reported bad blood is said to have started after Gaga, 33, released her 2011 single "Born This Way," which drew comparisons to Madonna's 1989 hit "Express Yourself." Over the years, they have often been asked about the issue and about their feelings towards each another. Madonna has repeatedly brushed off the feud rumors and often criticized people's tendency to pit two women, notably famous women, against each other.
"People got very excited about [the thought of Lady Gaga and myself as] enemies, when we never were enemies," Madonna told British Vogue.
This past February, any reported drama between the two appeared to have ended, as the two united after the Oscars.
While Gaga has said she is a fan of Madonna, the latter singer told British Vogue, "There are no living role models for me. Because nobody does what I do. And that's kind of scary. I can look back at women who I think were great and amazing—freedom fighters, like Simone de Beauvoir or Angela Davis—but they didn't have kids."
"Being a single parent of six children, I continue to be creative and be an artist and be politically active, to have a voice, to do all the things that I do," she added. "So I mean, there isn't anybody in my position."
Madonna launched her music career in the early '80s. On Friday, she released her new single "I Rise," an empowering ballad featured on her 14th studio album, Madame X, which drops on June 14.
Check out a timeline of Madonna and Lady Gaga's reported drama:
September 2009: Meeting in Style: Madonna and Gaga interact and hang out together with Marc Jacobs at the launch of his spring 2010 collection in New York City. The two would not pose for another photo together for almost a decade.
February 2011: "Born This Way" / "Express Yourself" Controversy: Gaga debuts her single "Born This Way," which spurs accusations of ripping off Madonna's 1989 hit "Express Yourself." Gaga later says on The Tonight Show With Jay Leno, "You know, there is really no one that is a more adoring and loving Madonna fan than me. I am the hugest fan personally and professionally. The good news is, I got an email from her people sending me their love and support on behalf of the single. And if the queen says it shall be, then it shall be."
April 2011: The R-Word: Gaga defends the resemblance between "Born This Way" and "Express Yourself," denying any intentional similarity and telling NME magazine, "I swear to you. I am not stupid enough to put out a record and be that moronic. Listen to me. Why the f–k…? I'm a songwriter. I've written loads of music. Why would I try to put out a song and think I'm getting one over on everybody? That's retarded. What a completely ridiculous thing to even question me about."
Special Olympics officials were not amused by the singer's choice of words.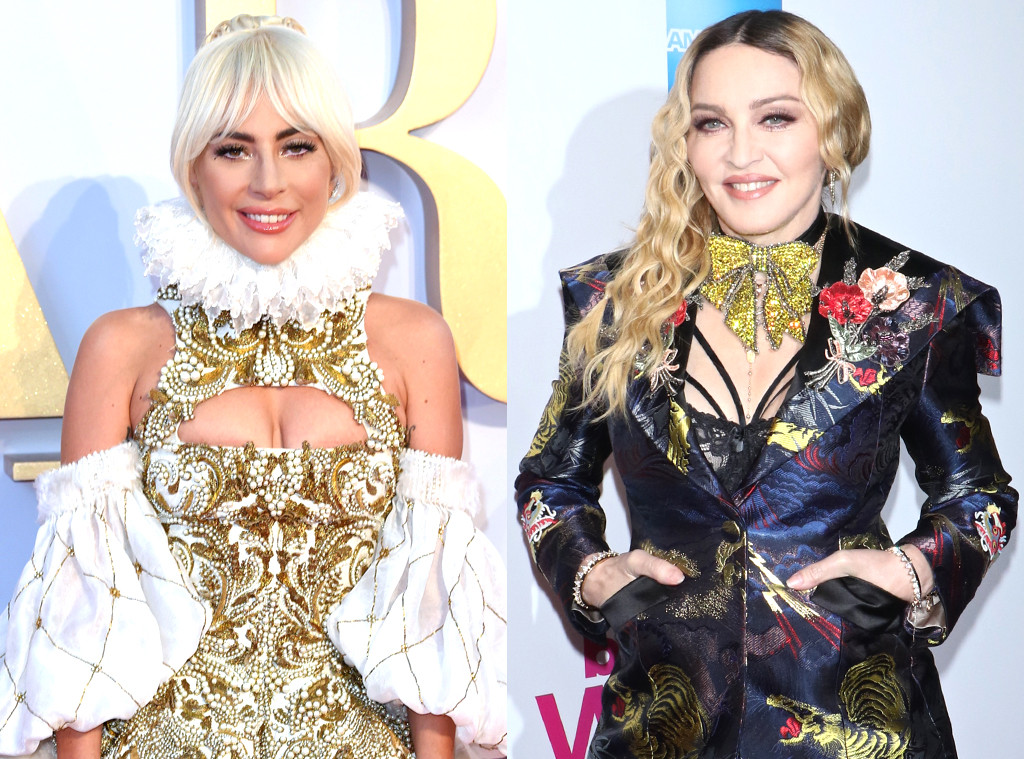 Shutterstock
September 2011: Madonna Comments on Gaga: "As for Lady Gaga, I have no comment to make about her obsessions having to do with me because I don't know whether her behavior is rooted in something deep and meaningful, or superficial," Madonna reportedly tells French outlet Le Soir. Madonna's rep later tells E! News, when asked about the printed comments, "I do know that [Madonna] has said many supportive things about Gaga over the years."
January 2012: Madonna Comments on Gaga Again: "I certainly think she references me a lot in her work. And sometimes I think it's amusing and flattering and well done," she tells ABC News' 20/20. "There's a lot of ways to look at it. I can't really be annoyed by it …because, obviously, I've influenced her."
Madonna also says that when she heard "Born This Way" on the radio, "I said that sounds very familiar. It feels reductive."
January 2012: …and Again: "I thought, this is a wonderful way to redo my song," Madonna tells Newsweek. "I mean, I recognized the chord changes. I thought it was…interesting."
February 2012: Madonna Covers Lady Gaga's "Born This Way"…With a Twist: The singer sings part of Mother Monster's song and mashes it up with "Express Yourself" while rehearsing in Israel.
November 2013: Gaga Responds to Madonna's "Tribute": "I have to be really honest, I was completely kind of floored that Madonna was singing my song on her stage every night!" Gaga tells Attitude magazine. "I mean, Madonna's…she's Madonna. I looked up to her for a long time. I'm not quite sure what her intention was—to do that in the show, but I don't really care. I think playing into the gossip of the tabloids and, I guess the fodder of the competition, that's just not what I'm about. She chooses to use her voice the way she chooses to use hers and I choose to use mine the way I use mine."
"All it meant to me was that Madonna Ciccone was singing my song on her stage and I'm 27," she continues. "And as a punk-rocker from New York, I've basically been hoping that I would become so good that one day I would piss off Madonna! I don't need to take anybody's torch. I am over here and they are over there and if you feel connected to it the door is open for you to come in and enjoy this with us."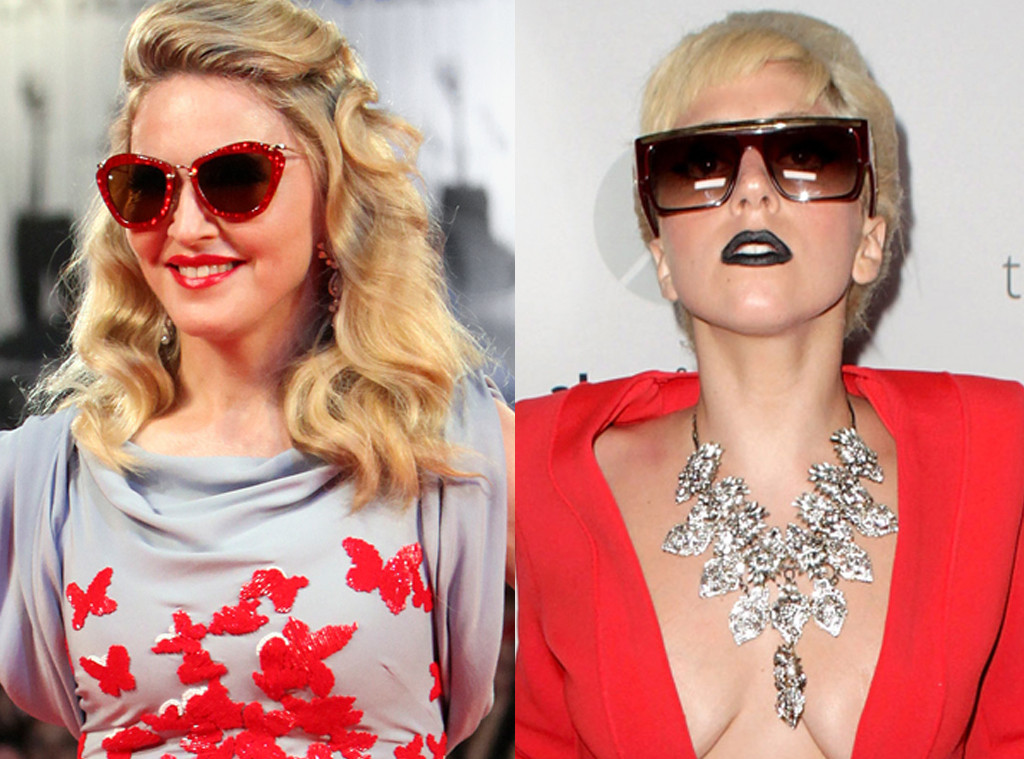 Ian Gavan/Getty Images, Todd Williamson/WireImage
November 2013: Gaga Doesn't Want Madonna's F–king Throne: "I think she's more aggravated that I'm not upset that she doesn't like me," Gaga tells Howard Stern about Madonna. "'Cause I don't care that she doesn't like me…No, I don't care…It's such nonsense…[Attacks from people like Perez Hilton are] really rooted in Madonna, that's the center of it. It's silly."
"There's always this pissing match: 'She's taking her torch, is she the new her, is she going to outlast her or not?'" Gaga continues. "There's this thing with some people that I'm a threat to the throne. I don't want your f–king throne, no thanks, I have my own. I actually don't want a throne at all, because I don't view myself as a queen, I view myself as one of my fans."
Summer 2014: Diss Track? After one of Madonna's unfinished songs in which she sings "You're a copycat, get back" leaks over the summer, many fans reignite talk of a feud between her and Gaga.
Source: Read Full Article