There's a possible Disney Channel feud brewing, and TBH it's giving me vibes that are extremely reminiscent of 2008's Nick Jonas-related boy drama between Miley Cyrus and Selena Gomez. (Feel old yet???) This time, it involves a new cast of teen Disney stars—Olivia Rodrigo, Joshua Bassett, and Sabrina Carpenter.
Here's the low down—Olivia, 17-year-old star of High School Musical: The Musical: The Series, released her brand-new single "Drivers License" on Friday to massive acclaim…and fans are convinced the song is about her HSM:TM:TS co-star, 20-year-old Joshua Bassett, potentially dating Sabrina Carpenter. After seeing Olivia and Josh's chemistry on-screen, fans of the show became convinced they were dating IRL. Though they never confirmed their 'ship, Olivia and Joshua always cozied up to one another in interviews and left cutesy comments on each other's Instagrams—that is, until Joshua started hanging out with Sabrina over the summer and did a couples costume with Sabrina for Halloween.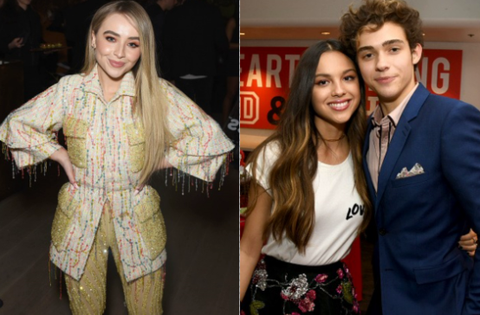 Olivia, Joshua, and Sabrina have been pretty quiet about the drama, but anyone with a pair of ears can tell Olivia's "Drivers License" lyrics tell a clear tale of heartbreak. Let's dissect these lyrics below!
[Verse 1]
I got my driver's license last week
Just like we always talked about
'Cause you were so excited for me
To finally drive up to your house
But today I drove through the suburbs
Crying 'cause you weren't around
Perhaps the biggest clue this track is about Joshua? Welp, in video posted to Olivia's Insta Stories, she admitted she'd "always remember" practicing learning how to drive in Joshua's car before she got her license. When Olivia and Joshua found out that "Just for a Moment" (a song they co-wrote together) would be used in HSM: TM: TS, they celebrated with a spontaneous driving lesson.
"We celebrated and we went to In-N-Out, and I couldn't drive actually. I was 16, but I didn't have my permit," she said. "And so, he took me in his car, and we drove around the In-N-Out parking lot, and that was my first time driving."
Peep Olivia talking about this at the 3:00 minute mark:
[Verse 2]
And you're probably with that blonde girl
Who always made me doubt
She's so much older than me
She's everything I'm insecure about
Yeah, today I drove through the suburbs
'Cause how could I ever love someone else?
Yeahhh, this is were Sabrina comes into this: Sabrina is definitely known for her blonde hair and is four years older than Olivia, so….¯\_(ツ)_/¯.
[Chorus]
And I know we weren't perfect
But I've never felt this way for no one
And I just can't imagine
How you could be so okay now that I'm gone
Guess you didn't mean what you wrote in that song about me
'Cause you said forever, now I drive alone past your street
[Verse 3]
And all my friends are tired
Of hearing how much I miss you, but
I kinda feel sorry for them
'Cause they'll never know you the way that I do, yeah
Today I drove through the suburbs
And pictured I was driving home to you
[Chorus]
And I know we weren't perfect
But I've never felt this way for no one, oh
And I just can't imagine
How you could be so okay now that I'm gone
I guess you didn't mean what you wrote in that song about me
'Cause you said forever, now I drive alone past your street
[Bridge]
Red lights, stop signs
I still see your face in the white cars, front yards
Can't drive past the places we used to go to
'Cause I still fuckin' love you, babe (Ooh, ooh-ooh, ooh, ooh-ooh)
Sidewalks we crossed
I still hear your voice in the traffic, we're laughing
Over all the noise
God, I'm so blue, know we're through
But I still fuckin' love you, babe (Ooh, ooh-ooh, ooh, ooh-ooh)
[Chorus]
I know we weren't perfect
But I've never felt this way for no one
And I just can't imagine
How you could be so okay now that I'm gone
Guess you didn't mean what you wrote in that song about me
'Cause you said forever, now I drive alone past your street
[Outro]
Yeah, you said forever, now I drive alone past your street
Source: Read Full Article