Phil Collins
Qudos Bank Arena, January 21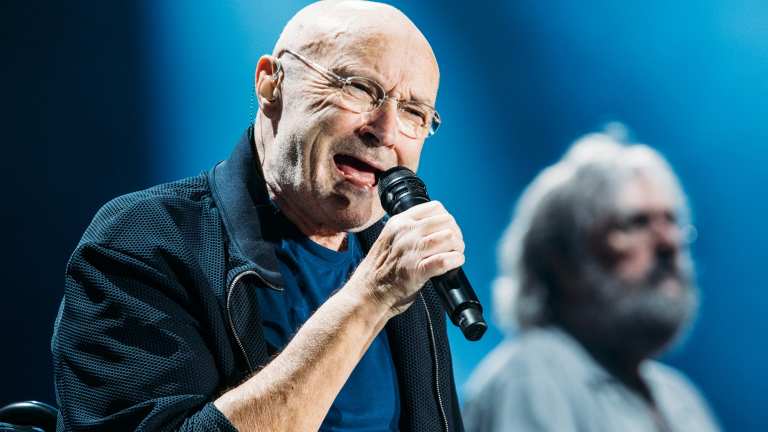 Veteran rocker Phil Collins didn't disappoint.Credit:JUSTIN MA
★★★★
Phil Collins started his career sitting down and the former Genesis drummer will be ending it seated, too. Back surgery has left the 68-year-old Londoner with a paralysed right foot. Consequently, he spent most of this night singing from a swivel chair.
Regardless, the crowd was on its feet for the majority of a spirited, surprisingly funky show that left one wondering why Collins was such a critical punching bag last century.
Against All Odds was the perfect opener, given we were still getting over the shock of seeing the star hobble out on a walking stick. The body may have weakened, but it was soon clear that remarkably little has changed about Collins' voice.
His tenor was never one of rock's strongest, but the power ballad proved its melodic and communicative gifts are intact. No-one does loneliness and regret like this three-time divorcee.
Another Day In Paradise was next, and felt a little like Collins was getting it out of the way. Then the show lifted after a four-piece horn section joined the four backing singers, two drummers, keyboardist, guitarist and bass player.
One of the biggest-selling artists of all time, Collins can afford a crack band and this one was brilliant.
Stripped of the heavy production of his solo albums, I Missed Again, Hang In Long Enough and Inside Out became soul jams thanks to this ensemble, with Collins declaiming and gesticulating passionately from his seat.
Three Genesis tunes made the cut, with 1978's Follow You, Follow Me this night's mellowest groove, Throwing It All Away revealing itself as a lost classic of the Collins divorce genre, and even the song which overshadowed it back in 1986 – Invisible Touch – inviting reassessment.
Freed from the ubiquity that ruined it for many back in the day, this and Collins' other big hits like Something Happened On The Way To Heaven, Sussudio and In The Air Tonight (where a smartphone sea greeted those drums that come in three minutes late), became simply great pop songs made for arenas like this.
Hips were shaken, but many hearts would have been touched by the presence of Nic Collins, Phil's 17-year-old son, on drums. Good enough even in this band to banish any thought of nepotism, Collins jnr provided emotional high points when he joined dad for a box drumming jam, and then played piano for him on another ballad, 1981's You Know What I Mean.
As the posters said, Phil's "Not Dead Yet", but he can rest assured the family business is in good hands when the day comes.
Phil Collins plays two more shows at Qudos Bank Arena on January 22 and 23.
Source: Read Full Article