The high-profile feud of Katy Perry and Taylor Swift is over, but it was one strange ride. Let's walk back in time and start from the beginning of how things all started.
Back in the good old days of 2008 and 2009, the young pop stars got along so well. At the 2008 MTV Video Music Awards, Perry and Swift took a photo together along with the Hannah Montana TV star Miley Cyrus.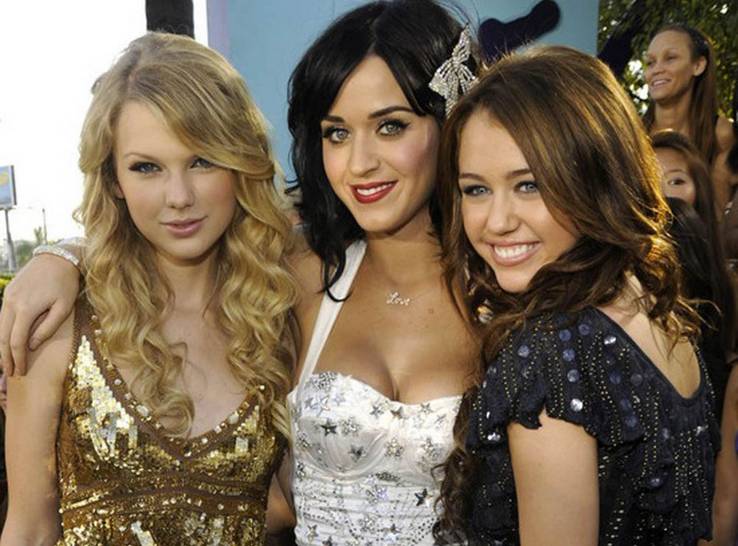 The three reunited again at 2009 Grammy awards, along with many A-list stars and new rise stars in the music industry. Fun fact: Katy Perry scored her first nomination for "I Kissed The Girl" that year.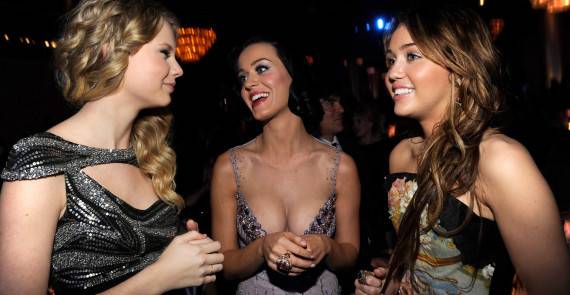 "The Love Story" and "I Kissed The Girl" singers also hung out at many parties. Swift also shared a photo of her and Perry on Twitter in 2009, saying that Perry put the "fun" in Fundon. Perry retweeted the photo with a lot of excitement.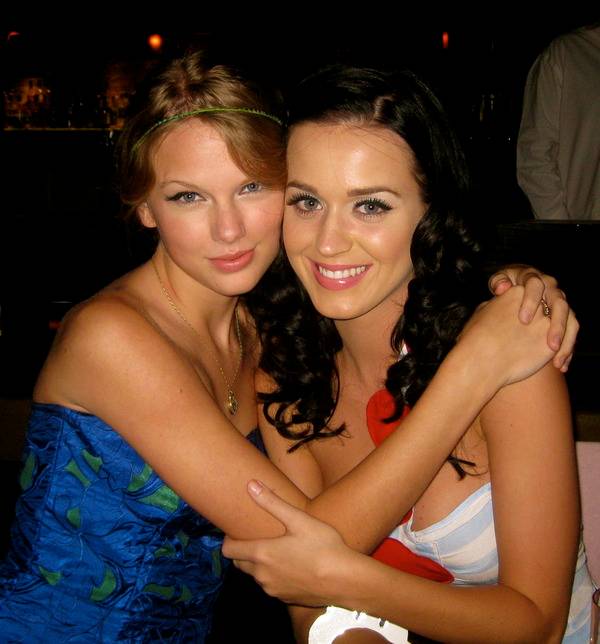 Perry also invited Swift to her 25th birthday party. It was a crazily fun night with the Willy Wonka theme and it was clear that Perry knew how to throw a party. Swift made sure to send a tweet expressing her appreciation for being invited.
The two met again at the 2010 Grammy awards, still looked chummy-chummy and happy with each other. The two silly friends were glad that they got the chance to reunite after such a long time—it was such a lovable moment!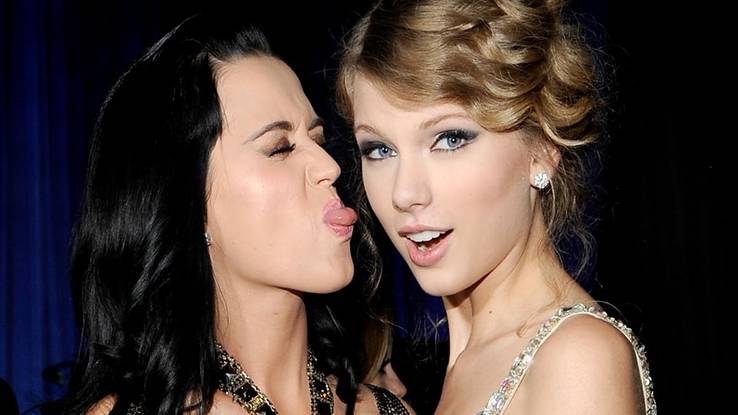 Although they never made a song with one another, the two singers performed together once. On April 2010, Perry stopped by Swift's Fearless tour to jam out "Hot N' Cold" with the then-country princess. After the show, Swift also tweeted about this collaboration, saying: "Katy! LA! I will always love you!"
A year later at American Music Awards in 2011, Swift bested Perry and took home the Artist of the year award. Perry was totally happy for her friend and congratulated her with a big hug. The girls also posed for a photo with Nicki Minaj and Selena Gomez that night.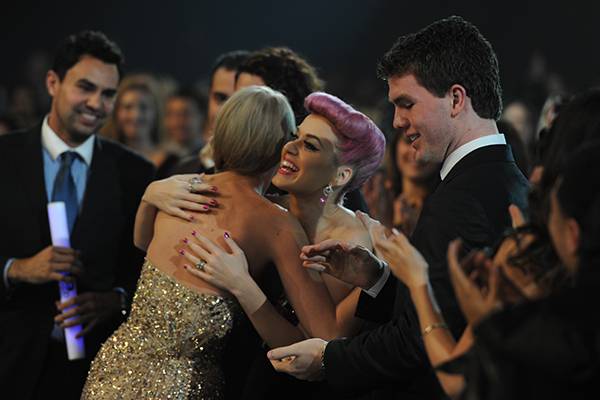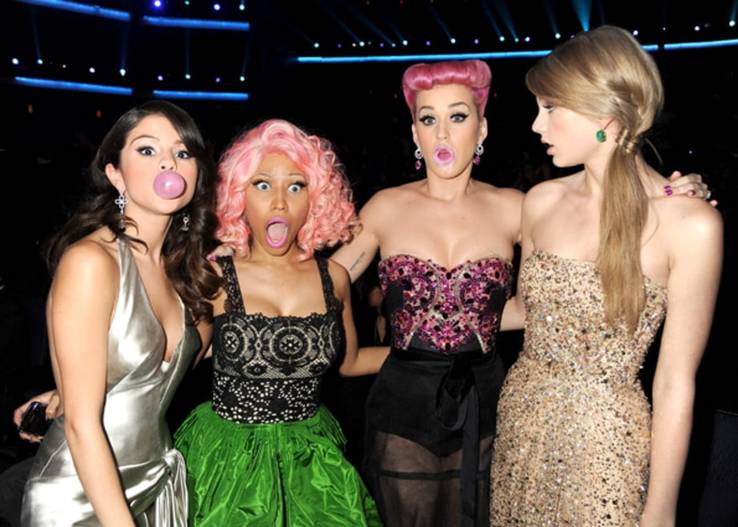 In November 2011, it was revealed that the two shared another passion aside from music— cats! After Swift uploaded a photo of "her new roommate" Meredith the cat, Perry retweeted that and the "Love Story" singer followed up with another reply, saying that she missed the "Firework" hitmaker. Back then, Perry couldn't agree more.
Then in 2012, a boy was brought into the mix. In February 2012, John Mayer and Taylor Swift broke up after months of dating. Swift's track "Dear John" is reportedly about him, and Mayer felt "humiliated" about this. It wasn't long after that Perry, fresh off a divorce from Russell Brand, started dating Mayer in August that year.
When Perry (along with Mayer) and Swift met at 2013 Grammy Awards in February, it seemed like there were no hard feelings between the two friends.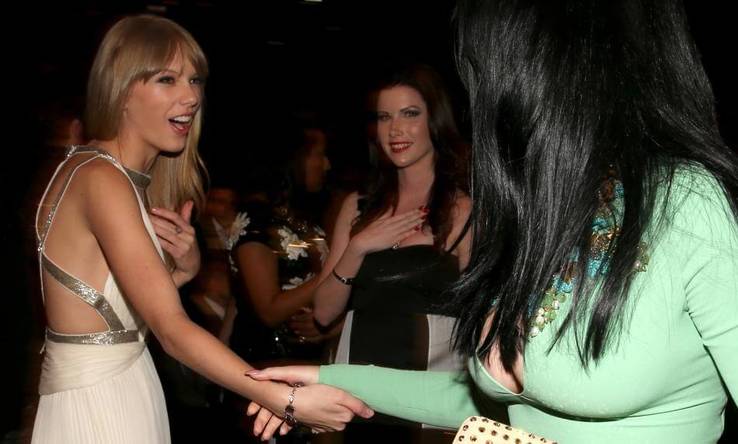 Things were going so well that, after performing at the iHeartRadio listening party celebrating the release of Prism in October 2013, Perry told the world that she kept Swift's and Cyrus' hair in her purse. She jokingly said that she knew it was a "freak" thing to do, but she did it anyway!
Then, their relationship went sour.
When discussing Taylor Swift's 1989 album with Rolling Stone, the singer agreed that "Bad Blood" was her angriest song of all. She declined to share the name of a female artist who she targeted with those lyrics.
The world didn't have to question the identity of the said female artist for a long, however. In September 2014, Katy Perry conveniently tweeted about Regina George, the Mean Girls character played by Rachel McAdams.
Before Perry's halftime show performance at Superbowl 2015, Billboard asked her about the tweet she sent back in September. To which, Perry replied: "If somebody is trying to defame my character, you're going to hear about it."
It wasn't long after that Swift's music video for "Bad Blood" dropped. The message was loud and clear even for music fans who knew nothing of the rumored feud: Perry and Swift are at two ends of the battlefield. If the lyrics weren't enough, then the hair and make-up of Selena Gomez's character in "Dark Horse" surely hinted something.
Swift then accidentally included herself in another Twitter storm. Rapper Nicki Minaj tweeted at her lack of nomination for the video for MTV Video Music Awards 2015:
Swift quickly called a truce as she finished the exchange on a friendly note, saying: "If I win, please come up with me!! You're invited to any stage I'm ever on."
What's important to notice is Perry also took part in the short-lived feud. She tweeted:
She was quickly met with support from Camilla Bella, who dated Joe Jonas after Swift- the same singer who is rumored to be the subject of T-Swift's song "Better Than Revenge."
In 2016, the news broke that T-Swift wrote Calvin Haris's and Rihana's latest hit, "This Is What You Came For." On July 13, 2016, Harris, Swift's ex-boyfriend took to Twitter to tell his side of the story and also release his frustration with his ex's backstabbing move.
Another internet frenzy broke out in September 2016 as a Twitter user asked if Perry will ever collaborate with Taylor Swift or not. The "Roar" singer replied with:
Perry, Swift and their shared ex-John Mayer, were all spotted at Drake's 30th birthday in October, but it was unclear if either of the three crossed paths with one another or not. Still, no fire was ignited, no argument was in sight and the night passed by more peacefully than expected. But that really doesn't mean the feud was over. In that same month, Perry poured more fuel to the fire at Kayne West's concert in Inglewood, California. Perry recorded herself dancing along the lines of West's song "Famous" enthusiastically, zooming in at the most controversial part regarding Swift.
Not long after, Katy Perry dropped a surprise new song featuring Nicki Minaj called "Swish Swish." The lyrics were subtly referring to her and Swift's feud, but she didn't mention anyone directly. She gave advice to a certain someone to not come for her, she'd continue to stick around so that someone should get used to it. Perry also sent a message that "karma's not a liar/ She keeps receipts".
When Jimmy Fallon asked if the song was about someone we know (meaning if it was a diss track in responding to "Bad Blood"), Perry dodged the bullet by claiming it's for people who feel someone is bullying them.
But she finally thought that it was time to tell the world the full story. During her Carpool Karaoke segment with James Corden, the singer touched on the situation detailing how Swift's Red tour was continuing while Perry's Prisma tour was about to begin. The two were using the same dancers, but when Swift's manager heard the crew were signed for both, they were fired.
Though T-Swift didn't reply to Perry's comments, her next action proved that the feud was still not over. The day Perry dropped Witness, Swift opened her entire song catalog to streaming services such as Spotify, Amazon and other streaming platforms, though she took them down in 2014.
Despite this, Perry opened up about her desire to call off the beef.
No one knew if T-Swift heard of the message or not, but when Swift's Reputation album debuted on Nov. 10, 2017, with the first single available on Aug. 25, 2016. This, ironically, was the week that Perry promised to release the music video of "Swish Swish." Despite Swift's announcement, the "Bon Appétit" singer still stuck to the deadline.
Somehow, after years, the war between the two pop stars finally came to an end.
Prior to the opening of Taylor Swift's Reputation stadium tour, the "Look What You Made Me Do" singer came to her dressing room to find an actual olive branch and a cute handwritten letter from Katy Perry. According to the content of the letter and the heart emoji on Swift's Instagram story video, the beef is finally off the grill.
For now, it seems like the two are on good terms, but time will tell.
Source: Read Full Article