In the late '70s, Memphis singer-songwriter Van Duren appeared to have the world at his feet.
Managed by the Rolling Stones' impresario Andrew Loog Oldham, and touted as the next Paul McCartney, his 1978 debut album, Are You Serious?, was a formidable slice of melodic power-pop many believed was destined to become a classic.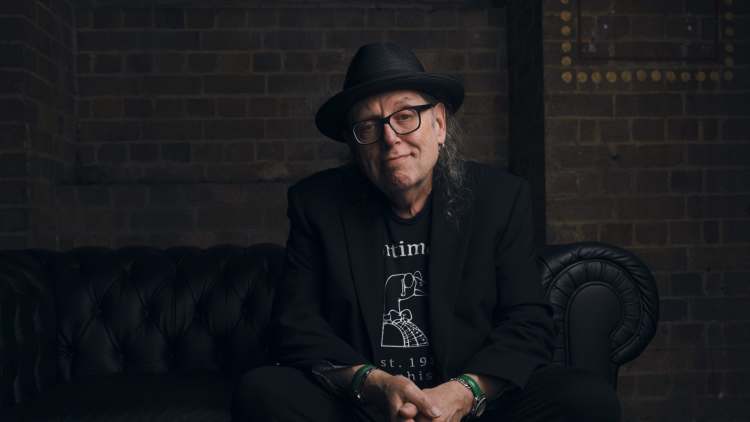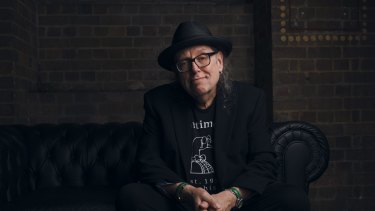 Memphis-based musician Van Duren is looking forward to his Australian tour.Credit:James Brickwood
Yet a combination of poor timing – punk and disco were the flavours of the day – shady, ego-driven business associates and the spectre of Scientology conspired to relegate him to obscurity.
Forty years on, his luck might be about to change thanks to a documentary, Waiting – The Van Duren Story.
The film's genesis was as unconventional as the singer's career path.
Sydney musician Wade Jackson had stumbled upon Duren's long-lost debut album via a Twitter recommendation, and shared it with a friend, Greg Carey, who manages high-profile Australian acts such as The Rubens and Urthboy.
They were so smitten with the music that during a drunken evening in April 2016 they decided to track down the singer to find out what happened to his career. Through the haze of red wine they also declared they'd make a documentary about his story, though neither had any experience in the field.
By September they had cameras in hand and were on their way to the US to meet Duren, whom they'd contacted via Facebook.
They'd also scheduled interviews with those who'd played a part in his story, such as siblings, previous bandmates, former manager Loog Oldham and members of acts such as Hall & Oates and Big Star.
The movie debuted to a five-minute standing ovation in Memphis in November, and will enjoy select screenings in Australia this month, followed by Q&As with Duren and the filmmakers.
Duren will also perform a series of shows, the first time he's played outside of America.
Murky twist
"In my experience you make up a new chapter [in your life] yourself," says the softly spoken 64-year-old. But I didn't see this one coming. It is very surreal, but in the best possible way. It's very hopeful."
Rather than lament would could have been, Duren has spent the past few decades living in Memphis, writing music and performing locally.
"My process is to maintain, make a living playing music in my hometown and move forward," he says. "Creating new music is always on my mind. Move forward and don't repeat yourself. So I was always focused on that and not what happened in the past."
The documentary takes a murky twist as it explores the story of the studio in which Duren recorded in the '70s, Trod Nossel, and the record label that released his debut, Big Sound.
Both were owned by a mysterious character called "Doc" Cavalier, who has since died. Cavalier was a devout Scientologist who pressured Duren to join the religion.
Duren declined and decided to sever ties with Trod Nossel after recording his second album, 1980's Idiot Optimism. As a result Big Sound refused to release it, and his career stalled. (The LP eventually surfaced on a small label in Japan in 2000.)
"Doc evolved into someone I did not want to be around," says Duren. "I was never intimidated by Scientology. I knew it was bullshit. I was only concerned with finishing the second record.
"When I left the studio suddenly, [they] threatened me. The booking aspect of the business went away; they blacklisted us so we couldn't work. We found work but it was a struggle. I just accepted that as the price for getting away from there."
One wonders whether any residual feelings of bitterness resurfaced upon watching the film.
"Nah," says Duren. "Can't waste time on that."
Those who saw 2012 documentary Searching For Sugar Man, about the quest to track down US musician Rodriguez, will no doubt see parallels between the two movies.
"We love that film," says Carey. "We're not shy of saying it's similar, because what's to shy away from trying to unearth great talent?"
As the project continued, it took on a greater significance as Carey and Jackson fought to have the rights to Duren's music returned to the singer.
With that achieved, one of the great lost careers of popular music may finally get a second wind. Duren's songs are now widely available via the film's soundtrack, and a record deal for his first two albums is in the works.
"We want Van to get the best deal he can for these two records," says Carey. "And we want to honour them in the best way we can in terms of vinyl and CD and streaming."
"It's about what's the best way forward," smiles Duren. "That music needs to come out, and it will come out in the near future."
A screening of Waiting – The Van Duren Story, followed by a Q&A with Van Duren, Wade Jackson and Greg Carey, is taking place at Event Cinemas, George Street, on April 10. Van Duren performs at the Oxford Art Factory on April 23; Baroque Room in Katoomba on April 25; and The Gum Ball Festival in Hunter Valley on April 26.
Source: Read Full Article