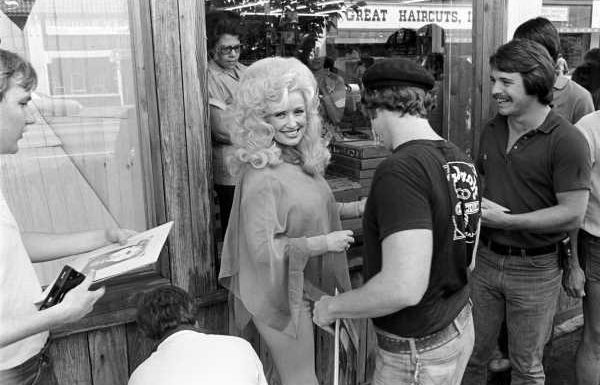 Dolly Parton's first band was made up of her family members — the Travelin' Family Band. But when she began to branch out from country music, a new band was formed to assist her new sound. Gypsy Fever Band was created and represented the big changes the "Jolene" singer was making as an artist. Here's what they were like in 1979.
Why Dolly Parton parted ways with her Travelin' Family Band
After Parton left The Porter Wagoner Show, she set off on her own to start her individual career. The band she gathered together was a collection of her own family members. But The Travelin' Family Band didn't last long. After dealing with less-than-professional conduct at several gigs, Parton took a step back to reorganize.
"Making her most painful decision to date, she told her family it wasn't working out and took time off to put together a more professional band," wrote Playboy writer Lawrence Grobel in 1978. "She also hired a Los Angeles-based manager and public-relations firm, who saw enormous potential in this energetic and prolific woman."
Dolly Parton's young, eclectic Gypsy Fever Band
In 1979, Parton's band consisted of eight musicians — seven young men and one young woman. When Cosmopolitan writer Laura Cunningham profiled Parton in 1979, all but one or two of the bunch had recently joined the Queen of Country.
"The group itself is just two years old—new as such backup groups go—and changes are still being made," wrote Cunningham, as recorded in the book Dolly on Dolly. "Given country-band standards, they are an eclectic crowd. Not for them the cowboy hats and studded belts that mark the most Nashville ensembles. The young men wear fresh sport shirts and plain slacks, while the girl looks pretty in a sundress. They could pass for college kids on summer vacation, instead of a country-western band."
While Parton's band consisted of talent from Nashville (the usual place to find country band members), some hailed from Los Angeles (another nod at the winds of change surrounding Parton and her career at the time).
"Dolly is just trying for the right sound," Gregg Perry, Parton's piano player, told Cunningham. The eldest of the group (29) was described as "an ascetic fellow who munches sunflower seeds and reads serious literature."
Dolly Parton and Gypsy Fever's surprisingly modest 'Coach of Many Colors'
Just like the "9 to 5" singer's group strayed from typical country custom, so did her tour bus. While the rest of Parton's persona may be an explosion of color, Cunningham wrote that the bus the group traveled in was uncharacteristically low-key.
"'The Coach of Many colors,' despite its name, is subdued and routinely upholstered in gold and black vinyl," she wrote. "Other country stars have let their imagination run riot on the decor: Lorette Lynn's bus is a fantasy of flocked purple velvet and 'marbelized' rococo toilet seats."
But the bus had all that really mattered — room for the band to crash.
"At the back are six red corduroy sleeping bunks," wrote Cunningham.
"We call them 'the coffins,'" joked Perry. "We sleep in them if we're doing one-night shows. But this trip's been real easy, so we've been able to stay at motels all the way."
Though Gypsy Fever was made up of an "eclectic" group of young musicians, they all had one thing in common: They loved working for Dolly Parton.
Source: Read Full Article