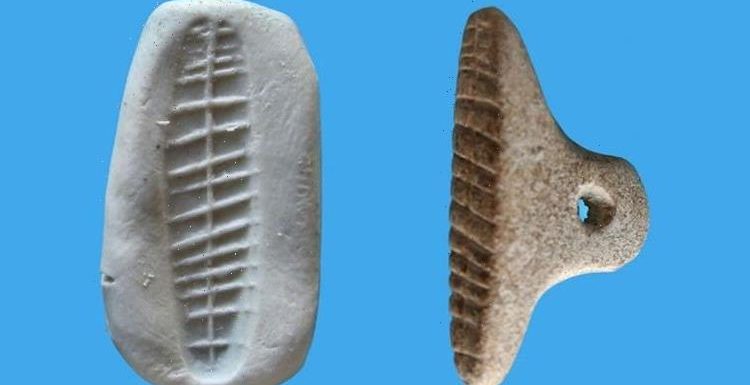 Israel: Archaeologists discover large hoard of gold coins
When you subscribe we will use the information you provide to send you these newsletters. Sometimes they'll include recommendations for other related newsletters or services we offer. Our Privacy Notice explains more about how we use your data, and your rights. You can unsubscribe at any time.
Experts have dated the artefact to about 7,000 years ago – a time even before Israel's Early Bronze Age I (3500 to 2900 BC). The object was found at the archaeological site of Tel Tsaf in the Beit She'an Valley, near the country's border with the West Bank and Jordan. The impression bears the imprints of two geometric stamps, eerily resembling stamps still used today.
Archaeologists from the Hebrew University of Jerusalem described their discovery in the journal Levant.
The seal impression was found during a dig carried out between 2004 and 2007.
The object was one of 150 clay sealings found at Tel Tsaf, but this particular one stood out to Professor Yosef Garfinkel and his students. Professor David Ben Shlomo and Dr Michael Freikman.
According to the experts, the impression is incredibly rare and of great historical value.
Clay sealings or bulla were used in ancient times to seal important documents and letters, particularly those penned by important individuals.
But the impression found in Tel Tsaf stands out from the crowd as it was created well before writing in the region.
Instead, the archaeologists believe it was used to seal marks on cargo shipments or silos and barns.
If a sealed barn door was opened, for example, the seal would break and inform the owner someone had been inside.
Professor Garfinkel said: "Even today, similar types of sealing are used to prevent tampering and theft.
Israel: Archaeologists 'dig up the Bible' in city of Shiloh
"It turns out that this was already in use 7,000 years ago by landowners and local administrators to protect their property."
The impression measures less than a centimetre across but has been preserved in excellent condition due to the region's arid climate.
The object is adorned with a series of symmetrical, diagonal lines with a single line running through the centre.
Many seals from the so-called First Temple Period (about 2,600 years ago) feature a name or a biblical figure.
But since the Tel Tsaf seal hails from a time before writing, it instead features basic geometric shapes.
And the presence of two different stamps on the impression suggests it may have had some commercial use.
The researchers suggested the two stamps may indicate two different people involved in some form of transaction.
According to Professor Garfinkel, the discovery suggests seals were used in prehistoric Israel as early as 7,000 years ago.
They may have been used to sign off on deliveries and keep storerooms closed.
And though seals dating as early as 8,500 years ago have been found in the region, seal impressions from that time have not been found yet.
Even more intriguingly, an analysis of the clay revealed it was made from material sourced at least six miles (10km) away.
The discovery suggests the resident of Tel Tsaf were well acquainted with people from beyond ancient Israel.
Professor Garfinkel said: "At this very site we have evidence of contact with peoples from Mesopotamia, Turkey, Egypt and Caucasia.
"There is no prehistoric site anywhere in the Middle East that reveals evidence of such long-distance trade in exotic items as what we found at this particular site."
Source: Read Full Article