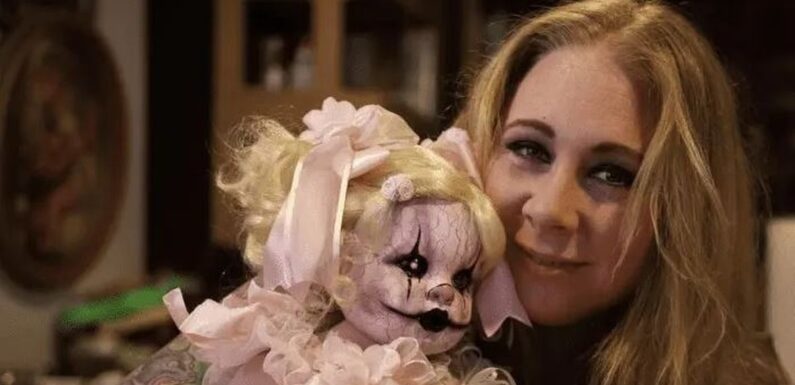 An artist has been accused of buying human remains from a morgue manager before turning them into creepy works of art to sell on Instagram.
Dollmaker Katrina Maclean, who claims to make "creations that shock the mind and shake the soul" took to social media to share a snap of a "real human skull" that she allegedly bought off morgue manager Cedric Lodge.
The post from February 2020 showed a "killer clown" doll with a skull between its fingers, local news outlet Mass Live reported.
READ MORE: Uni morgue manager 'sold stolen human body parts on Facebook' to grim collectors
Maclean, who runs the online store Kat's Creepy Creations, captioned the post from her business page: "This doll has been sold and yes that is a real human skull.
"If you're in the market for human bones hit me up!"
Maclean, 44, and Lodge, 55, were among seven people charged on Wednesday (June 14) over their alleged involvement in an underground ring that robbed corpses at Harvard Medical School's Anatomical Gifts Program and an Arkansas mortuary and crematorium.
Court papers also identified Lodge's wife Denise, 63, Joshua Taylor, 46, and Mathew Lampi, 52 as defendants.
Seven-month-old baby infected with deadly avian flu sparking new pandemic fears
All of them have been charged with conspiracy and interstate transport of stolen goods.
Prosecutors claim Lodge, 55, would take the body parts — which included heads, brains, skin and bones — to his home in Goffstown, New Hampshire, before posting them to buyers he found on Facebook.
He even reportedly stole the bodies of two stillborn infants.
Maclean and Taylor then allegedly re-sold the body parts to Jeremy Pauley, 41, who is also accused of buying body parts that another woman, Candace Chapman Scott, had reportedly stolen from the mortuary and crematorium where she worked in Little Rock, Arkansas.
A police report claims Pauley and Lampi bought and sold body parts from each other multiple times over an extended time period.
In 2021, Maclean allegedly sent a batch of human faces to Pauley and "engaged his services to tan the skin to create leather", reports the New York Times.
It is thought the scheme, which allegedly ran for five years between 2018 and 2022, is part of a bigger black market for human remains.
Harvard Medical School deans George Daley and Edward Hundert slammed Lodge's alleged dealings as "morally reprehensible."
"We are appalled to learn that something so disturbing could happen on our campus – a community dedicated to healing and serving others," they said in a statement.
"The reported incidents are a betrayal of HMS and, most importantly, each of the individuals who altruistically chose to will their bodies to HMS through the Anatomical Gift Program to advance medical education and research."
US attorney Gerard M Karam chimed in: "Some crimes defy understanding," said US attorney Gerard M Karam.
"The theft and trafficking of human remains strikes at the very essence of what makes us human.
"It is particularly egregious that so many of the victims here volunteered to allow their remains to be used to educate medical professionals and advance the interests of science and healing."
To get more stories from Daily Star delivered straight to your inbox sign up to one of our free newsletters here.
Source: Read Full Article