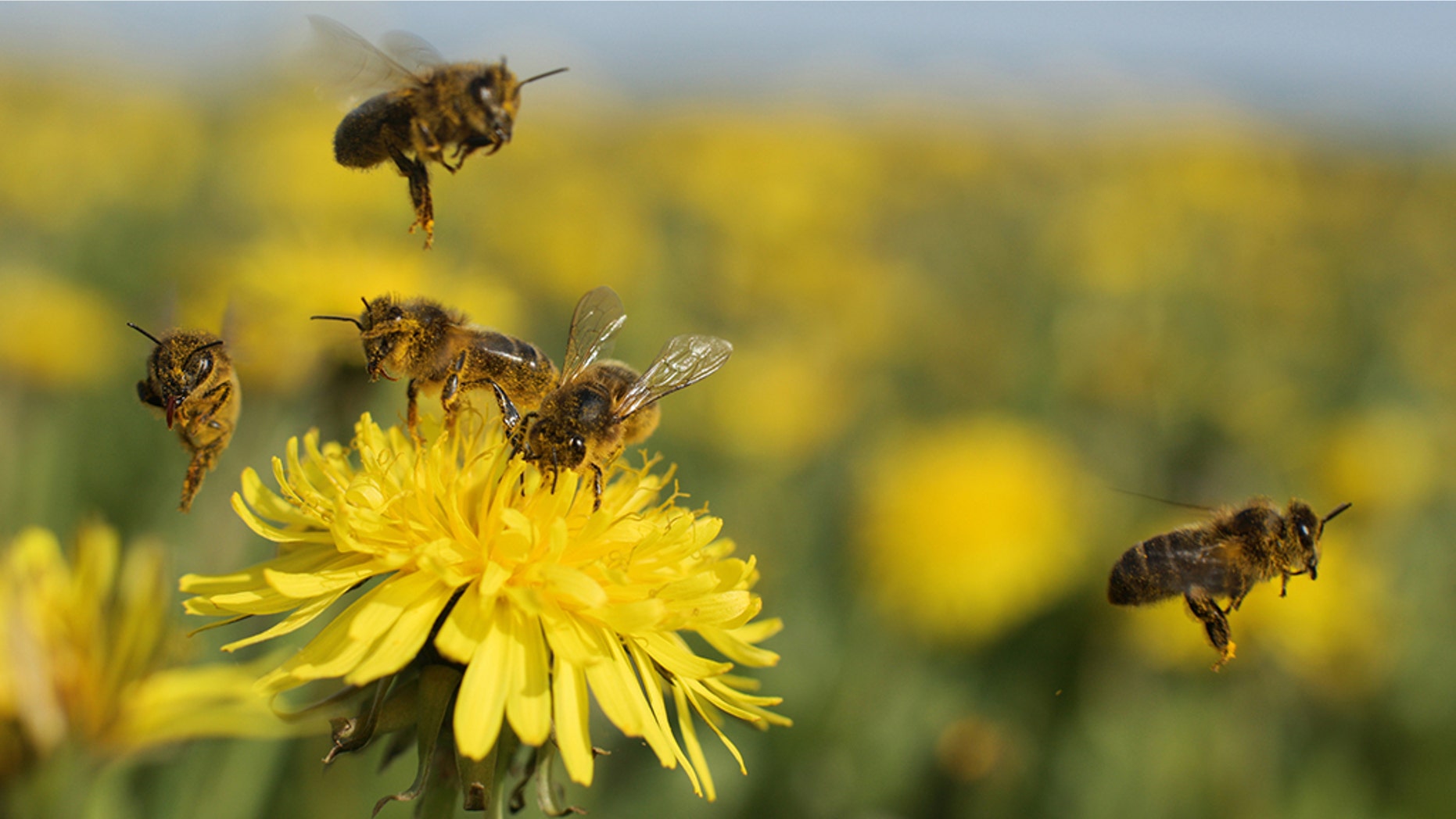 Bees stopping buzzing for a few moments when totality hit during the 2017 total solar eclipse.
(iStock)
For just a few minutes during last year's total solar eclipse, a small creature ceased to buzz — bees.
In a study released this week in the journal Annals of the Entomological Society of America, biologists discovered bees — namely honey and bumblebees, which pollinate during the day, according to Scientific American — went silent for a few moments during totality, when the moon briefly blocked the sun in its entirety.
TENNESSEE MAN LOSES LEG AFTER HIS SON RAN HIM OVER WITH A LAWN MOWER WHEN HE ATTACKED HIM WITH A CHAINSAW
With the help of more than 400 volunteers, including elementary students and teachers, scientists placed small microphones in bee-pollinated areas along the path of totality in Missouri, Oregon and Idaho. The microphones were " placed as far as possible from foot and vehicle traffic," researchers wrote in the report.
During the majority of the total solar eclipse in August 2017, the bees continued to buzz and work. But then, for a short period of time as totality hit and darkness swept over, the bees stopped.
"During 3-min clips at totality, the 16 microphones hidden among flowers in geographically isolated regions captured a soundtrack comprised almost entirely of silence. Only one buzz interrupted the quiet. In contrast, during partial phases of the eclipse, 90% of microphones recorded at least one buzz every few minutes, indicating widespread bee activity," the researchers wrote.
As totality ended, the bees buzzed once more.
"We anticipated, based on the smattering of reports in the literature, that bee activity would drop as light dimmed during the eclipse and would reach a minimum at totality,"  Candace Galen, the study's lead researcher and a professor of biological sciences at the University of Missouri, said in a statement released by the Entomological Society of America. "But, we had not expected that the change would be so abrupt, that bees would continue flying up until totality and only then stop, completely. It was like 'lights out' at summer camp! That surprised us."
Interestingly, researchers also noticed the bees' buzzing lasted longer as it began to darken in the moments leading up to totality. This may suggest the bees were flying more slowly.
"The way I think about it is, if you're driving on a road and it gets foggy, you slow down," Galen told Smithsonian Magazine, explaining the sudden shift in lighting likely reduced the bees' visibility. Bees are also known to slow down their flight speeds at dusk, Galen said in the statement released by the Entomological Society of America.
PREGNANT WOMEN WHO GET FLU SHOT ARE LESS LIKELY TO BE HOSPITALIZED FROM VIRUS, CDC SAYS
"The eclipse gave us an opportunity to ask whether the novel environmental context — mid-day, open skies — would alter the bees' behavioral response to dim light and darkness. As we found, complete darkness elicits the same behavior in bees, regardless of timing or context. And that's new information about bee cognition," Galen said in the statement.
Bees aren't the only creatures that act strangely during a total solar eclipse. Dolphins, chimpanzees, and bats, among other animals, apparently do as well.
Source: Read Full Article