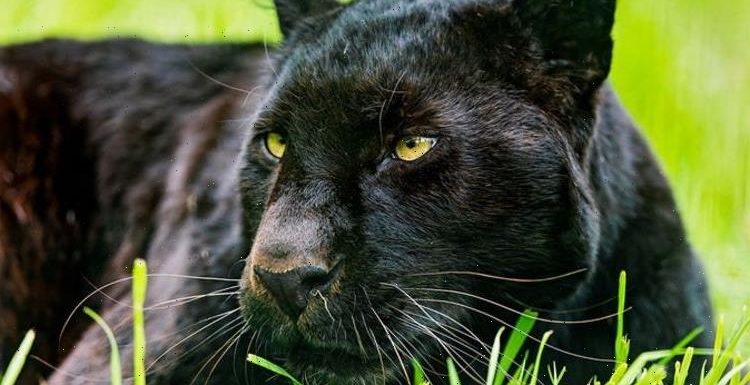 Big Cats: Two Iberian lynxes reintroduced into the wild
We use your sign-up to provide content in ways you've consented to and to improve our understanding of you. This may include adverts from us and 3rd parties based on our understanding. You can unsubscribe at any time. More info
In the latest of a series of sightings, a big cat was seen in Holywell, North Wales. Staff at supporting living Green Pastures accommodation caught the creature on CCTV several times over the weekend.
On Friday July 2, the cat was seen at 2:08am at the accommodation in Holywell.
Since then, staff have seen the cat-like creature several times on the system.
The creature is cat-like in shape and movement, but it is difficult to gauge whether it is larger than a regular feline.
In the footage, the creature seems to be grey or brown rather than jet black in other recent sightings.
Housing manager Pauline Jones told The Leader she watched the footage several times on her laptop.
She insisted the creature, which she describes as "walking like a lion", is too big to be a domestic cat.
She told the outlet: "It's quite difficult because the camera that it is on has mesh around it.
"At first I couldn't make out what it was so I transferred it from my phone to my laptop.
"I thought there's no way that's a cat, it must be somebody's dog – but if you look at its tail and the way it is walking there is no way it is a dog.
"When you look at him or her walking it has a different gait to a domestic cat, the way it lifts its paws is more like a dog, they are bigger and heavier."
The Holywell sighting marks the latest North Wales encounter with supposed big cats.
A lorry driver reported seeing a "big cat" as he was about to join the M56 Eastbound motorway near Chester in April.
The trucker, called Dom, told Puma Watch North Wales that he spotted the wild beast crossing the slip road behind Costco store near Ellesmere Port at around 2am on April 5.
He described seeing a "speckled brown" cat about the size of a fox but with "very large legs and paws and a long bushy tail".
Eyewitnesses have reported seeing big cats prowling around at Ince Marshes, Whitby Park and in Chester.
An Uber Eats courier claimed to have come across a big cat resembling a puma on Chester Meadows last December.
Source: Read Full Article