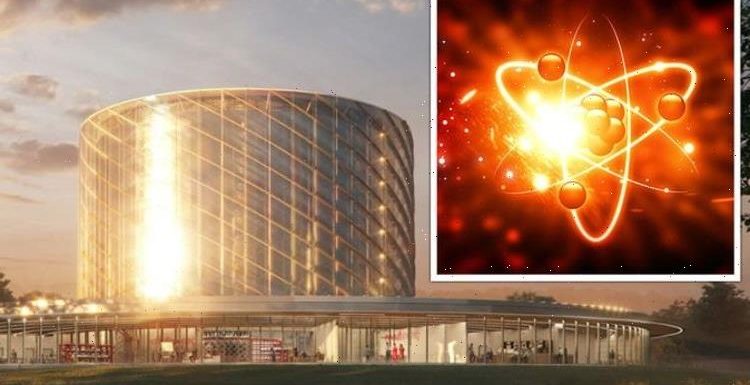 Iter explain how the nuclear fusion project will begin its assembly
We use your sign-up to provide content in ways you've consented to and to improve our understanding of you. This may include adverts from us and 3rd parties based on our understanding. You can unsubscribe at any time. More info
The technology breakthrough is a form of renewable energy generated during the same fusion process of a star, just in a controlled environment. Currently, the Joint European Torus (JET) is the world's largest operational facility located at Fulham Centre for Fusion Energy in Oxfordshire. And now a prototype power plant with a nuclear fusion reactor is set to be built alongside it by Amanda Levete's firm AL_A for the Canadian energy company General Fusion.
Located on the UK Atomic Energy Authority's (UKAEA) campus, it will be used to prove the viability of General Fusion's nuclear fusion technology as a carbon-free energy source.
A_LA said it will be the "world's first" nuclear power plant of its kind upon completion in 2025.
They told Dezeen: "We have really enjoyed working with General Fusion and their team of scientists on the design of the Fusion Demonstration Plant, and are particularly excited that the first of its kind will be built in the UK.
"This is a real statement of confidence in science and technology and its role in building our future.
"We look forward to continuing our work with General Fusion and UKAEA."
In new visuals released by A_LA, the Fusion Demonstration Plant is shown as a circular building with a reactor wrapped by a viewing gallery at its centre.
Alongside it will be meeting rooms and educational spaces to cater to visits from scientists, politicians, investors and the public.
The fusion technology in its reactor will be used to combine atoms to generate heat, mimicking the way that the sun and stars create energy.
This is different to traditional nuclear power stations in which atoms are split in two – a process called fission.
General Fusion specifically uses magnetised target fusion (MTF).
This involves the injection of hydrogen plasma into a sphere of molten lead-lithium surrounded by pistons.
The pistons compress the hydrogen until its atoms slam together and fuse to form helium.
If the prototype proves to be viable, it could help play a key role in decarbonising the UK's power grid, which remains heavily reliant on burning fossil fuels.
The Government has been investing in fusion technology over the past decade in the hope it could play a part in making the UK net-zero by 2050.
Science minister Amanda Solloway said: "This new plant by General Fusion is a huge boost for our plans to develop a fusion industry in the UK, and I'm thrilled that Culham will be home to such a cutting-edge and potentially transformative project.
"Fusion energy has great potential as a source of limitless, low-carbon energy, and today's announcement is a clear vote of confidence in the region and the UK's status as a global science superpower."
The International Thermonuclear Experimental Reactor, known as ITER, is the world's largest fusion experiment being built next to the Cadarache facility in southern France
ITER is funded and run by seven member parties – the European Union, China, India, Japan, Russia, South Korea, and the United States.
The UK and Switzerland participate through Euratom, while the project has cooperation agreements with Australia, Kazakhstan, and Canada.
Source: Read Full Article