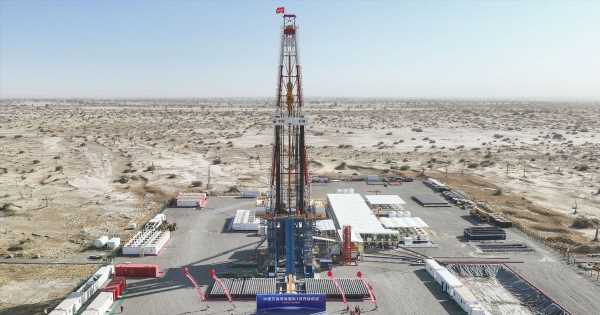 China has started digging a really, really . . . really big hole – in fact it will be one of, if not the deepest hole ever dug.
In a bid to explore what really lies deep beneath our feet, Chinese officials ordered a deep borewell to be dug, stretching down around 10,000 metres into the Earth's crust.
Digging at the site began today (June 1), which is located in the Tarim Basin in China's Xinjiang province.
READ MORE: 'Major incident' declared as homes evacuated after 'hazardous materials' found
Wang Chunsheng, a technical expert involved in the dig, told China's Xinhua news agency said: "Drilling a borehole over 10,000 meters deep is a bold attempt to explore the unknown territory of the Earth and expand the boundaries of human understanding.
"The construction difficulty of the drilling project can be compared to a big truck driving on two thin steel cables."
And according to several Chinese news outlets, the project is being done so that China can "reconstruct the history of the Earth's continents, including the evolution of landscapes, climate change, and the distribution of life."
The area where the site is located is basically a desert – it is being dug at the Fuman oilfield, China's largest ultra-deep oilfield
Murdered and dismembered socialite could have 'face remade with 3D printing for funeral'
It has often been thought of as one of the last places in Asia to become populated.
Parts of the area actually border Kyrgyzstan and Tajikistan, as well as some of India's vast mountain ranges.
Currently the deepest hole in the world is the Kola Superdeep Borehole in Murmansk, Russia.
'Critical' to stop China's 'dystopian' use of AI 'for evil' in heating-up tech race
Scientists and geologists started the drilling on May 24, 1970 and reached 12,200 metres (49,000ft) down towards the Earth's crust.
Drilling stopped in 1992 when the temperature reached 180C as by that time, the collapse of the Soviet Union left the scientists no money to fund such project.
The desolate site has now become a destination for adventurous tourists.
China is starting its project with the aim of going 10,000 metres deep, but some outlets are claiming that they want to go deeper than the failed Russian hole.
To get more stories from Daily Star delivered straight to your inbox sign up to one of our free newsletters here.
Source: Read Full Article