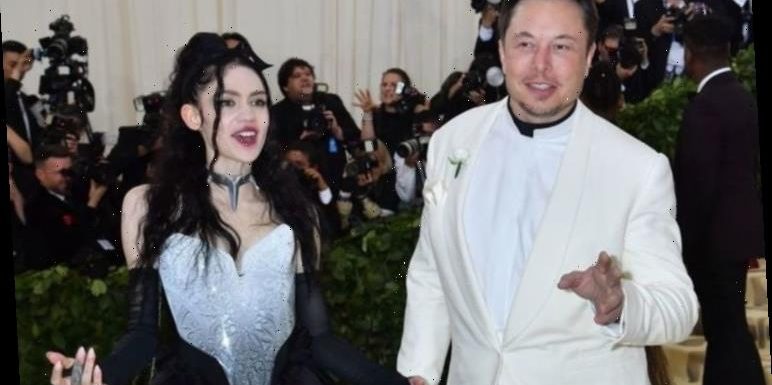 Elon Musk explains 'risks' of moving to Mars
When you subscribe we will use the information you provide to send you these newsletters.Sometimes they'll include recommendations for other related newsletters or services we offer.Our Privacy Notice explains more about how we use your data, and your rights.You can unsubscribe at any time.
Elon Musk, 49, and his SpaceX company have been working tirelessly to perfect a rocket to take humans to Mars. While SpaceX has suffered several setbacks in its Starship prototype tests, Mr Musk has said he hopes for the company to reach Mars before 2030.
Now, his partner Grimes, who is the mother of his seventh child, X Æ A-Xii, has revealed she is prepared to die on the Red Planet.
The pop-sensation, 33, posted a photograph of herself to Instagram standing in front of a Starship rocket at Starbase, Texas.
Alongside the image, Grimes said: "Ready to die with the red dirt of Mars beneath my feet. Starbase Tx".
This is not the first time the Canadian musician has made such a claim about moving to Mars.
View this post on Instagram

A post shared by ☘︎࿎ (@grimes)
In a Q&A video in February, Grimes said she is prepared to serve as a manual labourer on Mars, even at the risk of death.
When asked about the biggest risks of moving to Mars, she said: "Manual labour until death most likely, but hopefully that can change".
SpaceX's Starship will make it to Mars within the 2020s according to its owner, Mr Musk.
Mr Musk said on Twitter: "SpaceX will be landing Starships on Mars well before 2030.
"The really hard threshold is making Mars Base Alpha self-sustaining."
Mars Base Alpha is the code-name for the first human base on the Red Planet.
For humans to settle there, there will need to be a constant supply of food, energy and water.
SpaceX has said of the Starship: "This capability will enable a fully reusable transportation system designed to carry both crew and cargo on long-duration, interplanetary flights and help humanity return to the Moon, and travel to Mars and beyond."
DON'T MISS
Elon Musk hints 'something significant' caused Starship SN11 to crash
Elon Musk blows up another Starship prototype – 'Came down hard'
SpaceX SN11 explosion: Fans react to latest Starship prototype
The latest Starship prototype called the SN11, launched on March 30, but it did not go to plan.
While the SN11's predecessors, the SN8, SN9 and SN10, at least made it to the launchpad before exploding, the latest suffered disaster from the get go.
SpaceX has not officially confirmed the reason for the mishap which saw the rocket crash land, Mr Musk said it was likely due to engine failure.
Mr Musk tweeted: "Looks like engine two had issues on ascent and didn't reach operating chamber pressure during landing burn, but, in theory, it wasn't needed.
"Something significant happened shortly after landing burn start. Should know what it was once we can examine the bits later today."
Source: Read Full Article