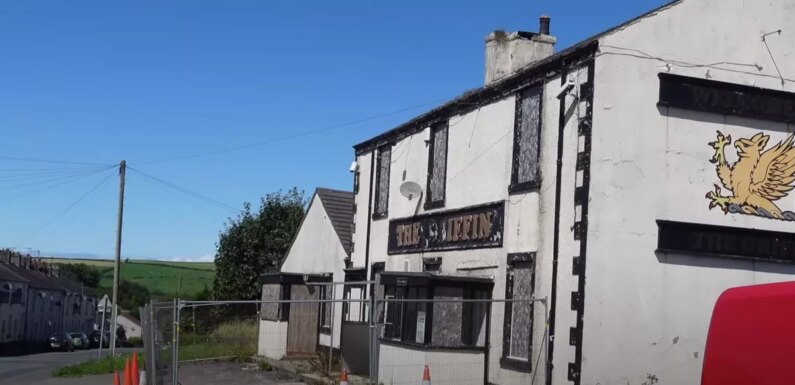 A remote UK village has been slammed as an "embarrassment" of a place by a camera-wielding visitor.
Frizington in west Cumbria, on the cusp of the Lake District has so little going for it that according to YouTube channel Turdtowns, residents are desperate to leave.
As if it wasn't bad enough that community hubs like the pub and surgery had been shuttered and boarded up, the hill-top smattering of house-lined streets also stink.
READ MORE: Forgotten UK region likened to 'Deliverance' with 'ghost town like Chernobyl'
Yet it doesn't take more than a bird's eye view of the place to clock Frizington does at least have one thing going for it, and that's the stunning surrounding countryside.
Back on the ground though and images of the village appear to back up Mr Turdtowns' description of it being a "desperate kind of place"
In an even more damning assessment, the intrepid explorer fumed: "This place is an embarrassment, it just needs to be all knocked down and the locals need to be relocated to a more populated place at the cost of the government and not the taxpayer."
Apparently his opinion was even shared by the people who call Frizington home.
"The consensus from everyone I spoke to was the same, they don't want to be here," the Youtuber added.
Anger is reportedly growing in the village following the closure of its surgery pictured several yards behind a fence draped in a banner pleading to save it.
Not only are a number of properties in Frizington abandoned, but the isolated locals with limited amenities are feeling it too.
Put simply "there's nothing here, it's on a hill, it's cold" and to make matters even worse, a foul stench of sewage was wafting through the air.
"Frizington is no joke, visiting here will have you questioning your life decisions," were the parting words for the village billed as the second worst in the county.
Viewers of the 19 minute long video concurred with much that was said.
One person commented: "Well done on doing Frizington. I talked recently to a lad sleeping in shop doorways in Manchester, and he explained how much better it was than back home in that place."
Another wrote: "Having just visited Frizington and i must say it is quite a depressing place."
There was at least one fan of the place impressed by the surrounding countryside, they said: "Look at the view though of the mountains in the distance !! And plenty of places to go walking !!"
For more incredible stories from the Daily Star, make sure you sign up to one of our newsletters here
Source: Read Full Article