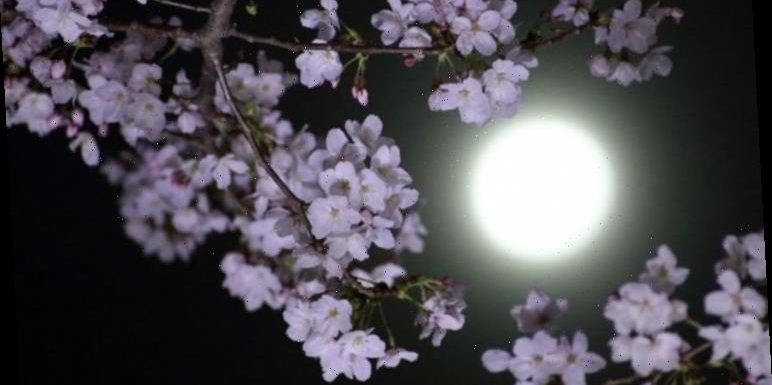 Full moon: NASA scientist explains why moon appears 'brighter'
When you subscribe we will use the information you provide to send you these newsletters.Sometimes they'll include recommendations for other related newsletters or services we offer.Our Privacy Notice explains more about how we use your data, and your rights.You can unsubscribe at any time.
March 28 will see a Full Moon rise once again as the Worm Moon adorns the night sky. The Worm Moon, also known as the Crow Moon, Crust Moon, Sap Moon and the Sugar Moon.
All the names have a similar meaning, with the gist of it being that they kick off springtime and the end of winter.
For example, Native Americans in the south called it the Worm Moon as they believed it was a time when the ground began to thaw, making it easier for worms to rear their heads from the Earth.
Native Americans in the North called it the Crow Moon when the cawing of crows signalled the end of winter.
Holiday resort Parkdean has offered some handy tips on the best way to see the Worm Moon, which will peak at 7.48pm.
The first tip is to "get up high", Parkdean said in a statement.
The statement added: "The further up you are, the better your chance of a clear sky to see the stars, plus you'll be able to see low down to the horizon to watch the Moon rise!
"Take a hike in your local area and explore the surroundings to find the perfect stargazing spot!
"The further you are away from light pollution the better chance you'll have of seeing the stars.
"Moons always rise in the east and set in the west – so follow this direction in your search."
Light pollution will also play a part in how visible the Moon will be.
Parkdean said: "For those stargazing from the comfort of their homes, turning off the lights indoors can improve the visibility of the night sky, so long as you're not afraid of the dark!
"Artificial light can make it harder to see stars in the sky so make sure wherever you are is as dark as possible."
Thankfully, clear skies are largely expected across the UK tomorrow, according to the Met Office.
DON'T MISS
Supermoon 2021: How to see the fourth biggest Full Moon of the year
Full Moon 2021: When is the next Supermoon? Experts disagree
Full Moon 2021: When is the Worm Moon and what time can you see it?
What are the Full Moons of 2021?
January 28 – Wolf Moon
February 27 – Snow Moon
March 28 – Worm Moon
April 26 – Pink Moon
May 26 – Flower Moon
June 24 – Strawberry Moon
July 23 – Buck Moon
August 22 – Sturgeon Moon
September 20 – Corn Moon
October 20 – Harvest Moon
November 19 – Beaver Moon
December 18 – Cold Moon
Source: Read Full Article