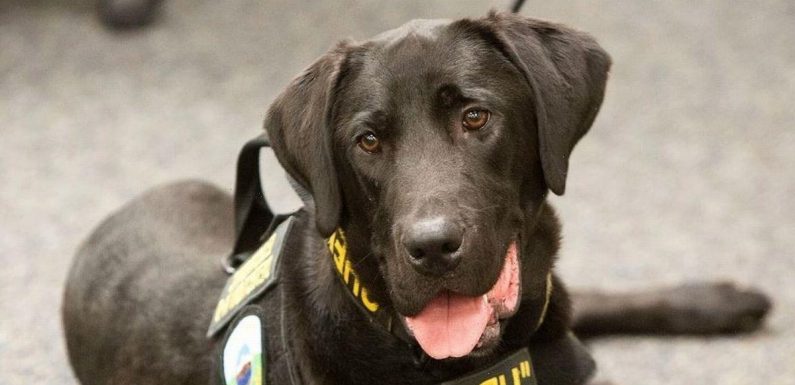 A 'porn-sniffing' dog from Utah that helped put dozens of grotesque offenders behind bars has passed away just shy of its eighth birthday.
Weber County Sheriff's Office's "URL" gained worldwide attention for completing more than 200 search warrants, often busting child sex offenders.
The clever canine was able to find a USB drive disguised as a key on a key ring and even busted a micro-SD card in a closed baby food jar in a box full of other items inside a large chest.
READ MORE: Putin 'trapping Ukrainian kids in grim Crimean summer camp to use as bargaining chips'
The dog's handler Detective Cameron Hartman said it was a "privilege" to serve alongside the pooch, who gained the nickname the 'porn-sniffing dog' for its exploits.
"What a privilege it was to serve alongside you," Hartman wrote online. "URL, my heart is broken and still filled with so many memories and emotions. I am so lucky to have been able to get to know you and serve the citizens of Utah and its surrounding states with you.
"Thank you, URL, for trusting me, for working so hard, for loving me unconditionally, and for being part of my family. You were always there for me as I benefited from your talent in helping to catch some of the wolves that live among us."
Hartman added: "It's been an unbelievable honor to have been the largest part of your unstable life. I will miss you terribly until I get to see you again."
'My husband was paralysed by freak wave – our lives will never be the same'
The duo, who lived together after the dog was retired last year, worked together for the Internet Crimes Against Children task force, FBI Child Exploitation Task Force, Department of Homeland Security, the Utah Department of Corrections, Weber Morgan Narcotics Strike Force, and other agencies.
URL was found at a dog pound, where the pooch was deemed "untrainable, loud, not good on a leash and a biter."
"With heavy hearts, we say goodbye to our partner URL," Utah Internet Crimes Against Children said on Facebook.
Jack Hubball, who helped train the world's first arson-sniffing dog back in 1986, identified the chemicals associated with computer components and trained dogs to sniff them out.
Following months of training, his canine pupils were able to detect the smell of the chemical in people's hands, on concrete blocks, in metal boxes and on clothing.
To stay up to date with all the latest news, make sure you sign up to one of our newsletters here.
READ NEXT:
Battered Brits abroad topple huge beloved buffalo sculpture by trying to ride it

American mocked for 'drying out kettle' after making a cuppa

Pensioner 'forced to shoot rats with rifle' as vermin 'turning house into driving range'

Stripper dates men so she can 'break their hearts' and says it's a 'fun hobby'
Source: Read Full Article