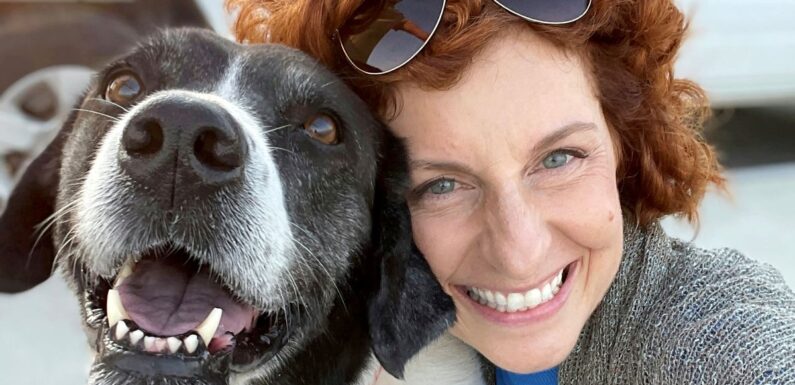 A woman who claims she can speak to the spirits of dead animals quit her corporate job to pursue a career as a real-life Doctor Dolittle medium.
Danielle Mackinnon claims that she can "speak to dead animals" but her family and friends never believed her.
It wasn't until her beloved chocolate labrador, Bella got sick and she spoke with a pet psychic that she decided to pursue her skills.
READ MORE: Randy male seals are killing themselves off with sex during breeding season
The 51-year-old claims that the psychic correctly told her and her husband Kevin, 52 that their dog had an upset stomach after eating corn cobs.
She says the moment "changed her life" and pushed her to explore her gift as a pet communicator and leave her marketing job.
Under her new role, Danielle helps owners to understand what their living pets are trying to say and to get closure when they've passed away.
Danielle, from York, Maine, US, said: "The animals were telling me to leave the job. It was scary. I was afraid.
"I ended up losing my job and took it as a sign to take the business full time. A lot of people ask to reconnect with their pets when they pass over.
"The messages animals like to give to humans are like – 'I saw you the other day working in a blue top'.
Super-rare albino Cobra that 'can kill humans' found inside home
"They talk about humans lives to show they are still around. It provides a lot of closure. I just need a name to connect. It's even possible with 'my dog'."
After meeting a fellow pet psychic in 2000, Danielle took classes with him to be able to run her own readings. She finally took her business full-time in 2005.
Danielle said owners often ask her how they know if their pet loves them.
She said: "They love everybody. It can look like a dog loves someone more.
Giant fanged 'cannibal fish' wash up on beaches and are leaving experts baffled
"The stare they give – it's usually just them looking at you and showing love.
"It's not based on how many hugs you give them, or treats you give them.
"It's based on their intuitive connection to you because they can feel the love in your heart.
"They love everybody. They have mastered unconditional love."
For the latest breaking news stories and incredible tales from the Daily Star, sign up for our newsletter by clicking here.
'Notorious' orangutan gropes young woman's breasts and gives kisses on command
Danielle said our pets can tune into our emotions and will know when we are holding them back with them.
She said: "They tune into our emotions all the time. They are so psychic – even when we try and hide it.
"If we don't want our dog to know we are upset we might hide it.
"They know when you're pretending. They want us to be transparent with our feelings. If we're not it feels untrustworthy to them."
READ NEXT:
Prince Harry is 'lost soul' who 'misses relationship he had with William', says expert
Bill Gates' billionaire pal fears ChatGPT is like the creation of the 'atom bomb'
Boy forced to grow up as girl by parents following 'botched' circumcision
Source: Read Full Article