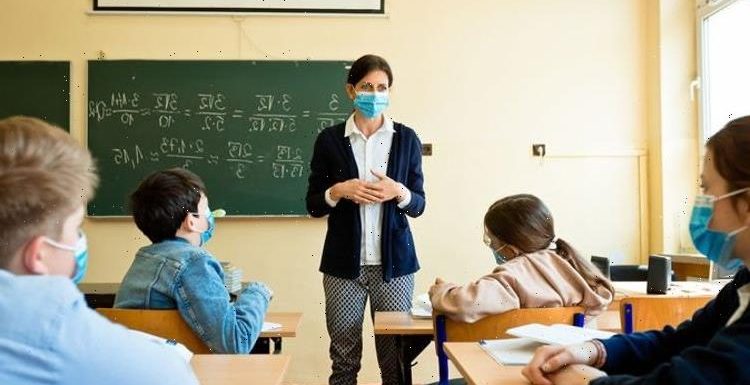 A-level results: Ex-Ofsted chief slams Ofqual's exam algorithm
We use your sign-up to provide content in ways you've consented to and to improve our understanding of you. This may include adverts from us and 3rd parties based on our understanding. You can unsubscribe at any time. More info
The Association of Mathematics Education Teachers (AMET) has written to Ofsted asking it to withdraw its latest research review into maths. Sources harking back to 1939 are quoted, as well as a study from 1988 which is used for a statement related to computer use.
Studies involving university students, not school age learners, are also cited – infuriating the maths experts behind the letter.
Ofsted said its reviews are aimed at supporting and informing those leading the thinking on subject education in schools, but maths experts at AMET said it is not good enough.
They scrutinised the document and found more than 100 references come from the USA, despite the fact England has outperformed it in maths in the international Pisa rankings.
The paper also uses reports from the USA, calling for a national curriculum – something England has had for decades, but the USA does not.
In a hard-hitting letter to England's school inspectorate, AMET officials said it has "identified some serious problems with the scholarship in the document."
Members went through all 201 footnotes and 307 references in the report, finding:
A study from 1988 is used for a statement related to computer use, which the experts say "seems ill-advised because of the fast rate of change in technology and the huge differences in children's familiarity with computers".
"The age of the sources is sometimes a concern as the report includes research ranging from an article published this year to an article from 1980, with a book from 1939 used to illustrate a historical point.
Approximately 50 percent of the references come from sources published within the last 10 years, meaning that nearly half of the sources were published before the current National Curriculum.
Most of the studies did involve school children but some were conducted with college or university students.
One footnote relates to research with first and second grade children (six to eight years old) in the USA but is erroneously equated to the "start of the academic journey" in England, which would be nursery or reception classes (three to five years old).
The letter from AMET added: "Several of the American sources cited were calling for the creation of a standard curriculum in the USA so it was not clear why these were being used for a review in England that already has a national curriculum.
"We do not feel that the evidence base for this report, which sets itself out as a research review, is secure and call for its withdrawal until this can be corrected."
Ofsted said it had "every confidence" in its research review and would not remove it.
A spokesperson said: "Research is important in informing the curriculum in mathematics, as it is in all subjects. That is why we are publishing a series of subject reviews.
DON'T MISS
UK attacked by French tourists as Covid travel ban down to 'grudge' [VIDEO]
UK 'first in line' to own Mars land as space lawyer 'validates' claim [INSIGHT]
TV Licence scam spreads as pensioners meet new payments this week [REVEAL]
"The reviews set out the research that has informed our thinking on subject quality. We are not aiming to summarise the totality of research in education.
"When selecting literature for the reviews, we are drawing on research that aligns with the established principles for quality of education, as outlined in the education inspection framework (EIF) and summarised in our 'Education inspection framework: overview of research'.
"We are in the process of responding to AMET's letter. We have every confidence in our research review and will not be withdrawing it."
In its principles behind the review document, Ofsted said: "Educational research is contestable and contested, and so are documents such as these research reviews. Therefore, we are sharing our thinking with subject communities so that we can get input from the broader subject community."
AMET said it hoped its response would be welcomed by Ofsted as input from the broader mathematics education community.
Source: Read Full Article