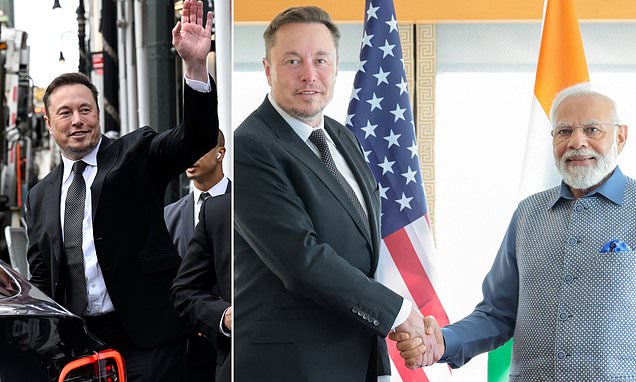 Elon Musk pledges to roll out Tesla in India 'as soon as humanly possible' after meeting Prime Minister Modi in New York days after Jack Dorsey claimed Twitter was under pressure from Indian government to 'take down' content
 Musk said he had a 'very good' conversation with Modi on Tuesday evening
Elon Musk has pledged to roll out Tesla in India 'as soon as humanly possible' after meeting Prime Minister Narendra Modi in New York days after Jack Dorsey claimed Twitter was under pressure from the Indian government to 'take down' content.
'It was excellent and a very good conversation,' Musk told reporters when asked about his meeting with Modi, adding he planned to visit India next year.
'I am confident Tesla will be in India and will do so as soon as humanly possible,' Musk said when asked by reporters about a timeline on Tesla coming to India.
Musk said Modi was pushing the car maker to make a 'significant investment' in the country, adding that such an announcement was expected soon.
His comments came during the Indian leader's state visit to the United States.
Prime Minister Narendra Modi shakes the hand of Tesla chief executive Elon Musk during their meeting in New York City on June 20, 2023
Musk leaving the Lotte New York Palace hotel in New York City on Tuesday where he met Modi
Last week Dorsey accused India of threatening to shut down the platform for not complying with content takedown orders during a 2020-2021 protest.
India called the allegation an 'outright lie'.
'Twitter does not have a choice but to obey local governments. If we don't obey local government laws, we will get shut down…,' Musk told reporters on Tuesday.
A source previously told Reuters that Musk would brief Modi on plans to set up a manufacturing base in India.
India has strong potential for a sustainable energy future including solar power, stationary battery packs and electric vehicles, Musk said, adding that he hopes to bring SpaceX's Starlink satellite internet service to India as well.
'He (Modi) really cares about India because he's pushing us to make significant investments in India, which is something we intend to do,' Musk told reporters after the meeting at the Lotte New York Palace hotel.
Later, India's foreign ministry spokesperson tweeted saying Modi had invited Musk to 'explore opportunities in India for investments in electric mobility and rapidly expanding commercial space sector'. 
The South Asian country is now looking to allow some US companies to initially collaborate with Indian firms for investments in its space sector, a source familiar with the matter told Reuters.
India opened the way for private launches in 2020 and wants its private space companies to increase their share of the global launch market by five-fold within the next decade.
Executives of Tesla visited India and held talks with Indian bureaucrats and ministers last month on establishing a manufacturing base for cars and batteries in India.
Musk said last month Tesla would probably pick a location for a new factory by the end of this year, adding India was an interesting place for a new plant.
Modi meets Musk during a meeting in New York on June 20, 2023. 'It was excellent and a very good conversation,' Musk told reporters, adding he planned to visit India next year
US companies need to reduce reliance on China as a manufacturing base in the face of tensions between Washington and Beijing. Tesla last year shelved its India entry plans due to high import tax structures.
Musk said in April that he did not know 'what exactly happened' when Twitter took down content related to a documentary critical of Modi earlier this year, adding that some rules related to social media content were 'quite strict' in India.
In January, India ordered the blocking of a BBC documentary which questioned Modi's leadership during the 2002 Gujarat riots, saying that even sharing of any clips via social media was barred.
The government had issued orders to Twitter to block over 50 tweets linking to the video of the documentary, Kanchan Gupta, an adviser to the government, had said.
While the BBC had not aired the documentary in India, the video was uploaded on some YouTube channels, Gupta had said.
'I am not aware of this particular situation… don't know what exactly happened with some content situation in India,' Musk said in an interview with the BBC broadcast live on Twitter Spaces, when asked if the site took down some content at the behest of the Indian government. 
Tensions escalated in the capital, New Delhi, at Jamia Millia University on January 25 where a student group said it planned to screen the banned documentary, prompting scores of police officers equipped with tear gas and riot gear to gather outside campus gates.
Police, some in plain clothes, scuffled with protesting students and detained at least half a dozen of them, who were taken away in a van.
The university cut off power and the internet on its campus before the documentary was scheduled to be screened by a students' union.
Authorities said it would disturb peace on campus, but students nonetheless watched the documentary on their laptops and mobile phones after sharing it on messaging services like Telegram and WhatsApp.
The documentary also caused a storm at other Indian universities.
Source: Read Full Article