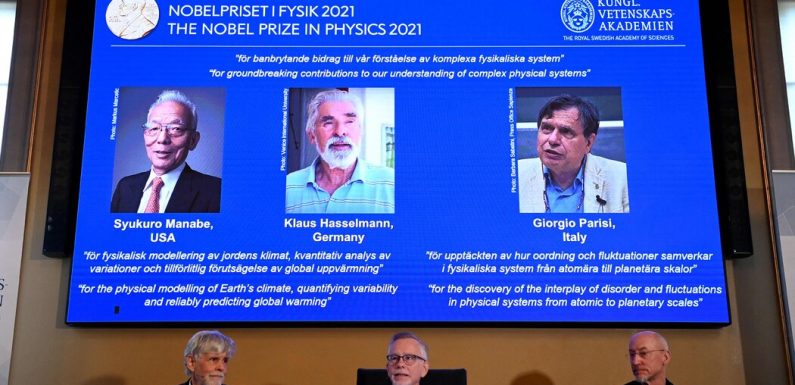 The Nobel Prize in Physics was awarded on Tuesday to three scientists whose work "laid the foundation of our knowledge of the Earth's climate and how humanity influences it."
The winners were Syukuro Manabe of Princeton University, Klaus Hasselmann of the Max Planck Institute for Meteorology in Hamburg, Germany, and Giorgio Parisi of the Sapienza University of Rome.
The work of all three is essential to understanding how the Earth's climate is changing and how human behavior is influencing those changes.
"The discoveries being recognized this year demonstrate that our knowledge about the climate rests on a solid scientific foundation, based on a rigorous analysis of observations," said Thors Hans Hansson, chair of the Nobel Committee for Physics.
Complex systems, such as the climate, are often defined by their disorder. This year's winners helped bring understanding to the seeming chaos, by describing those systems and predicting their long-term behavior.
Dr. Manabe demonstrated how increased levels of carbon dioxide in the atmosphere lead to increased temperatures on the surface of the Earth.
"In the 1960s, he led the development of physical models of the Earth's climate and was the first person to explore the interaction between radiation balance and the vertical transport of air masses," the committee said.
Dr. Hasselmann, a decade later, created a model that links weather and climate, "answering the question of why climate models can be reliable despite weather being changeable and chaotic," the Nobel committee said in its statement.
Dr. Parisi's discoveries were described as "among the most important contributions to the theory of complex systems."
The 2021 Nobel Prizes
Prize for Medicine: David Julius and Ardem Patapoutian were honored for their discoveries about how heat, cold and touch can initiate signals in the nervous system.
What to Know: Here's a quick guide to this year's prizes.
How Do the Nominations Work?: Thousands of people, including university professors, can submit nominations. Hundreds are submitted per year.
A Nobel Prize That Might Have Been: A recent study of black holes has confirmed a fundamental prediction made by Stephen Hawking nearly five decades ago. But the ultimate award is out of his reach.
A Life-Changing Call: Here's how eight scientists learned about their Nobel Prizes.
A Growing List of Questionable Choices: The Nobel Peace Prize has been awarded at least six times in the past three decades to recipients whose recognition is being second-guessed.

Source: Read Full Article