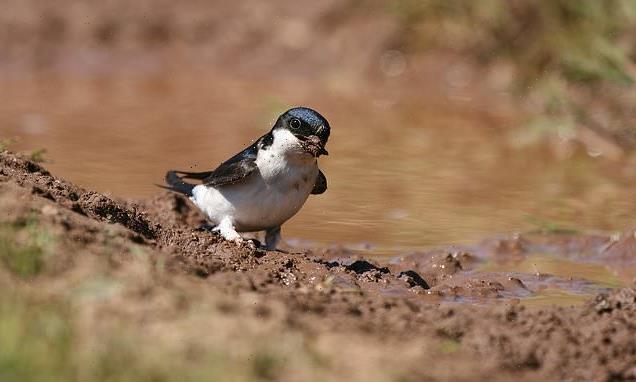 Mud pies at the ready! RSPB urges Britons to leave muddy puddles in their gardens to help birds keep cool during the nine-day UK heatwave
The Met Office predicts a UK heatwave spanning nine days from 5-13 May
This coincides with the time that many migratory birds return to home to the UK
RSPB advises putting up nest boxes or cups, or leaving 'mud pies' in your garden
A nine-day heatwave is currently sweeping the UK, with temperatures expected to hit 73°F (23°C) in some parts of the country.
Many Brits are likely to struggle with the heat, and now the RSPB has warned that it's not just humans suffering – it's birds too.
The charity is urging Brits to consider leaving 'mud pies' in their gardens to help birds keep cool amid the heatwave.
RSPB is urging Brits to consider leaving 'mud pies' in their gardens to help birds keep cool amid the heatwave
Top 5 things you can do to help migratory birds from home 
1. Put up nest boxes or cups 
2. Leave out a muddy puddle 
3. Plant to attract insects
4. Put away the pesticide 
5. Watch your step when out and about – lots of people don't realise many birds nest on the ground 
The Met Office predicts a heatwave in many parts of the UK, spanning nine days from 5-13 May.
This happens to coincide with the time that many migratory birds return to their homes, here in the UK.
Many of these birds – including house martins and swifts – have flown thousands of miles from their wintering grounds in more southerly, warmer countries.
Unfortunately, recent research has shown that these birds have seen sharp declines in numbers over the last two decades because of climate change – in some cases, by more than 50 per cent.
In fact, house martins and swifts recently jumped from green to red on the conservation list, according to the RSPB.
With numbers already dwindling, the RSPB is calling on Britons to take action to help migratory birds from home.
Charlotte Ambrose, a wildlife advisor at RSPB, said: 'Now is as good a time as ever to help the wildlife near you.
'Whether from your garden, balcony, or local greenspace, taking a few simple steps to give the nature on your doorstep a helping hand this spring can really give birds such as swifts, swallows and house martins the boost they need as they grace our skies once more.'
The charity advises putting up nest boxes or cups, or leaving 'mud pies' in your garden.
Mud pies are muddle puddles that birds can use to keep cool, and to build their own mud cup nests.
'A simple way to help is leaving out a dish of soil and water mixed together – your very own muddy puddle – for these birds to make use of while we enjoy the sunshine,' the RSPB said.
In addition, it suggests having an insect-friendly lawn to provide food for birds, and putting away the pesticide.
'Using chemicals to kill dandelions and aphids also impacts on a whole range of insects in our gardens,' it explained.
'In time, this affects the very things you were trying to protect – plants, soil and wildlife – for example reducing the available food for migratory birds.'
Finally, the RSPB is urging Britons to watch their step while out and about, to ensure they don't step on any birds nests.
'Little terns for example nest on shingle beaches, so putting dogs on leads and watching where you walk can help to reduce the risk of disturbing their nests,' it concluded.
WHY DO MIGRATING BIRDS FLY IN A V-FORMATION?
Birds fly in a v-formation to help them fly more efficiently, staying aloft while expending as little energy as possible.
Scientists learned the aviation secrets of migrating birds after attaching tiny logging devices to a flock of 14 northern bald ibises that not only tracked their position and speed by satellite but measured every flap of their wings.
The 14 birds used in the study were hand-reared at Vienna Zoo in Austria by the Waldrappteam, an Austrian conservation group that is re-introducing northern bald ibeses to Europe. 
Birds fly in a v-formation to help them fly more efficiently, staying aloft while expending as little energy as possible (stock image)
The birds were studied as they flew alongside a microlight on their migration route from Austria to their winter home in Tuscany, Italy.
Lead researcher Dr Steve Portugal, from the Royal Veterinary College, University of London, said: 'The distinctive V-formation of bird flocks has long intrigued researchers and continues to attract both scientific and popular attention, however a definitive account of the aerodynamic implications of these formations has remained elusive until now.
'The intricate mechanisms involved in V-formation flight indicate remarkable awareness and ability of birds to respond to the wingpath of nearby flock-mates. Birds in V-formation seem to have developed complex phasing strategies to cope with the dynamic wakes produced by flapping wings.'
When flying in a V formation, the birds' wing flaps were approximately 'in-phase', meaning all the wing tips followed roughly the same path, the scientists found. 
This helped each bird capture extra lift from the upwash of its neighbour in front.
Occasional shifts of position within the formation meant that at times birds flew directly one behind the other. 
When this happened, the birds altered their wing beats to an out-of-phase pattern to avoid being caught by downwash.
Source: Read Full Article