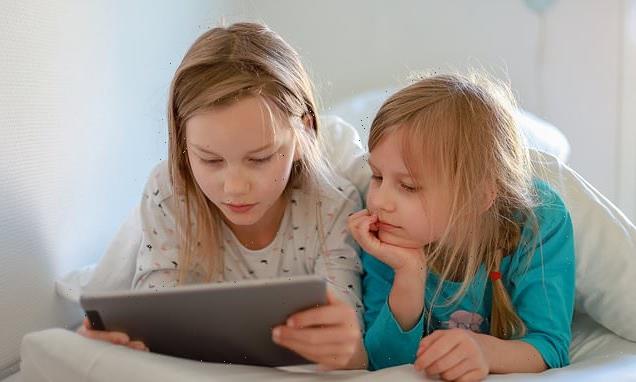 Primary-age children saw the biggest rise in screen time during the pandemic – increasing by an hour and 23 minutes a day
Children aged six to 10 had the biggest rise in screen time during the pandemic
They spent 83 minutes more looking at screens each day than before COVID
All demographics saw an increase, with a jump of 58 minutes for adults 
An increase was also noted in all age groups for leisure screen time only
It has had a negative impact on our diet, sleep, mental health and eye health
Warnings of square eyes may be losing their effect, as primary school-aged children had the biggest increase in daily screen time during the COVID-19 pandemic.
A new study has found that children aged between six and 10 spent an hour and 23 minutes more staring at screens each day – the biggest jump of all demographics.
However, according to scientists at Anglia Ruskin University in Cambridge, increases were seen in all age groups, including adults.
This was not only due to spending more time in front of a screen for work or academic purposes, as leisure screen time alone also rose across all age groups.
The researchers found that the rise in screen time was associated with a negative impact on diet, sleep, mental health and eye health in both children and adults.
With children there was also a significant link found between screen time and behavioural problems like aggression and temper tantrums. 
A new study has found that children aged between six and 10 spent an hour and 23 minutes more staring at screens each day during the pandemic – the biggest jump of all demographics
However, according to scientists at Anglia Ruskin University in Cambridge, increases in daily screen time were seen in all age groups post-COVID, including adults
DAILY SCREEN TIME INCREASES DURING THE PANDEMIC 
Overall screen time 
Under 5s: 35 minutes
Ages 6-10: 83 minutes
Ages 11-17: 55 minutes
Ages 18+: 58 minutes
Leisure screen time
Under 5s: 35 minutes
Ages 6-10: 60 minutes
Ages 11-17: 30 minutes
Ages 18+: 42 minutes
Senior author Professor Shahina Pardhan, director of the Vision and Eye Research Institute at the university, said: 'This study is the first of its kind to look systematically at peer-reviewed research papers on increases in screen time during the pandemic and its impact.
'By bringing together numerous studies, we get a much more accurate picture of screen time among the population and its associated health repercussions.
'As with any study of this type, there are degrees of variability between the research looked at.
'However, the overall picture provides clear evidence that screen time should be reduced wherever possible to minimise potential negative outcomes.
'These include adverse dietary behaviours, sleep, mental health, and eye health effects.
'It is also important that non-sedentary activities are promoted to mitigate the risks of increased screen time.'
Researchers analysed the results of 89 different studies focusing on increases in screen time before and during the pandemic, up until December 2021.
This gave a total sample size of more than 200,000 people.
After primary school age children, the second largest increase in time spent looking at screens like the TV or computer was found for adults.
Screen time for the over 18s rose by 58 minutes, and adolescents aged between 11 to 17 came third with a jump of 55 minutes.
The study found that children under five had the lowest increase in screen time, going up by 35 minutes.
The data, published today in eClinicalMedicine, revealed that leisure screen time, or screen time not related to work or study, also increased in all age groups.
Again, children between the ages of six and 10 showed the biggest increase of 60 minutes each day, and adults came in second with a 42 minute rise.
Increases in screen time were found to be associated with poorer diet in children and poorer eye health such as short-sightedness.
It also relates to deteriorating mental health in children, including anxiety, and behavioural problems such as aggression, irritability and the increased frequency of temper tantrums.
The research further identified correlations between more screen time and negative outcomes for adults.
This included adverse effects on their diet, eye health and mental health, such as anxiety, depression and loneliness.
It also affected the more general health of adults, including fatigue, decreased physical activity and weight gain.
HOW CAN YOU SPEND LESS TIME ONLINE?
Being 'on' all the time can have a serious effect on our mind and our bodies, which is why a world-famous personal trainer and health author has shared his tips on how to do a digital detox.
Adelaide-born PT, James Duigan, 42, is the former personal trainer of Elle Macpherson and his words are often treated as gospel as he has also worked with the likes of Emilia Clarke, Rosie Huntington-Whiteley and Lara Stone. 
Although many of us communicate with people online and check into social media, Mr Duigan believes we've never been lonelier:
'The primary culprit is social media and our mobile phones. They can bring global communities together and provide a ceaseless source of inspiration at their best,' he said.
'But at their worst, they can be a constant nuisance, a constant distraction and stop you living in the present.
'Even a quick scroll before bed can keep you awake at night or send your self-esteem plummeting as you're barraged with Insta bums and impossible abs.'
Mr Duigan explained that social media platforms have been purposefully built to be addictive as each notification brings along the 'happy hormone' with it.
In a blog post on his website Bodyism, James revealed what his top three tips for a digital detox are. 
As with any cold turkey experience, it can be hard to wean yourself off social media – but the trick is to replace the addiction with something else.
'Use an app called Freedom to block your Instagram, Facebook and Twitter apps for as long as you need – or can bear,' Mr Duigan suggested.
The app allows you to choose how long you want to block certain apps for – which means you can slowly coax yourself into blocking them for longer.
His second step is simple: just log out.
'Creating that extra step between you and your 'feed' will help you resist the lure of mindless scrolling when your resolve is wearing thin,' he said.
Mr Duigan's third and final step is to be in the moment and make sure you're tuned in on what is going on around you.
'No pictures. No selfies. No boomerangs. No Snapchats. For one day at least. Don't lose the moment by trying to capture it,' he said.
'Live in the moment and it will live long in the memory.'
Source: Read Full Article