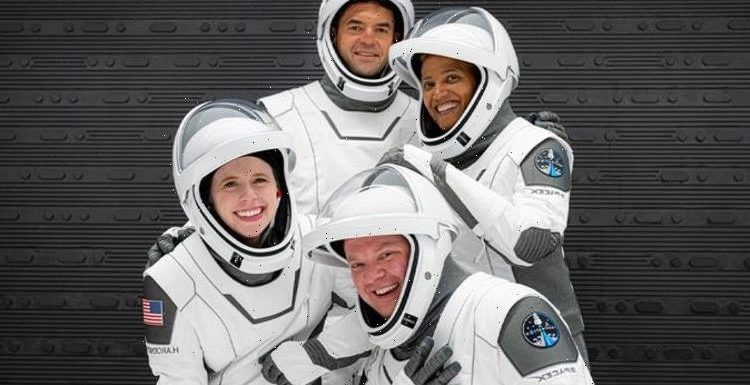 SpaceX splashdown off Florida was 'perfect' says expert
We use your sign-up to provide content in ways you've consented to and to improve our understanding of you. This may include adverts from us and 3rd parties based on our understanding. You can unsubscribe at any time. More info
The Inspiration4 mission is pencilled in to blast off later tonight from Florida's Cape Canaveral, launching aboard a SpaceX Dragon capsule. The mission marks the third launch of civilians into space this year, following in the footsteps of Richard Branson's Virgin Galactic and Jeff Bezos's Blue Origin. Among the crew of four are a cancer survivor and college professor, who aim to raise a staggering £146million ($200million) for the St Jude Children's Research Hospital in Tennessee.
At least half of the charity goal is being bankrolled by Jared Isaacman, the 38-year-old pilot and billionaire who will act as mission commander.
Mr Isaacman is the founder and CEO of the payment processing company Shift4 Payments, which he founded in 1999 after dropping out of school.
He is joined by Hayley Arceneaux, a physician who survived bone cancer as a child after receiving treatment at the St Jude hospital.
Dr Sian Proctor, a licensed pilot and former NASA astronaut candidate, also joins the mission alongside Chris Sembroski, who won a seat on SpaceX's Dragon.
Speaking just before launch, Mr Isaacman said the crew are very lucky to have this opportunity to fly into space.
He said: "From the start of this mission, we've been very aware of how lucky we are, how fortunate we are to be part of this history that SpaceX is making right now."
The crew will launch aboard a modified Crew Dragon capsule, which is the same vehicle that carries astronauts to the International Space Station (ISS).
However, the capsule has been fitted with a special dome window that will allow the four newly-minted astronauts to get a good look at the vast emptiness of space.
The Dragon capsule, named Resilience, will launch on top of SpaceX's signature Falcon 9 rocket.
SpaceX's launch window opens later tonight at 1.02am BST (8.05pm EDT).
Follow Express.co.uk today for the latest news and updates from the mission.
The Inspiration4 mission will mark SpaceX's very first launch of civilians into space.
According to Wendy Whitman Cobb at the US Air Force School of Advanced Air and Space Studies the launch is going to be truly revolutionary for the space tourism industry.
Unlike the Virgin Galactic and Blue Origin launches earlier this summer, which only reached suborbital heights, the Inspiration4 crew will spend three days circling the planet at orbital velocities.
The Inspiration4 crew have also not received any formal astronaut training for the mission, as their spacecraft is fully automated.
This has led some to call Inspiration4 the first all civilian space mission.
Professor Whitman Cobb said in a piece for The Conversation: "Social outreach has also been an important aspect of the mission.
"While Bezos' and Branson's flights brought on criticism of billionaire playboys in space, Inspiration4 has tried – with mixed results – to make space tourism more relatable.
"The crew recently appeared on the cover of Time magazine and is the subject of an ongoing Netflix documentary."
Sending a crew of four into space on such a mission also marks a "significant step" forward for the space tourism industry, according to the expert.
Professor Whitman Cobb added: "Even as space remains out of reach for most on Earth, Inspiration4 is an example of how billionaire space barons' efforts to include more people on their journeys can give an otherwise exclusive activity a wider public appeal."
But the expert warned there are big challenges companies like SpaceX will need to overcome.
The cost of launching into space is still out of reach for most people and the dangers associated with spaceflight are numerous.
Source: Read Full Article