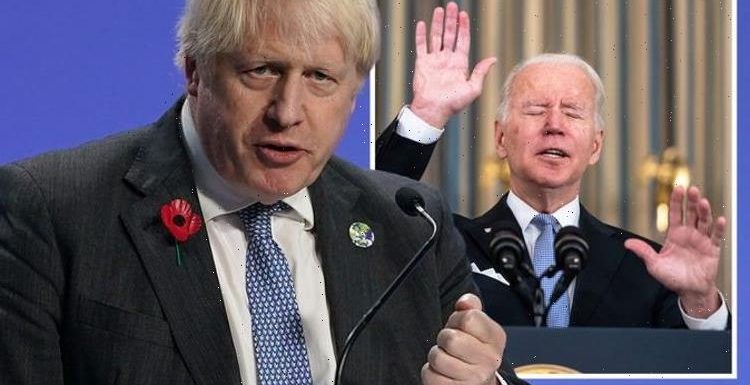 Boris Johnson: 'Huge amount to do' to meet climate targets
We use your sign-up to provide content in ways you've consented to and to improve our understanding of you. This may include adverts from us and 3rd parties based on our understanding. You can unsubscribe at any time. More info
The global fight against climate change has united the developed world in an attempt to curb planet-warming greenhouse emissions by the year 2050. Towards this goal, governments are frantically pumping money into carbon capture technologies, energy efficiency and eco-friendly alternatives to polluting fossil fuels. Here in the UK, tens of billions of pounds have already been earmarked for the net-zero revolution, with deals and investment flooding into the country from across the globe.
Last month, for instance, the Government announced it had secured nearly £10billion in foreign funding for offshore wind farms, carbon capture and hydrogen energy.
Prime Minister Boris Johnson has also revealed the details of a £400million shared investment with Microsoft co-founder Bill Gates, which promises to clean up the dirty aviation industry.
And there is more to be proud of! According to Mr O'Callaghan, as Britain's energy efficiency sector is something that other nations can be envious of.
He told Express.co.uk: "I think that the UK does have advantages in the energy efficiency space.
"There have been nascent industries developing here for a while that aren't in the US, for example.
"And so, I think the UK can do energy efficiency right and countries like the US have a lot to learn.
"The UK also does have an incredible research and development capacity (R&D) for its size.
"And I think that taking advantage of those R&D opportunities and the existing green research capabilities that we have, should also bring back long-term returns."
Energy efficiency is seen as a key step in the fight against climate change as it can help kill two birds with one stone.
Net zero businesses could make '£160 billion profit' says Rose
On the one hand, it will help households drive down their greenhouse emissions, which are estimated to account for a considerable chunk of the UK's overall carbon dioxide emissions (CO2).
It is presently estimated fossil-fuel based heating is responsible for about 15 percent of the UK's greenhouse output.
On the second hand, energy efficiency can help consumers drive down bills and generally make their homes more comfortable to live in.
Since 2013, energy suppliers across the UK have been obliged to deliver energy-efficient measures to households under the Energy Companies Obligation (ECO).
The Government scheme was introduced to help tackle fuel poverty and bring down the nation's carbon emissions.
And since it launched, it has brought energy efficiency measures to some 1.8 million homes, as of 2018 figures published by the Department for Business, Energy and Industrial Strategy (BEIS).
The Government has also introduced the Energy Performance Certificate (EPC) rating, which similarly aims to improve the standard of living for many households, while at the same time tackling the climate crisis.
A spokesperson has recently told Express.co.uk the Government is looking to improve private rental homes to EPC Band C in a "comprehensive action plan" to drive down emissions.
They added: "Everybody deserves to live in a decent and safe home and our reforms to the rental sector will deliver a fairer system for all."
But there are still gaps in the system that need to be filled, which is a core tenet of the ongoing Insulate Britain protests that have gripped the nation.
According to the eco-protestors, the UK is in need of a nationwide programme to upgrade every "almost every home" with energy efficiency measures to reduce the demand for household energy and to reduce the nation's greenhouse emissions.
Ultimately, Mr O'Callaghan believes that investing in a cleaner, greener future will pay off great dividends for the UK and the world as a whole.
He said: "Investing green is an opportunity to accelerate economic growth while meeting the demands of your citizens and also securing a prosperous environmental future for our children."
Source: Read Full Article