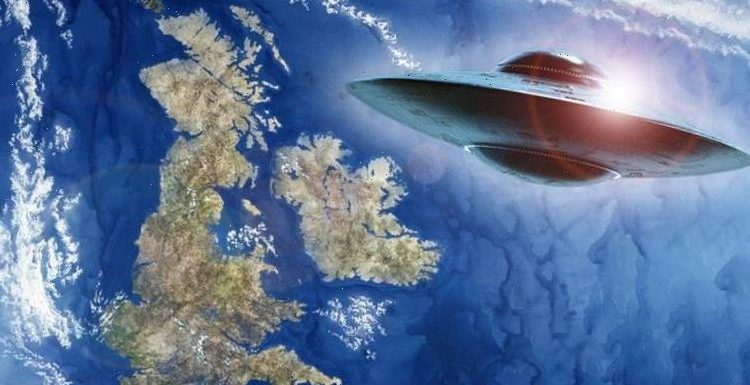 UFOs: Lue Elizondo discusses 'link' to nuclear technology
When you subscribe we will use the information you provide to send you these newsletters. Sometimes they'll include recommendations for other related newsletters or services we offer. Our Privacy Notice explains more about how we use your data, and your rights. You can unsubscribe at any time.
Interest in aliens and other UFO phenomena is at an all-time high right now, thanks to a bombshell report penned by the US Pentagon. The UFO report reignited the debate surrounding unidentified aerial phenomena or UAPs – military jargon for UFOs – and confirmed one thing: Unexplained objects are appearing in our skies. The report was published on Friday, January 25, arriving exactly one week before this year's celebrations of World UFO Day.
World UFO Day, which is celebrated by some on January 24 and on July 2 by others, aims to raise awareness about ETs and UFO sightings.
Celebrations typically take the form of sky-watching parties, seminars and discussion groups focused on the greatest question of them all: Are we alone in the Universe?
This year's festivities might be subdued due to the coronavirus pandemic, but UFO mania is reaching pitch fever regardless.
And to mark the occasion, a recently conducted poll has investigated which parts of the UK are the country's top UFO hotspots.
A poll carried out by Buzz Bingo surveyed a total of 2,000 people this month from all corners of the UK to determine how many people think they have seen a UFO and where.
Swansea on the south coast of Wales emerged as a clear winner, with 42 percent of those surveyed claiming seen "a flying saucer or any kind of UFO".
In stark contrast, only an average of 24 percent of surveyed Brits believe they have seen a UFO at least once in their lifetime.
Newcastle came in second place after Swansea, with 39 percent of those surveyed claiming to have seen a UFO.
Glasgow, Bristol and Liverpool all placed below the national average at 23, 22 and 22 percent respectively.
UFO: Experts discuss Pentagon's investigation
Here are the Top 10 cities for UFO sightings according to the poll:
Swansea – 42 percent
Newcastle – 39 percent
Birmingham – 36 percent
Norwich – 31 percent
Hull – 30 percent
Plymouth – 27 percent
London – 26 percent
Glasgow – 23 percent
Bristol – 22 percent
Liverpool – 22 percent
Harry Lang, of BuzzBingo.com, said: We were amazed how many people claim to have had an alien experience, particularly in Norwich and Swansea.
"There must be something about East Anglia and Wales which makes these experiences more common than the rest of the UK. Maybe they really are out there."
The poll then asked the 2,000 adults whether they have ever had an "alien experience".
These were explained as a close encounter with an extraterrestrial.
The UK average among those surveyed stands at 18 percent – that is 18 percent of people claim to have encountered an alien.
Norwich hit the top of this list with a score of 30 percent.
Swansea and London meanwhile polled below the national average, with 16 percent and 13 percent respectively.
Here are the Top 10 cities for an alien experience according to the poll:
Norwich – 30 percent
Newcastle – 26 percent
Birmingham – 26 percent
Glasgow – 25 percent
Bristol – 24 percent
Leeds – 22 percent
Plymouth – 21 percent
Manchester – 19 percent
Swansea – 16 percent
London – 13 percent
Source: Read Full Article