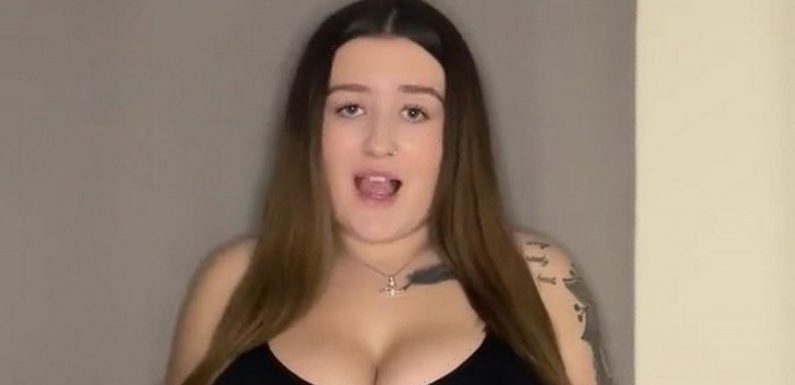 With Christmas out of the way, many people opt to join the gym to kickstart the new year with workouts galore.
But that is not the case for Dem Marie.
The brunette beauty, from the UK, is often hounded to get her sweat on to lose weight.
READ MORE: Sephora is finally opening its first UK store and it'll stock 135 beauty brands
However, Dem has hit back at those who told her to hit the gym.
Not just in the name of body positivity but thanks to a bodysuit which creates the effect of a slimmer figure.
In a TikTok clip which racked up thousands of views, Dem explained all she needs is the waist cinching attire.
She stood with her hands by her side in the garment that accentuated her hourglass shape while she let her straight tresses down.
"People telling me I should go gym instead of using viral bodysuit", Dem wrote across the video as she shrugged her shoulders.
Dem, who is a UK size 16-18, lip synced to an audio that declared: "I don't care."
The black strap shapewear bodysuit from brand Dibbledobble has gone viral on TikTok and Dem is "obsessed" with wearing due to its body sculpting design.
"I promise I literally wash it so many times a week because I wear it daily I'm that obsessed", she added.
The £9.35 one piece, that was originally £23.99, even makes people think that Dem 'edits' her waist as it gives the illusion of sucked in midriff.
Amazed at the apparel, many people fled to the comments to gush over Dem – and shared they had been inspired to order the same item.
One person commented: "You look unreal."
Another user added: "Just ordered cause you look amazing in it."
While a third gushed: "You look great."
Someone else said: "They could put it in nicer words."
Meanwhile, a fifth reassured: "You don't need to loose weight."
READ NEXT:
Dating app 'free from body shaming' helps plus-size people find love

'I'm a Ms Olympia champion – female bodybuilder's physiques intimidate insecure men'

Model flashes bum in G-string and says she feels 'cheeky' as she lifts robe

For more lifestyle stories, sign up to the free Hot Topics newsletter here
Source: Read Full Article