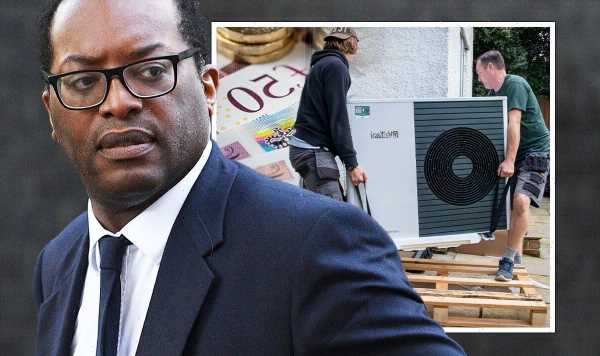 What is the £5000 boiler heat pump payment?
We use your sign-up to provide content in ways you've consented to and to improve our understanding of you. This may include adverts from us and 3rd parties based on our understanding. You can unsubscribe at any time. More info
Liz Truss' chancellor has been handed a plan to "save unnecessary expenditure" after the Government's £450million scheme to accelerate the roll-out of heat pumps was torn apart. It comes after the Government was accused of diverting funds away from areas with high levels of fuel poverty to wealthier parts of the country amid an energy crisis which has seen bills soar for millions of Britons as the price of wholesale gas continues to have a huge knock-on impact on billpayers while a cost of living crisis sends shockwaves through the nation.
As Prime Minister Liz Truss unveiles a number of costly schemes such as a freeze on energy bills which is set to cost over one hundered billion pounds, the Treasury will need all the funds it can get in order to avoid borrowing in other areas.
Mike Foster, CEO of the Energy and Utilities Alliance (EUA), a not-for-pofit trade organisation, said the Prime Miniser's Chancellor Kwasi Kwarteng can start by scrapping the £450million Boiler Upgrade Scheme (BUS).
Speaking exclusively to Express.co.uk, Mr Foster said: "If the Chancellor is looking to save unnecessary expenditure, he might want to start with this scheme. Instead of 90,000 well-off consumers each getting a £5,000 cash bung, he could insulate 850,000 lofts, spread evenly right across the country. The choice is his to make."
The Government has pinpointed heat pumps as a low-carbon alternative to gas boilers as it scrambles to replace the carbon-emitting heat providers in order to help reach its net zero target by 2050.
But one of the biggest obstacles affecting the pace of the rollout was the staggering installation costs of the boiler alternatives, on averaging requiring households to fork out £10,000 to get them in their homes.
To tackle this, BUS provides £5,000 grants to ease installation costs and encourage people to buy heat pumps. However, the analysis from not-for-pofit trade organisation the Energy and Utilities Alliance has revealed that the grants might not be getting allocated evenly or fairly.
The EUA conducted its analysis by comparing the regional allocation of funds from the BUS made up to the end of July with the number of properties in each region, revealing the apparent disparity in allocation.
The analysis also warns that the regions missing out have some of the the highest levels of fuel poverty across the country, which would mean that taxpayers' money is not going towards those who need it most at such a crucial time.
The EUA analysis claims that London is set to be the biggest loser from the scheme, missing out on £46million, while the North West will lose £21million
Meanwhile, the West Midlands will reportedly lose out by £15million and the North East well receive £6million less than others.
The biggest winner, according the EUA, will be the South West, getting £41million and the South East receiving £16million more than if the money was allocated fairly across all regions in Britain.
Mr Foster added: "The energy price crisis has not gone away, despite the recent support announced by the new Prime Minister. While we welcome her intent, beneath the surface Whitehall still spends hard-earned taxpayers' money on schemes that divert money away from where it would do most good.
"The Boiler Upgrade Scheme is subsidising people who frankly do not need help with their bills. Giving the well-off £5,000 subsidies if they can afford to spend £13,000 on new heating systems just seems perverse when millions will struggle to pay their bills this winter.
"The upshot is some regions will be losing tens of millions of pounds by the Government trying to meet an arbitrary target set by the previous Prime Minister to subsidise new heating systems for a small minority, when the vast majority struggle to pay their bills.
"And paying 20,000 households over the next three years £5,000 a time to do something they would have done anyway, is the very definition of wasting taxpayers' money. That money could be better spent insulating homes right across every region in the country, permanently reducing both bills and carbon emissions."
DON'T MISS
NASA to test fuelling of Artemis rocket ahead of third launch attempt [REPORT]
West warned ditching Putin's oil could spark global food crisis [REVEAL]
Rare, untouched Ramesses II-era burial cave found in Israel [INSIGHT]
But the EUA is not the only organisation to have taken aim at the Government's roll out of heat pumps. Analysis by Cambridge Econometrics, commissioned by environmental campaigners Greenpeace revealed that Britain has been lagging behind other countries, with some of the poorest installations rates in Europe despite offereing £5,000 grants.
Graham Thompson from Greenpeace UK said: "Government targets for energy-saving upgrades are woefully off track, with home insulation installations falling 50 percent this year and sales of heat pumps per household in the UK the lowest in Europe in 2020."
Meanwhile, a recent survey from the Ground Source Heat Pump Association (GSHPA), revealed that th BUS scheme has see demand for heat pumps surge.
According to the latest Government figures, the BUS received 4,337 voucher applications between May 23rd (which is when it was launched) and the end of July 2022.
The department for Business and Industrial Strategy has been contacted for comment.
Source: Read Full Article