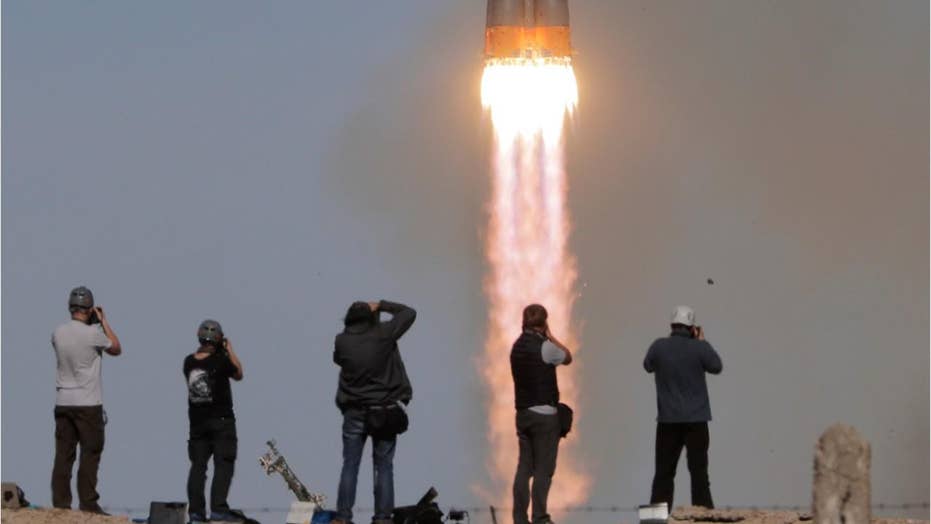 US, Russia space crew aborts mission after booster failure
A US-Russia mission to the International Space Station hit a snag on Thursday when a Russian Soyuz rocket carrying NASA astronaut Nick Hague and Russian cosmonaut Alexey Ovchinin malfunctioned during its ascent and the two-person crew made an emergency landing.
NASA astronaut Nick Hague and Russian cosmonaut Alexei Ovchinin made a dramatic escape after their Soyuz booster rocket failed just two minutes after launch Thursday
After blasting into the sky from the Baikonur Cosmodrome in Kazakhstan, the crew was forced to make a dangerous "ballistic re-entry" into Earth's atmosphere.
Ballistic re-entry uses atmospheric drag to slow the spacecraft and can expose crewmembers to G-forces 10 times great than those on Earth, according to New Scientist. Popular Mechanics describes ballistic re-entry as "steep and short" compared to the long, flat profile of a "controlled descent."
US, RUSSIA SPACE CREW ABORTS MISSION AFTER BOOSTER FAILURE
If the capsule loses orientation during ballistic re-entry it could expose its hatch, as opposed to its heat shield, which would kill the crewmembers, says Popular Mechanics. For this reason, the Soyuz capsule rotates on its axis of trajectory during descent to boost stability (similar to a bullet fired from a rifle), it adds.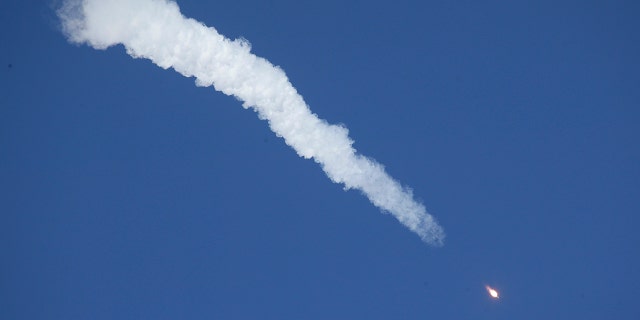 The Soyuz-FG rocket booster with Soyuz MS-10 spaceship shortly after blasting off from Baikonur Cosmodrome in Kazakhstan on Oct. 11, 2008 (AP Photo/Dmitri Lovetsky)
The rescue capsule landed safely in the steppes of Kazakhstan Thursday. While the crew endured higher than normal G-force, Russian and U.S. space officials say they are in good condition.
Oleg Orlov, the head of the Institute for Medical and Biological Problems, Russia's top space medicine research center, said in televised remarks that the astronauts endured six Gs during the sharp ballistic descent. He added that space crew is trained to endure such load.
NASA NAMES NINE 'AMERICAN HERO' ASTRONAUTS FOR SPACEX, BOEING MISSIONS
Normal Soyuz returns have G-forces of about five.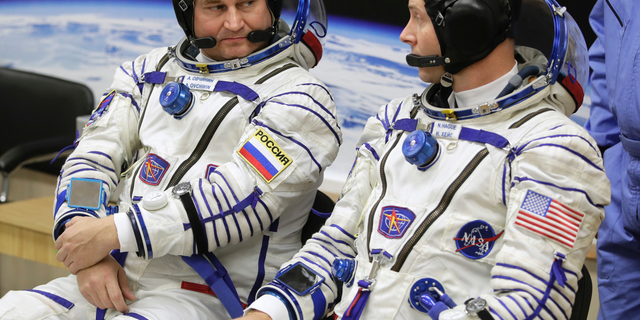 U.S. astronaut Nick Hague, right and Russian cosmonaut Alexey Ovchinin, member of the main crew of the expedition to the International Space Station (ISS), speak prior to the launch of Soyuz MS-10 space ship at the Russian leased Baikonur cosmodrome, Kazakhstan, Thursday, Oct. 11, 2018. (AP Photo/Dmitri Lovetsky)
Popular Mechanics reports that Thursday's launch is the fourth time that a ballistic re-entry has occurred in the Soyuz program. The re-entry method has been used successfully on each occasion, it says.
In 2008, a Soyuz spacecraft carrying NASA astronaut Peggy Whitson made an unplanned ballistic re-entry on its return to Earth from the International Space Station. The three-person crew was subjected to gravity forces of about eight times Earth's gravity for up to two minutes.
NASA'S PARKER SOLAR PROBE GETS CLOSER TO 'TOUCHING THE SUN'
In an audio recording released by NASA in 2008, Whitson described the spacecraft's descent as "pretty dramatic." Images show the Soyuz-FG rocket booster lifting the Soyuz MS-10 spacecraft high into the sky before Thursday's mission was abandoned. In a tweet, Russian space agency Roscosmos said an emergency rescue system was activated when the booster rocket failed.
Hague and Ovchinin were scheduled to dock at the International Space Station six hours after launch.
UNITED LAUNCH ALLIANCE PREPS FOR THE RETURN OF MANNED SPACE MISSIONS FROM CAPE CANAVERAL
Russia has set up a state commission to investigate the Soyuz booster rocket failure.
"NASA Administrator Jim Bridenstine and the NASA team are monitoring the situation carefully," said NASA, in a statement released early Thursday. "NASA is working closely with Roscosmos to ensure the safe return of the crew. Safety of the crew is the utmost priority for NASA. A thorough investigation into the cause of the incident will be conducted."
Since the retirement of the space shuttle in 2011, the U.S. has been relying on Russian Soyuz rockets, launched from the Baikonur Cosmodrome, to get astronauts to the Space Station.
NASA, however, is planning to launch manned missions from U.S. soil in the coming years. The space agency recently announced the nine astronauts that will crew the test flights and first missions of the SpaceX Crew Dragon and Boeing CST-100 Starliner spacecraft.
The safety of astronauts and launch pad personnel is critical to the space program. Private space company United Launch Alliance, for example, has worked with Terra-Nova Zipline to build an Emergency Egress System (EES) at Cape Canaveral Air Force Station's Space Launch Complex 41. By using special zipline-style cables astronauts and ground crew can quickly evacuate the Crew Access Tower in the event of a launch pad emergency, such as a fire.
The cables can transport up to 20 people to a landing zone more than 1,340 feet from the Tower, according to ULA. An armored vehicle will be parked at the landing zone ready to drive the astronauts and ground crew to safety.
Space Launch Complex 41 will be used for launch the Boeing CST-100 Starliner spacecraft atop a ULA Atlas V rocket.
Follow James Rogers on Twitter @jamesjrogers
Source: Read Full Article