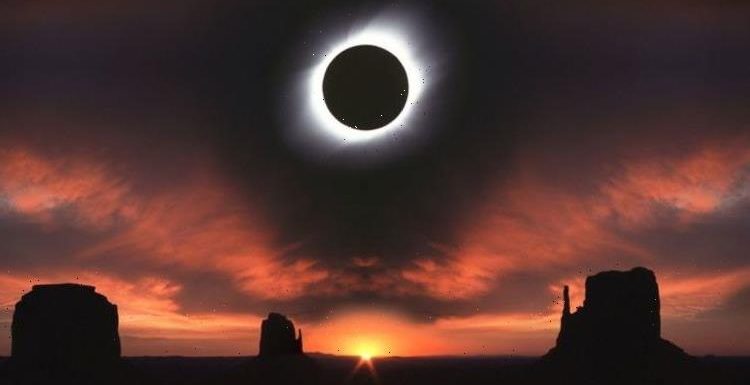 NASA shows the path of the 2021 annular solar eclipse
When you subscribe we will use the information you provide to send you these newsletters. Sometimes they'll include recommendations for other related newsletters or services we offer. Our Privacy Notice explains more about how we use your data, and your rights. You can unsubscribe at any time.
On June 10, the USA and Canada will get to see an annular eclipse, also known as a ring of fire eclipse. Eastern Russia and Greenland will also be privy. However, in the UK, due to the angle we will be looking at the Sun from, there will only be a partial solar eclipse.
According to Time and Date, the June 10 eclipse will reach its maximum at 11.41am BST.
The astronomy group said: "In the UK this eclipse will be a partial solar eclipse, which means the Sun's light will not be completely blocked.
"In the UK, around 25 percent of the Sun will be covered by the Moon, and it's set to be the UK's biggest solar eclipse since 2015."
But when was the last time the UK got a total solar eclipse?
The last time there was a full solar eclipse in the UK came last century.
On August 11, 1999, the Sun was totally obscured by the Sun.
Large swathes of the population headed south to Devon and Cornwall where the eclipse was best viewed.
Unfortunately, the rest of the UK had its experience ruined by cloud coverage.
The Royal Greenwich Observatory said: "This was one of the most viewed total solar eclipses due to its path falling on areas of high population density.
"However, many areas of Western Europe were affected by poor visibility due to clouds.
"In some places, the clouds frustratingly parted after the eclipse had passed, but others were luckier with the clouds parting just in time.
"Many people went to view the eclipse in Cornwall, the only place in the UK to witness totality, with the BBC broadcasting from Cornwall's western end where the eclipse would come first."
An annular solar eclipse differs from a total solar eclipse as the moon does not completely obscure the Sun as the Moon is farther away from us than normal, making it appear smaller.
As a result, the Sun is not totally eclipsed, leaving a 'ring of fire' around the edges.
Weather.com said: "Being smaller in size, the Moon fails to block all of the Sun's light.
"Instead, Earth's natural satellite only covers the Sun's centre, leaving its outer edges visible and forming a 'ring of fire' effect in the sky."
Source: Read Full Article