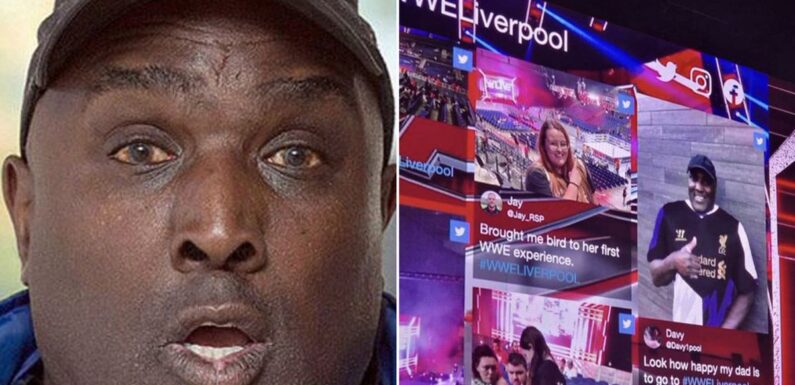 A notorious bicep-squeezing strange bloke made an appearance during WWE's current UK – and the company had no idea what was going on.
Akinwale Arobieke, from Liverpool, is an infamous six-foot five-inch giant of a man.
He became notorious in the north-west of England after approaching young men and demanding to check out their bodies.
READ MORE: Top WWE star challenges 'old and beat down' King Charles to a fight at London's O2 Arena
He would regularly "touch and measure their muscles before inviting them to squat his body weight".
And in 2006, the 58-year-old was issued with a Sexual Offences Prevention Order that banned the touching, measuring, or feeling of other people's bodies.
So it was to the shock of everyone at the Liverpool Arena on Wednesday (June 29) when his very well-known face appeared on the screen during WWE's show.
The company had asked fans to tweet photos and messages to show on the screen – and in classic Liverpool style, the people obliged.
Wearing a Liverpool FC shirt, he appeared on the big screen giving a thumbs up, with the caption: "Look how happy my dad is to go to #WWELiverpool tonight."
Top WWE star challenges 'old and beat down' King Charles to a fight at London's O2 Arena
The photo was sent in by @Davy1pool, and it didn't take long for several people at the show to post a photo of the screen on Twitter.
Many called it a "legendary move", while others posted the crying-laughing emoji.
Davy lapped up the fun, and commented: "Got me dad on the screen."
Another commented: "Plenty of muscles to feel in there."
WWE will probably be praying that this doesn't happen over the weekend, as it heads to London's O2 Arena for two huge shows – Smackdown on Friday night and Money In The Bank on Saturday – as the company's UK audience is going through a . . . purple . . . patch when it comes to hosting WWE shows in recent years.
WWE brings Money In The Bank to The O2 in London on Saturday 1st July. For tickets visit: https://www.wwe.com/event/money-in-the-bank. Fans can tune in on the WWE Network.
For the latest breaking news and stories from across the globe from the Daily Star, sign up for our newsletter by clicking here.
Source: Read Full Article