It is with some irony that Naomi Stalenberg was in the Netherlands when she decided to pursue a career in cricket. She was in a football-mad country turning her back on the national sport for a game in which the Dutch are minnows on the world stage.
Stalenberg, whose NSW Breakers begin their WNCL title defence on Friday against Queensland, had played football since she was six and cricket since she was eight. Dual international Ellyse Perry was her hero. As a young child, she spent more time with the bat and ball as "soccer was too expensive".
NSW Breakers batter Naomi Stalenberg is on the cusp of breaking into the Australian team.
"I didn't want my mum to be forking out the registration fees," Stalenberg says.
When she did take football more seriously towards the end of high school, she played in the state All Schools Championships. At that stage, she had ambitions of a career in football then she went to the Netherlands for a gap year and that was that.
"Holland was the pinpoint in picking cricket over soccer," Stalenberg says.
It has proven an astute choice. Nobody will ever know if she would have made it in football, though she figures she wouldn't have as she entered the system too late, but there is no denying she is going places with her cricket.
The 24-year-old has already represented her country, albeit just the once, and has become a regular for the NSW Breakers – one of Australian sport's most successful teams.
The turning point in her career, she says, was her year in the Netherlands, where her grandparents are from. Gaining independence was a reason for the move and playing more cricket another.
"Back here in NSW there wasn't a lot of opportunity going around," Stalenberg says. "It was my chance to go away and have some fun and play a few more games. Build myself as a person and a cricketer."
She worked as a coach to young kids, which she found "challenging" as many of them did not speak English.
"There was a lot of sign language, hand movement and a lot of clapping," Stalenberg says.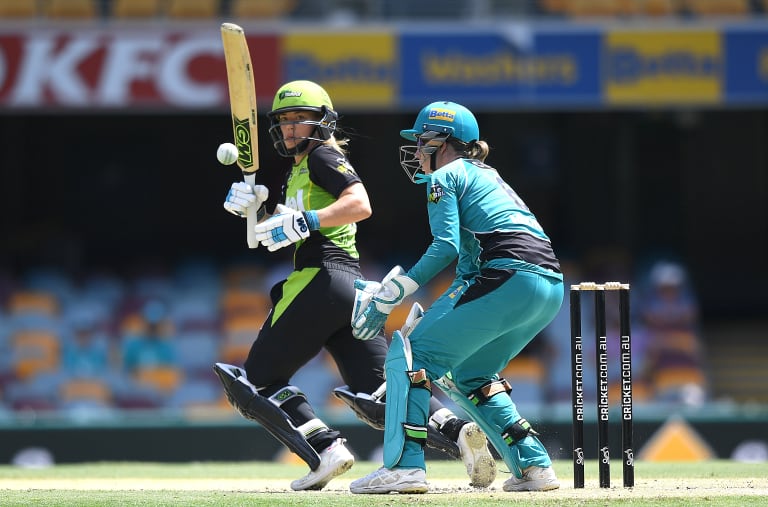 Thunderstruck: Stalenberg during last year's WBBL.
Her club in Utrecht could not afford cars for their players so they were given bikes instead. It was not ideal carrying a cricket kit on her back for the half hour ride to training but Stalenberg has fond memories of her time there, which she credits for her rise through the ranks.
Upon her return, Stalenberg found it difficult to juggle work, study and cricket. The women's game was on the verge of taking off but she still needed to burn the candle at both ends to get by.
She studied at university four days a week, trained at night, worked behind the bar at a pub in the Hawkesbury and played on the weekend. When she was 20, 21 she would work the Friday and Saturday night shifts at the pub and not get home until "three or four in the morning". The alarm would go at seven so she could get to her game on time.
"They were the really big weekends," Stalenberg recalls. "I couldn't afford to miss out either. I'm privileged to have that experience because it's made me really appreciate where I am now and my training schedule. It's a lot more accommodating to the lifestyle of a professional cricketer."
She now describes cricket as her "full-time job". "I'm paid to play cricket," she says.
Stalenberg's only game for Australia, in which she did not bat or bowl, came during a period of transition for the team when selectors were experimenting. She was overlooked for the Twenty20 series against New Zealand but her selection in a Cricket Australia XI shows she is still on the radar of selectors.
"I definitely think I'm close, I just missed out," Stalenberg says. "I'm not too down about it. I know there will be opportunities coming my way in the future. I need to hone in on my skills and the rewards will come."
NSW Breakers fixtures
Queensland, September 21, Gold Coast; Tasmania, September 23, Gold Coast; Western Australia, November 9, Blacktown; Victoria, November 11, Blacktown; South Australia, February 1, Adelaide; ACT, February 2, Adelaide.
Source: Read Full Article