There were days when Josh Aloiai felt the pull to return home was stronger than the one that brought him to Australia to chase his dream.
Aloiai left his native New Zealand five years ago to make it in the NRL. There were many occasions when it appeared a fantasy. A series of injuries, including a broken hip, didn't help. Nor did being told by this weekend's opponents, Parramatta, that he wasn't wanted. But perhaps the most difficult part of the journey was being so far away from home.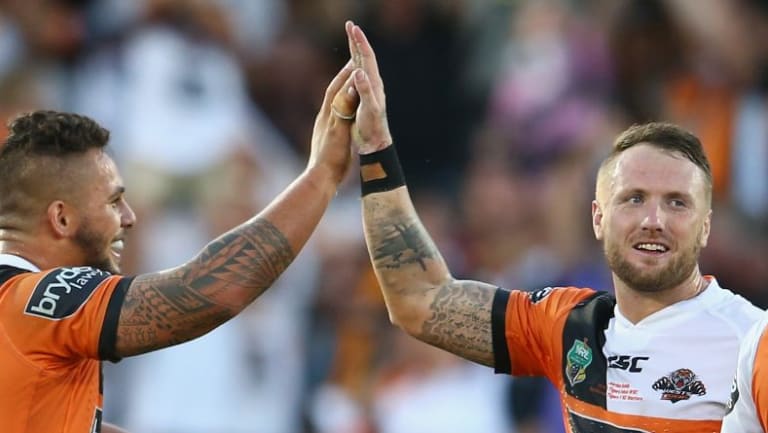 Light after darkness: Josh Aloiai, left, celebrates a win with Jordan Rankin and Chris Lawrence.
"Really, really hard. I struggled, I was homesick," Aloiai said. "I don't know if I came close [to giving up] but there was definitely a lot of dark days.
"I wouldn't say I was close to throwing in the towel but there were definitely a lot of days where I wasn't happy and really struggling.
"There was definitely a lot of doubts. There were times when I just wanted to go home. But it's all paying off now and I'm so grateful."
The decision to stick it out has paid off. Aloiai moved in with his uncle and aunty – "they took me in as if I was their own" – and fuflfiled his ambition of playing first grade, for Wests Tigers, in the opening game of 2016. The 22-year-old has been a mainstay of the team ever since.
"It was really two things that got me through – my faith and my family," Aloiai said. "My family believes in me and I believe God had a plan for me in the NRL. Now I'm here."
An opportunity for higher honours may yet arise. The former Junior Kiwi is eligible for New Zealand and Samoa, but hasn't made a call on his representative preference.
"I have no control over selections," he said. "I just want to play good footy for Tigers, that's the only thing I'm thinking about."
The Tigers have prided themselves on their desire and effort, but were flat in last weekend's loss to Newcastle. They will need to rediscover their mojo against a Parramatta side they recently beat, but are coming off a confidence-boosting win against Manly.
"We have to come out with a lot more energy and enthusiasm," he said.
"We had it in parts of the game but not for the full 80.
"They are areas we pride ourselves on, so we need to be better this week. We will definitely come out all guns blazing.
"Parramatta as a whole squad can play footy. They have good depth and play good footy when they are on. We reckon they will be on this week so we will come prepared for that."
Source: Read Full Article