Rugby Australia's high performance director is adamant an easier to understand national talent model featuring greater alignment with Super Rugby clubs will ensure the code keeps – and lures – the most prodigious young players going around.
On Friday, RA announced changes to its national talent model and pathways strategy that came to fruition following a review by the governing body with state unions as well as schools and junior rugby clubs.
Schoolboy players at Waratah Oval in Gymea, Sydney.
All state-based academy programs will be split into three stages; 15- and 16-year-olds, a second stage for 17- and 18-year-olds, and the eldest group that will play at tournaments such as the Under 19 Rugby Championship before transitioning into senior football.
Rather than just picking kids for representative teams to play at carnivals – such as the Junior Gold Cup (u15s) and Junior Rugby Championship (u16s) – RA's Ben Whitaker said there would be a greater link to respective Super Rugby clubs, as well as the Western Force.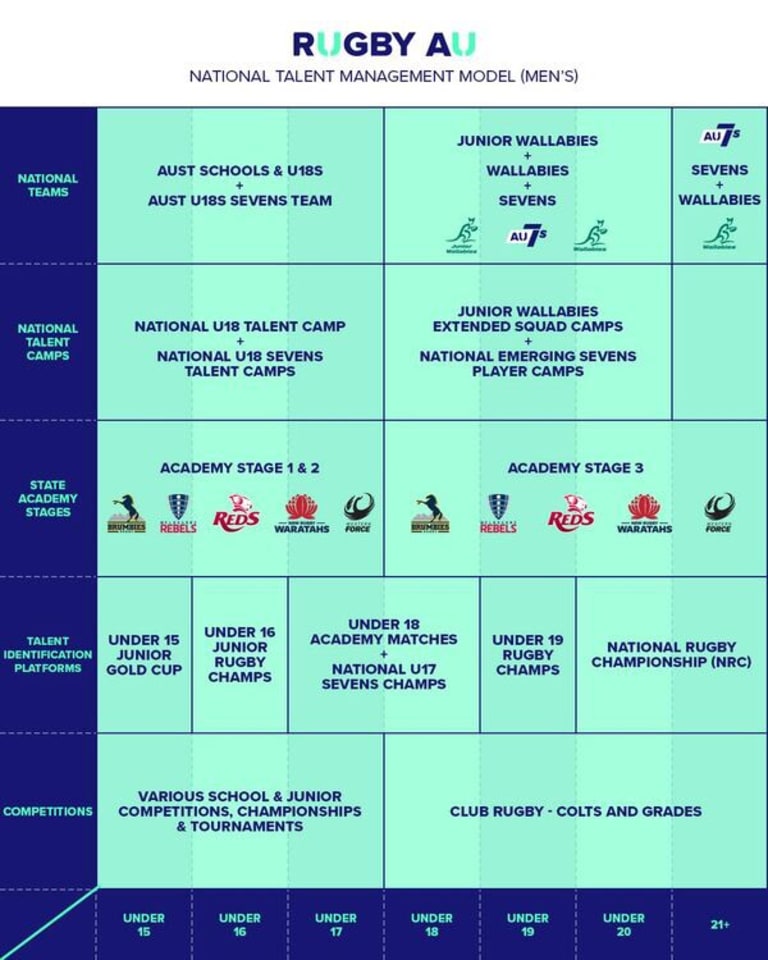 Rugby Australia's national talent model.
"We want to influence a player's opportunity and development from as young as 15 years of age right through," Whitaker said. "It's lead by acknowledgement that between the national union and states we need to better manage our talent. We want to align our best young talent with Super Rugby teams.
"We wanted to concentrate that high-end talent management around our state academies and then have competitions to then further develop or identify talent that sit in those age groups.
"We need to do more around those age groups than just pick them in teams to play in competitions. We'll actually commence in that stage one academy with tactical, technical and physical development work as well as mental approach."
Whitaker admits the pathways system has been a little convoluted in recent years and that the actual identification of talent could have been better. However, it is a major step forward for RA to acknowledge the role of schools and junior rugby clubs in being able to unearth the next Michael Hooper or Kurtley Beale.
"The system will enable us to work closer with schools and clubs because kids spend most of their lives through those age groups there," Whitaker said. "We will be doing more to support those environments to help develop the best talent."
The saturated nature of the Australian sporting market means the threat of rugby's best young stars being poached by rugby league, Aussie Rules and football is always going to be there but rugby are formulating a plan to stop it.
"We certainly haven't been great at recruiting talent or retaining it but when I say that we're talking some players each year that choose to go elsewhere and we feel we can do a better job in that regard," Whitaker said. "It is about how are we showing and selling that there is a quality, united program here to develop our best talent from as young as 15 years of age."
RA will continue its investment in the National Schoolboy Championships and the national under 18 team program.
Source: Read Full Article