It's a familiar refrain in rugby at the moment. A referee blows his whistle, calls over the captains and rustles around in his pocket for the red or yellow card. The player shakes his head in disbelief, the commentators intone confusion or outrage and social media blows up.
The game can't go a week without a yellow or red card controversy. From the New Zealand vs France series to the third Test against Ireland, Israel Folau's suspension and Brad Thorn's quiet fury in Auckland on Friday night.
Prevention: 'Prep 2 Perform' [P2P] is an initiative from the Waratahs' medical staff.
The bad news? It will get worse before it gets better. World Rugby is on an unapologetic mission to de-risk the game as much as is possible in a heavy contact sport, which means changing behaviour by hook or by crook (or incessant send-offs).
World Rugby does not care about the local context, in which every perceived "soft" yellow in the game risks sending a fed-up rugby fan to another code on another channel.
Take the so-called 'nipple law' trial, a proposition roundly ridiculed in Australia. The research is clear. World Rugby research showed "76 per cent of head injuries occur in the tackle, 72 per cent of head injuries in the tackle occur to the tackler, the risk of injury to both players from a high-contact tackle (when the tackler is upright) is 4.3 times greater than a low-contact tackle, and head on head contact (when the tackler is upright) is 6.5 times more likely to result in a head injury than the lower head-to-hip tackle". A governing body in possession of such research would be negligent to do any less than bring the legal tackle height down an inch on a player's chest.
Yet there is no doubt every modification to tackle height or directive to crack down on a different aspect of dangerous play sends a rugby fan barking mad, to say nothing of the coaches and players who have to modify their technique or the referees who morph into lightning rods for the collective indignation.
The good news? There is groundbreaking work being done at the other end of the game that has the potential to re-shape player safety from the ground up. And it's an Australian project, designed to slash the rate of concussion and lower limb injuries at rugby's grassroots.
'Prep 2 Perform' [P2P] is the new baby of NSW Waratahs team doctor Sharron Flahive and strength and conditioning coach Aaron Sculli. Together, Flahive and Sculli have taken research from the University of Bath and Rugby Football Union and an earlier FIFA project and turned it into an easy-to-follow warm-up program NSW Rugby is rolling out to junior coaches and schools.
"If we can give them something … that makes them more resilient, we might find we keep more people in rugby and it's safer for them."
The results from FIFA's "Activate" program were startling. A 70 per cent reduction in incidents of lower limb injuries and a 59 per cent reduction in concussion. The Bath University schoolboy rugby study showed when the program was done three times a week it lowered overall match injury incidents by 72 per cent.
Flahive and Sculli are hoping that getting 14-year-olds on board early with basic but effective injury prevention warm-ups – modelled by Waratahs, no less – will help make rugby safer, keep children in the game for longer and produce better-conditioned athletes at the start of their elite careers.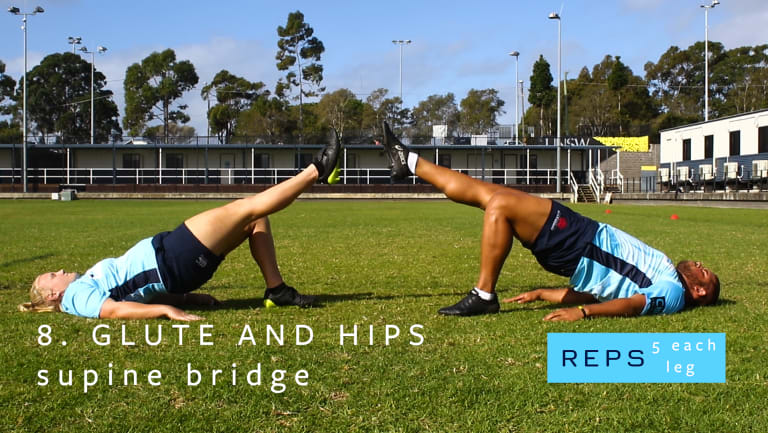 From the ground up: Tahs team doctor Sharron Flahive and strength and conditioning coach Aaron Sculli are behind the grassroots initiative.
"The safety side is so important. If a kid gets a concussion it can really affect their school and we still don't really know the long-term effects [of concussion], but we're being a lot more protective around that and rugby union has a really good schools program now that gives them a system to get out," Flahive said.
"But if they get an ACL or significant lower limb injury, that can be the end of it because Mum or someone gets frustrated and says she doesn't want her kid playing rugby. If we can decrease that risk, all of a sudden we can retain these kids in the sport and deliver a safety message at the same time as creating a better athlete."
NSW Rugby chief executive Andrew Hore calls it a "game changer" for rugby in Australia.
"The research and P2P programme is another step towards making the game safer for everyone and this shows how seriously we are taking safety, concussion and the longer-term performance of all our players, from the community game to the Waratahs," Hore said.
Sticking their neck out: NSW Rugby is rolling out the program to junior coaches and schools.
There are longer term implications for the professional game, which is being challenged by the winds of change around player safety. If a generation of Australian players learn to live and breathe better technique, and a similar reduction in concussion is mirrored here, it will go some way towards keeping the referees out of the game. Good for the players, good for the game.
"What we do at the Waratahs is make our youngest athletes more resilient, but we make them more resilient from the age of 19. What about the ones we didn't get, the kids who didn't get here because they tore a cartilage in their knee when they were 15," Flahive ponders.
"If we can give them something at age 14 and up that makes them more resilient, we might find we keep more people in rugby and it's much safer for them. Particularly when it comes to concussion."
Source: Read Full Article