Remember when you were younger and your parents would kill the mood by snatching the remote to put on HGTV? Okay, maybe this is specifically a me-problem, but nothing destroyed a Saturday afternoon of television like having to watch your parents watch some dude repair bathtub grout.
Fast-forward to my adult life, when I caught my very first episode of Fixer Upper. Chip and Joanna Gaines worked the hell out of a loft in Waco, and my entire life changed. I became an HGTV convert and discovered that I actually AM interested in learning about shiplap…and the muscular guys in T-shirts and jeans who install it. Now, I'm hopelessly devoted to the dudes of HGTV. Here's a definitive ranking of which ones are the hottest…because I've obviously thought about this a lot and need to put my feelings somewhere.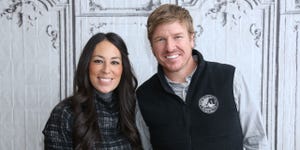 14. Ty Pennington
Extreme Makeover: Home Edition was a show about helping deserving families get their dream homes, but the main thing I remember about it was that Ty Pennington basically never spoke without an airhorn. I kind of have a headache just thinking about it. Anyway, here's a photo of Ty rocking kelp pubes.
Stubble Trouble… #tbt #shave #the #earth #sea #weed #wacker #self #kelp #beach #comber #plantbased #sand #fleas #throwbackthursday
A post shared by Ty Pennington (@thetypennington) on
13. David Bromstad
Yes, David Bromstad, the host of My Lottery Dream House, has dimples and great teeth. But he also has a Mickey Mouse tattoo, which is where I personally draw the line. I am genuinely sorry about this.
Happy Friday my loves! Just sitting here with my bestie @mickeymouse chillin in our hotel room. Brand new episode of My Lottery Dream Home on tonight at 9/8c on @Hgtv
A post shared by DAVID BROMSTAD (@bromco) on
12. Steve Ford
Steve from Restored by the Fords is basically the spokesperson for the "Is he hot? Or is he just tall?" movement. Yes, he is very tall. But his mustache appears to be on a personal mission to destroy his hottie status.
That was a fun #ride, guys. Yoko and I feel extremely #lucky to call this home, and even more lucky that we got to reveal it with the entire Ford #family… Thanks for watching and a huge thanks to @people for featuring the finished project. // Design by @leannefordinteriors Construction by yours truly @stevefordsgarage Photo by @reidrolls.interiors . . . . . . #RestoredbytheFords #RBTF #leannefordinteriors #stevefordsgarage #workingwithsiblings #hgtv #pittsburgh
A post shared by Steve Ford (@stevefordsgarage) on
11. Orlando Soria
Orlando from Unspouse My House is stinking adorable, and this is not up for debate. Besides the fact that the entire premise of his show is amazing (clearing an ex's energy from a home? *chef's kiss*), his hair is always absolutely perfect and his style is on point. Also…dimples!!
How do U put the U in DeclUttering??? I like to make it into a wild party where I throw stuff around my bedroom. My collaboration with @Savers_thrift has really opened my eyes to the incredible environmental benefits of decluttering responsibly rather than throwing away, so I've upped my decluttering game this spring by reorganizing all the Cheateaulando closets and getting rid of anything I wasn't using on a regular basis. An orderly and well-designed home relies on everything being organized and clean, so I find it therapeutic and relaxing to regularly go through my clothing and home decor to figure out what I need and what might better serve someone else. I have a lot of stuff I love, but sometimes it brings me more happiness imagining someone going into a thrift store like Savers and getting a massive score on a cool item than it does keeping something beautiful in my closet that I never use. Do you have any tips for how you go through your stuff and figure out what to keep? TELL ME EVERYTHING. #neatish #ad
A post shared by Orlando Soria (@mrorlandosoria) on
10. Anthony Carrino
Cousins Undercover and Kitchen Cousins star (and cousin, lol) Anthony is pretty much your quintessential builder guy. He has muscles and tattoos, and he can make a Carhartt hat look good. He's the kind of guy you dream about running into if you ever have to make a trip to Lowe's, or something.
Bullies suck Noah! They're just mad cause you've got waaay more style than they do my dude 🤙🏼 via @lostartofthegentleman #PinkForNoah ・・・ "My son Noah was picked on at school for wearing pink shoes. He was picked on for being a boy and wearing pink. It is my mission to show Noah that tons of cool people wear pink all the time !" – @itsbobrose • #pinkfornoah #dad #father #style #support #lagfamily #iloveny #fatherly
A post shared by 🅰🅽🆃🅷🅾🅽🆈 🅲🅰🆁🆁🅸🅽🅾 (@carrinoanthony) on
9. Vern Yip
We stan a man who understands the value of a solid outfit Instagram, and that's truly all I have to say about the perfect man that is HGTV's Vern Yip.
6 meetings in less than 24 hours in NYC! It's still sweater weather in the Big Apple, even though we're 6 weeks into spring, but I'm hoping to break out my shorts on the next trip! Gotta favorite look? #nycspring #onthegostyle #readyforwarmerweather
A post shared by Vern Yip (@vernyipdesigns) on
8. John Colaneri
The other cousin of Cousins Undercover and Kitchen Cousins, John, ticks all the same hottie boxes as Anthony. Except he gets extra points for rocking tighter pants and all the cute dad content he shares on Instagram.
Another beautiful night out with my princess @beachesresorts #turksandcaicos ☀️☀️☀️
A post shared by John Colaneri (@colanerijohn) on
7. Tarek El Moussa
This Flip or Flop star has biiig "guy from your hometown who you didn't think was hot until you ran into him, like, five years later and found out he has a sick job" energy, but you know what? Those guys catch your eye for a reason. Just try not to read the captions on his Instagram posts. His overuse of emojis is almost criminal.
🙏🙏🙏I received an interesting comment today while filming a season eight Flip Or Flop open house… . Someone said "the money you are going to make on this flip is going to make you happy"! Yes and no… keep reading 😊 . All the money in the world won't bring you happiness if the rest of your life is in shambles. I've had years where I made a fortune and I was miserable on the inside….literally being eaten away by stress. . My "happiness" comes from accomplishing things and most times the things I accomplish bring money. . I guess what I'm trying to say is LOL don't expect money to make you happy although if you are already happy and then the money comes you will be really happy 😂😂😂. . Money is only a part of success and happiness. Take care of yourself today. Show your family and friends genuine love and appreciation today. . The people in your life don't care how much money you make, they just want you to be happy. (If you have the right people😎) . OMG does my ranting make any sense🤷‍♂️🤷‍♂️🤷‍♂️? .
A post shared by Tarek El Moussa (@therealtarekelmoussa) on
6. Jamie Durie
TBH, I've probably seen less than half of one episode of The Outdoor Room With Jamie Durie, but his hot Australian accent is the stuff that dreams are made of.
This is me … It's not often I share something this personal however this ones is worth sharing.. 7 incredible days with 21 beautiful people in paradise I went simply to find more balance and walk down little path of self discovery, all of us looking to gain more consciousness. I had no idea that this experience created by my beautiful friend @garygorrow would be so impactful. Each day was spent digging a little deeper into my partially painful past until all was revealed and resolved. A ceremony that taught us to drop the ego, clear out the demons, open the heart and fill the space with forgiveness, compassion and kindness. There were tears from a room filled with courage and sometimes fear and in the end we walk away feeling completely clear. Hands down the most significant spiritual awakening of my life and long overdue. Thank you #garygorrow this week you have changed my life and allowed me to feel truly myself again, reconnected to my soul and clear in my intentions. I hope your wisdom, insights and elegant philosophy will continue to live in us all. We all get so caught up in work and our busy lives that we forget how to live a life of fulfillment. I have been right in this space, allowing ego, ambition, thoughtlessness to make decisions that can sometimes hurt the ones you love. To those sacred few that I've shared my heart with and even friends and family that occasionally got caught up in my whirlwind. I'm sorry for any pain I've caused. To those special few who have supported me along the way, I am truly grateful for your love and guidance. My intention from this day is to act with consciousness, kindness, compassion and gratitude. We are here for such a short time on this planet and in the end all we have is each other, the memories and moments we create and the legacy we leave for others. Let's make the most of it🙏🏽 #GaryGorrows #BaliRetreat #life-changing #meditation #Yoga #rounding @conciousclub #forever #grateful Love, Jamie🙏🏽❤️
A post shared by Jamie Durie (@jamiedurie) on
5. Jonathan Scott
Welp, it's all fun and games until you have to decide on a hotter identical twin from Property Brothers. It took a LONG time for me to finally figure out the difference between Jonathan and Drew, but once I realized that Jonathan is the one who does magic and highlights his hair…it felt like a no-brainer. However, he is the more hands-on brother, and that truly is the kind of hot builder-dude energy we're celebrating here on the definitive list of hot HGTV guys.
Welcome to my office. How can I help? 😜 #Bienvenido #BemVinda
A post shared by Jonathan Silver Scott (@mrsilverscott) on
4. Drew Scott
I know these guys are IDENTICAL twins, but there's just something about Drew that makes me slightly more attracted to him than I am to Jonathan. Again, for transparency, it might be the fact that I'm mildly turned off by Jonathan's obsession with magic. Drew is just hot, okay?
All dressed up with nowhere to go.
A post shared by Drew Scott (@mrdrewscott) on
As a reward for making that difficult decision, here is a photo of the Property Brothers (and their other brother, J. D.) that you will never be able to unsee.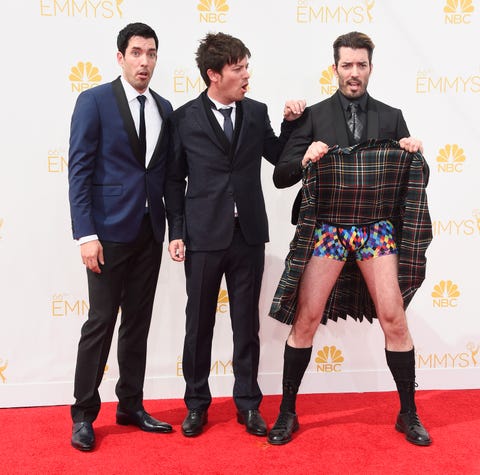 3. Scott McGillivray
Scott McGillivray has been on sooo many home improvement shows. He's, like, the king of HGTV. Even if you haven't seen any of them, you probably just feel like you've seen his perfect hair and squishy dimple in every Father's Day commercial that's trying to convince you to buy a grill for your dad.
That feeling when it's Friday and the Raptors are up 2-1! How are you feeling today?! (I really hope this caption ages well…) #fridaymood #friyay
A post shared by Scott McGillivray (@scott_mcgillivray) on
2. Bristol Marunde
Bristol Marunde is the total package. First of all, his name sounds like something out of a paperback erotica. He's also a classic beefcake hunk, because in addition to hosting Flip or Flop Vegas, he's an MMA fighter. He's basically never not using his muscles.
😎 🇮🇹
A post shared by Bristol Marunde (@bristolmarunde) on
1. Chip Gaines
Man, I love Chip Gaines more than Chip Gaines loves demo day. I'm devastated that there will never be another new episode of Fixer Upper, but I still watch reruns just to see his smiley face happily do whatever Joanna asks of him. I'll also probably be fine when they have their own network next summer. Anyway, Chip is essentially the human version of a golden retriever. He's just so pure and wonderful and perfect, and the world is a better place with him in it.
Share a photo from your last home renovation project using #KILZPrimedandReadySweepstakes for a chance to win $2,000. @kilzbrand #sponsored
A post shared by Chip Gaines (@chipgaines) on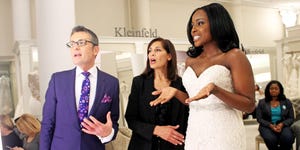 Source: Read Full Article