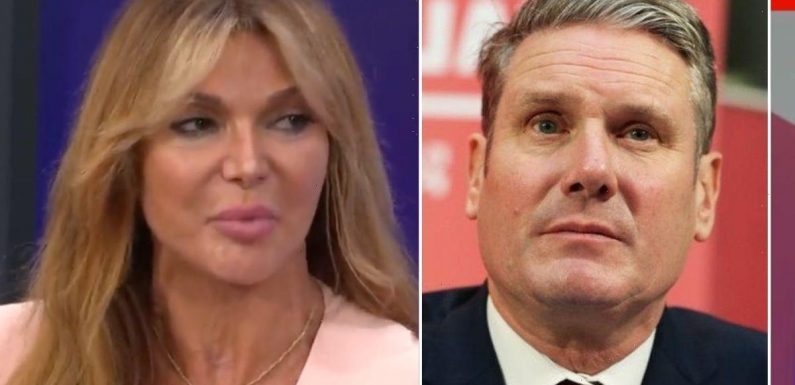 Lizzie Cundy labels Keir Starmer a 'joke figure' on GB News
We use your sign-up to provide content in ways you've consented to and to improve our understanding of you. This may include adverts from us and 3rd parties based on our understanding. You can unsubscribe at any time. More info
TV personality Lizzie Cundy, 53, joined Danny Kelly and Nana Akua to discuss Sir Keir Starmer on Sunday's GB News. However, the columnist didn't hold back while speaking about the Labour leader and slammed him over his inability to win over voters after Boris Johnson was served fixed penalty notices for breaching lockdown laws.
Newsreader Nana asked the reality star: "What do you think about this whole notion that actually, the Labour Party are slightly misguided and that people won't actually vote for them because they've got nothing to offer?"
Lizzie replied: "Well, I don't think they do. I'm sorry, but I'm not a fan of Starmer."
She went on to claim: "We need a strong opposition to the Conservative Party.
"It's really important for our country to have someone [going] against you that is doing well and he [Starmer] is not strong enough."
The ex-wife of former footballer Jason Cundy, 52, added: "I find him a bit of a joke figure and it's a shame really because we really do need a strong party to go against for the Conservatives.
"It just seems he could really seize the moment and he's not doing so, with everything."
The GB News journalist chimed in: "He could talk so much about partygate.
"Now I watched the Prime Minister's Questions and that's literally all he said.
Mr Cundy followed on with: "I know [and] we've got an economic crisis.
"There's so much going on in the world with [the] war and everything else, and I think everyone is getting sick and tired of partygate, partygate, partygate.
"It's just getting so weary and I can't bear it anymore," the mother of two fumed.
Fellow panellist, Danny weighed in: "What doesn't help is the fact that the leader is a Knight of the Realm."
Taking a swipe at Keir over his lack of leadership, the broadcaster stated: "Labour, there's a clue in the name.
"Labour is for working-class people and a Knight of the Realm at Islington [in] Saville Row Suites, that doesn't help in your monologue."
He turned to his co-star and said: "Nana, you're right about the fact that they can't even clarify their position on whether a woman has a penis or not.
"And a lot of people that's trivial but a lot of people that's emblematic of maybe the wishy-washy stance on so many things.
"Once you're in bed with the woke brigade, then they're not reading the room because the average man and woman.
"Generally speaking, they're more likely to read the Daily Mail and The Sun, than they are The Guardian."
He went on to state: "I'm talking about working class voters."
Source: Read Full Article